Image 1. Above Lurcher's Meadow
"It was cold, well below freezing, but ideal conditions for a jaunt behind the Badenoch village of Kingussie and along a line of ancient townships to Newtonmore where I've lived for about 35 years."
"It's one of my favourite outings during the winter months. It's close to home and doesn't produce any of the tensions and drama of winter mountaineering on the high tops. A relaxing day out amidst familiar landmarks."
"As I climbed the slopes beyond the Kingussie golf course the sun burst over the distant Glen Feshie hills bathing everything in a pink wash before flooding the whole scene in a sparkling palette of the most intense colours imaginable. This was winter at its best."
"I had already passed what was once the township of Tom Barraidh and wandered through natural juniper and birchwoods to the remains of the Glen Gynack township. Before me lay a fairly recently built path along the south shores of lovely Loch Gynack to the ruckles of stone and boulders that's all that's left of the old village of Auchtuchle."
"At first glance there's little left here but when you leave the path and start looking around it doesn't take long to discern the rectangular shapes of buildings, the low walls of which are now covered in heather and grass. The village is situated on a terrace on the west slopes of Creag Bheag and comprises a group of at least twelve buildings, a kiln-barn, two enclosures, some rig, some lazy-beds and a head-dyke."
Across the strath of the Spey the Cairngorms and Feshie hills were newly whitewashed by snow, their sensuous curves and rounded shapes emphasised by the blue shadows of the corries.
"I stopped here for a few moments for the views were glorious. Across the strath of the Spey the Cairngorms and Feshie hills were newly whitewashed by snow, their sensuous curves and rounded shapes emphasised by the blue shadows of the corries. In the other direction the hills above Glen Banchor, Creag Dubh and the Arverikie hills looked absolutely Alpine, sparkling white against a perfect blue sky."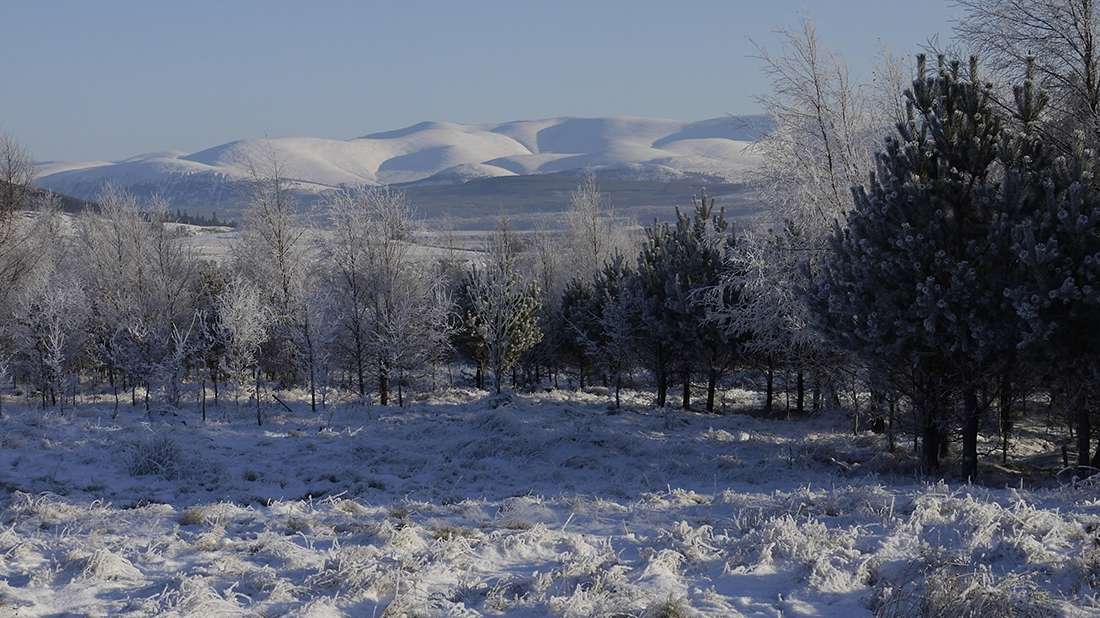 Image 2. View towards the Cairngorms
"At the path junction with Newtonmore's Wildcat Trail I made our way through the birch woods of Craggan, rejoicing in the vast snow covered moors that form a precurser to the high Monadh Liath. The Munro of A' Chailleach looked spectacular and serene, and while it was certainly a day for the high tops I didn't feel I had lost out. I had thoroughly enjoyed the shorter lower level walk and if you decide to follow in my footsteps I would recommend you tie in this route, with its line of ruined townships, with a visit to the Highland Folk Museum in Newtonmore. Indeed, a visit to the museum and a wander around the re-created township there will give a very good idea of what life was like in these small Badenoch villages that existed here well over a century ago."
Gear for winter hillwalking
"Although I've described a relatively low level wander in the snow bear in mind that even at these gentle levels it can become bitterly cold in winter, especially if the wind is blowing. A warm hat and gloves (mitts are better) are essential as is a warm jacket. It's always a good idea to carry waterproof trousers and a waterproof jacket on top of something like a fleece sweater.
And don't forget your packed lunch and a thermos with a hot drink."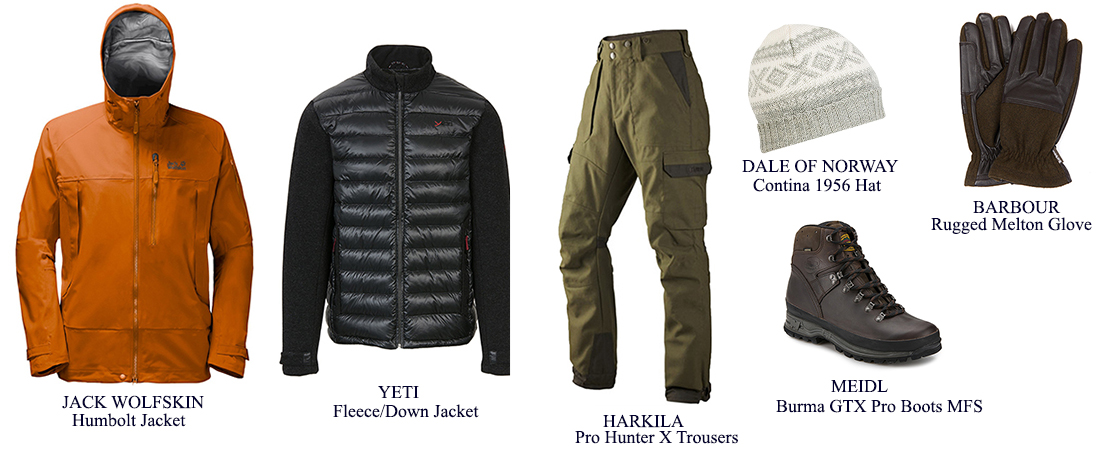 "If you decide to tackle something more adventurous, say a Munro, then bear in mind that winter hillwalking is no less than winter mountaineering and you will need crampons and an ice axe, and know how to use them! You'll also need the relevant map and a compass and again, you must know how to use them. Most mountains accidents occur in Scotland when the victim is lost. For winter hill-walking I would always carry a spare warm hat and spare mitts too and please, tell somewhere where you are going before you set off. If a mishap should occur then the it really helps the rescue teams if they know ehere to look."
Cameron McNeish's best-selling autobiography, There's Always the Hills, is published by Sandstone Press and is available in both hardback, £19.99 and paperback, £9.99
Click here to purchase a copy