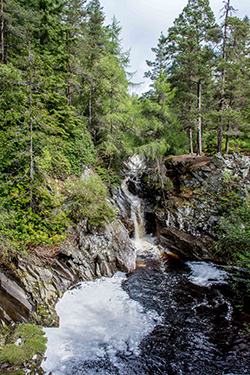 Located directly on our doorstep here at the House of Bruar, the Falls of Bruar have been recognised as a spectacular local beauty spot for over 200 years. In fact, on visiting the area in 1787, Robert Burns was inspired to write "The Humble Petition of Bruar Water" as a request to the 4th Duke of Atholl. Written from the point of view of the tumbling waters, which at the time meandered through a barren landscape of rock and stone, it beseeches the Duke to "shade my banks wi' tow'ring trees, and bonnie spreading bushes" - advice which the Duke took to heart, and the Falls have been swathed in lush and verdant greenery ever since.
In addition to planting trees around the Falls, the Duke also constructed the path which still stands to this day, as well as two viewing bridges and a number of stone shelters around the trail, which sadly fell into disrepair over the years.
The 1.5 mile (2km) path is steep at times and can be quite a climb, so do allow between an hour and an hour and a half if you want to enjoy the splendid views the walk provides. We offer full facilities for dog owners in our car park and designated dog areas, so you can rest assured your pet will be well taken care of if you want to bring them along.
And after your walk, don't forget to stop by our Food Hall and Restaurant, where you can rest and refresh yourself with anything from a simple snack to a lavish meal guaranteed to satisfy any appetite.