They may not know it, but customers of The House of Bruar have long been at the vanguard of an increasingly on-trend fashion movement.
Many people are familiar with the term 'fast fashion' and all of its negative connotations. In recent years, a new movement has emerged as a direct reaction to this: 'slow fashion'.
Slow fashion is the caring, considered and calm alternative to the hurried and harmful world of fast fashion – and it's gaining considerable traction.
What is fast fashion?
As the term suggests, everything about fast fashion is done at speed. Trends are quickly identified, garments are hurriedly made and rushed out to market, items are bought and delivered in the blink of an eye, then worn a couple of times before moving on to the next new thing.
It's a phenomenon that's largely associated with young, online-only brands which update their websites with hundreds of new products every week.
Intense competition leads to customers who increasingly expect faster service and lower prices.
But all of this has a knock-on effect.
What are the problems with fast fashion?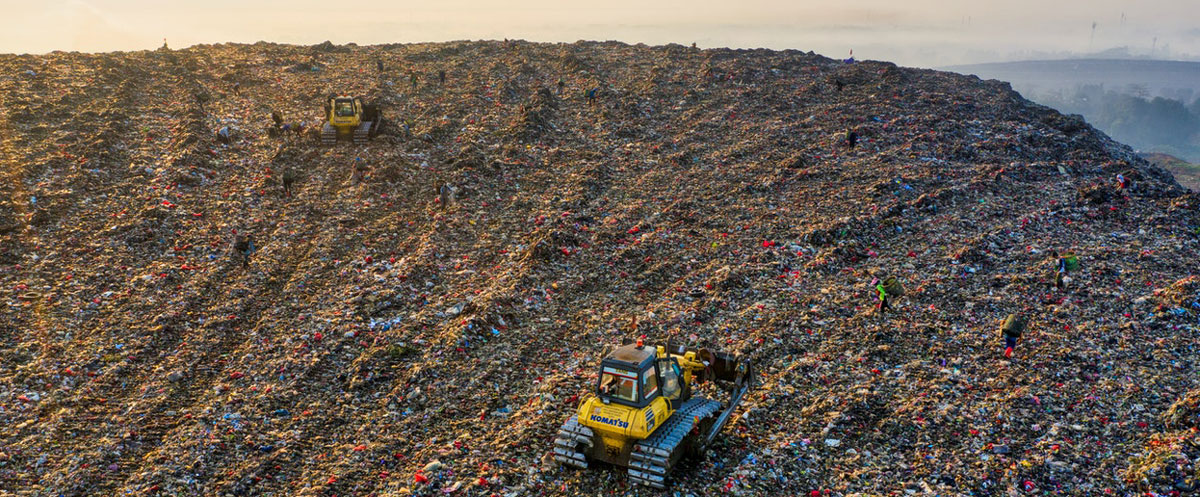 The frenetic pace of fast fashion has potentially damaging effects from cradle to grave – from the choice of raw materials and how these are sourced, through the treatment of suppliers and workers, manufacturing processes and impacts, and eventual disposal.
1. Low-quality garments
The speed of manufacture has an inevitable impact on the quality of garments produced. The materials used are frequently cheap – often synthetic, the stitching suspect and the finishing poor. There's just no time to quality check before the next new trend hits the machines.
2. Environmental impact
The substandard quality of manufacture and finished product and the transient nature of the trends mean that all too often items are discarded after only a few wears. In the UK, 30% of discarded clothing ends up in landfill*.
3. Unethical working practices
Pressure on price increases the risk of exploitation along the length of the supply chain with growers and factory workers particularly vulnerable to poor working conditions and low wages. Corners are cut at every turn with potentially serious environmental effects.
What is slow fashion and why is it on the rise?
Growing awareness of the damage caused by fast fashion has led to the gradual emergence of the slow fashion movement. Lyst** notes that the term 'slow fashion' generated over 90 million social impressions in 2019, as changing shopping behaviours started to take root.
Slow fashion is the opposite of fast fashion in every way. It's about responsible sourcing, care of manufacture, quality of materials, and longevity of garment life.
Suppliers take care to understand the provenance of their stock and ensure that items are carefully made, building sustainable clothes that are made to last often using natural materials with low environmental impacts of the process.
As far as the customer is concerned, buying decisions are considered and unhurried. Time is taken to research the best options. Thought is given to how an item will complement an existing wardrobe. This often leads to the purchase of investment pieces, which may cost more, but are of a quality that is built to last, wear after wear. These pieces are frequently of a timeless design that can bypass fleeting fashion trends to remain relevant for years to come, to the extent that items may become heritage pieces that are passed down through generations.
And that's where The House of Bruar comes in.
With our carefully curated collection of quality and long-lasting own-brand pieces and the relaxed shopping experience we've created in-store, we've been taking the slow fashion approach for 25 years!
This considered shopping style is not just limited to visitors to the home of country clothing. We know from customer buying patterns that recipients of our seasonal catalogues like to take their time over their purchases as well. Following the inevitable initial flurry of orders when a new catalogue hits, customers keep their catalogue handy and settle into a steady buying process as the season progresses.
Our selections are also showcased on our website where there is space to highlight every item we sell.
The House of Bruar own brand range
The House of Bruar own brand range is characterised by pieces that bear the hallmark of a true slow fashion-based approach. It's a collection of classic country clothing with a Scottish swirl in natural fabrics – pure wools, tweed, suede, leather. The carefully monitored quality of manufacture and the timeless nature of our designs build items made to last. Customers looking for their next "forever" piece –can browse a range of items that, while updated every year with new colours, designs, cloths, yarns and fabrics, retain the enduring appeal of true style classics. The House of Bruar own brand items live on through families to delight new generations of clothes lovers.
The House of Bruar buying team builds lasting relationships with suppliers working with a range of manufacturers who have built their reputation on quality and longevity. Cloths are sourced from some of the last remaining textile mills in Scotland, Ireland and the North of England including
Magee of Ireland
, Robert Noble,
Lochcarron of Scotland
,
Halley Stevensons, Dundee
,
Abraham Moon
and
Mallalieus of Delph
. Between them, these mills share centuries of experience in making products that last from carefully selected raw materials, often using traditional methods unchanged for years, whilst at the same time adapting their processes and policies to minimise environmental impacts.
Our Harris Tweed collection
Handcrafted using traditional methods on the Isle of Harris for generations; Harris Tweed is woven into island life. The only fabric in the world to be protected by an act of Parliament, everything from the pure virgin wool, to the dying, spinning and finishing of the cloth originates in the Outer Hebrides of Scotland. Owning a piece of Harris Tweed is to play your part in sustaining a way of living that's been at the heart of this Scottish community for centuries.
The House of Bruar team has been working with Harris Tweed since before our store was built! This long-standing relationship is behind many of the stand-out items that have become firm favourites in our collection and reappear year after year, refreshed and updated for new generations of clothes lovers.
Highlights from our Autumn/Winter 2020 collection include:
TRIM HARRIS TWEED COAT
Stylish turnback cuffs and stand up collar reveals a striking contrast trim in this stunning pure new wool Harris Tweed coat. Beautifully bridging the divide between formal and casual this stand-out piece is fully lined and features The House of Bruar branded buttons for a further mark of quality.
Shop Trim Harris Tweed Coat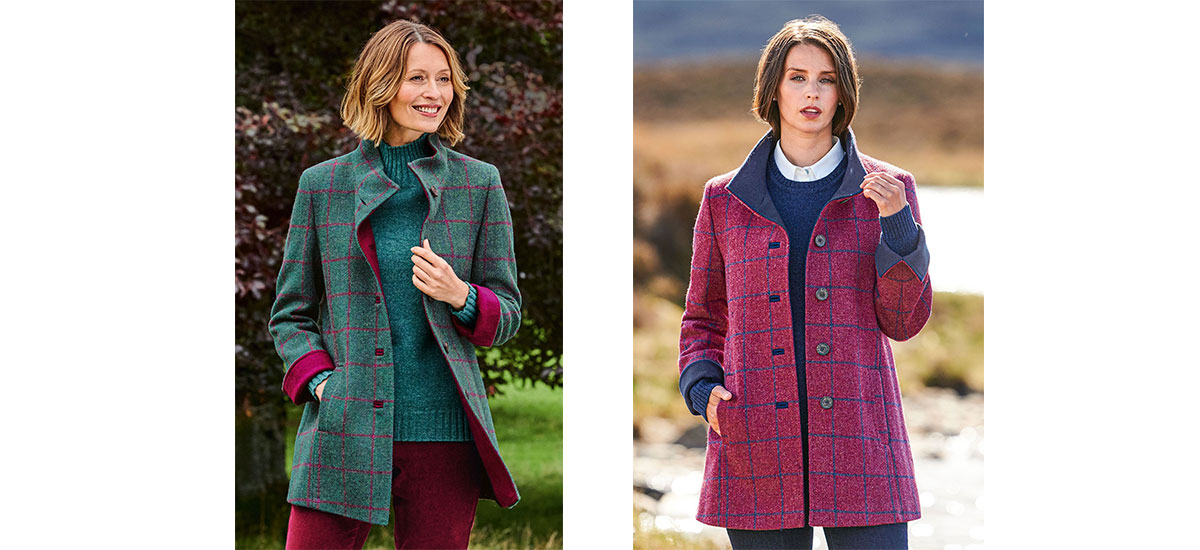 HARRIS TWEED HANDBAGS
The perfect "forever" handbag, our Harris Tweed handbags are handmade in Scotland, trimmed with traditional deerskin leather and branded with the iconic Harris Tweed orb.
Shop Harris Tweed Handbags

MODERN HARRIS TWEED SKIRT
Hemlines may move up and down with time, but a Harris Tweed skirt will never go out of style! Fully lined and falling to just above the knee, our modern pure new wool skirt in handmade Harris Tweed is the ideal showcase for the distinctive new Raspberry and Kingfisher tweed colours.
Shop Harris Tweed Skirt

HARRIS TWEED JACKET
If anything epitomises the perfect heritage piece it's the Men's Harris Tweed jacket. Crafted from the highest quality handmade Harris Tweed, this immaculately tailored jacket is classically styled with two side flap pockets, double back vents and iconic mock leather football buttons.
Shop Men's Harris Tweed Jacket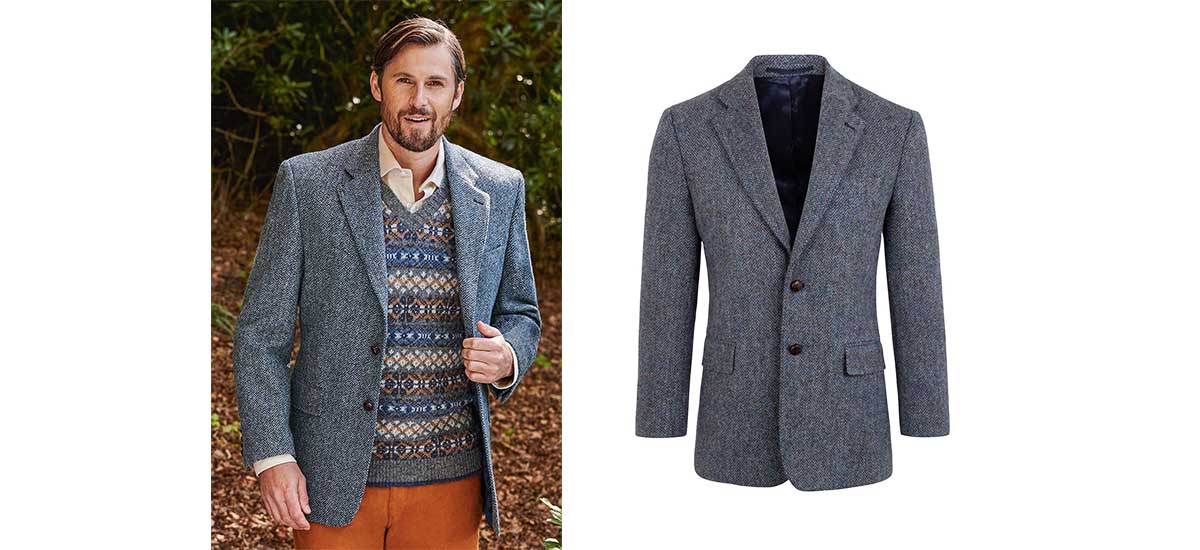 Lochcarron of Scotland
The world's leading manufacturer of tartan, Lochcarron of Scotland has been weaving fine fabrics in Scotland since 1892. A team of skilled craftspeople maintain the traditions of manufacture that create authentic and timeless products, whilst continued innovation takes its pieces "from kilt to catwalk" for international fashion houses.
NEW RELAXED BOUCLÉ TWEED FUNNEL COAT
With a splash of colour enough to liven up any grey day, the relaxed pure new wool bouclé tweed funnel coat is crafted from Lochcarron of Scotland's Jewelled Meadow fabric woven in Scotland. Resplendent in a host of dazzling jewelled hues, this new season treasure features oversized horn-effect buttons, three-button side vents and a flattering laid-back fit to keep you comfy and cosy come rain or shine. Fully lined.
Shop Relaxed Bouclé Tweed Funnel Coat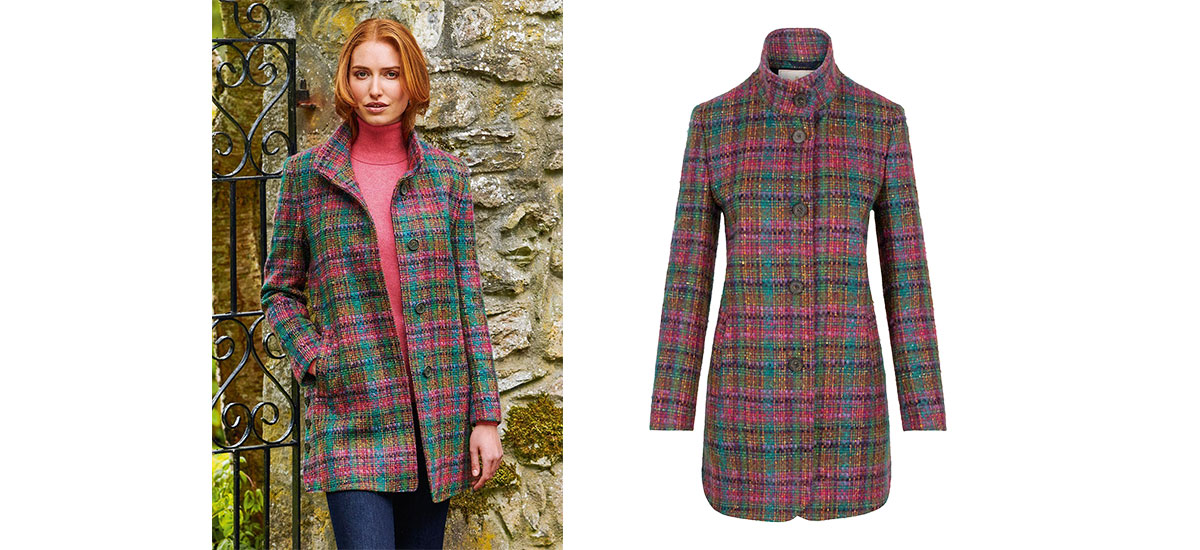 Abraham Moon
Established in 1837, Yorkshire-based Abraham Moon is one of the last remaining mills in the country to produce finished fabrics from raw wool all on one site. All cloths that carry the signature Moon logo are lovingly and meticulously crafted from quality wool resulting in luxurious fine handling fabrics for quality clothing and home furnishings. Sustainability is at the core of the business with every stage in the process from the farms where the wool is sourced, the 100% natural fibre of the wool itself throughout the manufacturing methods and processes used on site carefully managed to create a product that meets the highest ethical standards.
NEW PETER PAN VELVET COLLAR TWEED JACKET
With its rounded Peter Pan collar and a concealed front placket that maintain its elegant lines, this jacket in Glitter Brown Windowpane fabric woven by Abraham Moon is the perfect blend of the classic and the contemporary. Pure new wool. Fully Lined.
Shop Peter Pan Velvet Trim Collar Tweed Jacket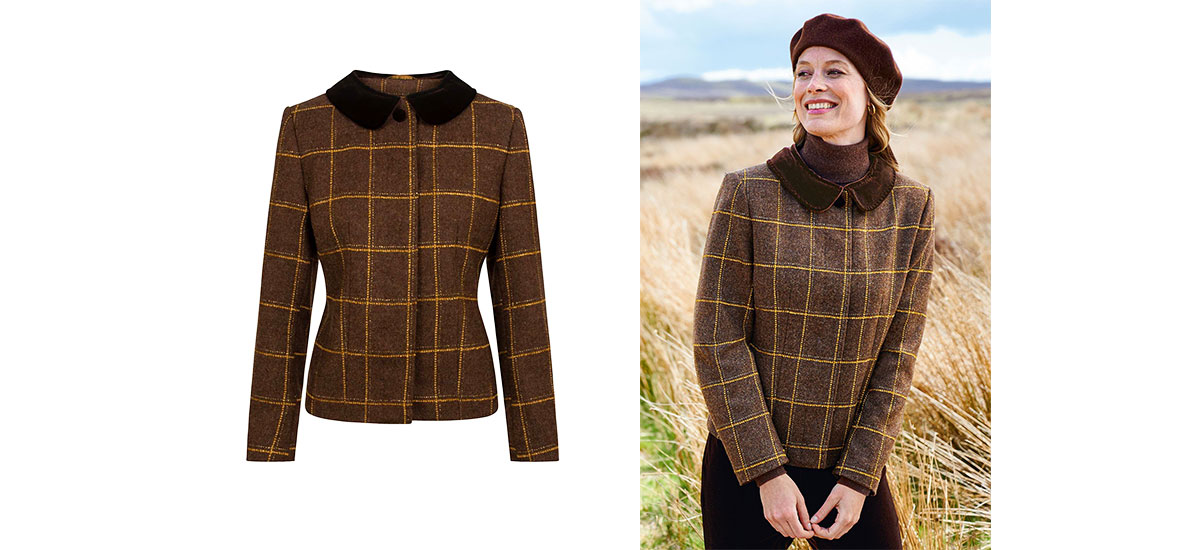 TWEED GOLD BUTTON SKIRT
Made from Glitter Brown Windowpane fabric woven by Abraham Moon, this tweed skirt gives you all the natural warmth of 100% pure new wool in a time-honoured design. Front and back pleats and a side elasticated waistband create a distinctive shape, while pretty gold buttons lend a beautiful finishing touch.
Shop Tweed Gold Button Skirt
TWEED TAPERED CULOTTES
Our ladies tapered culottes are a Bruar classic reinvented with slimmer legs and a reshaped waist for enhanced comfort and style. Pure new wool. Forest/Wine Gunclub fabric woven in the UK by Abraham Moon. Other fabrics are also available.
Shop Tapered Culottes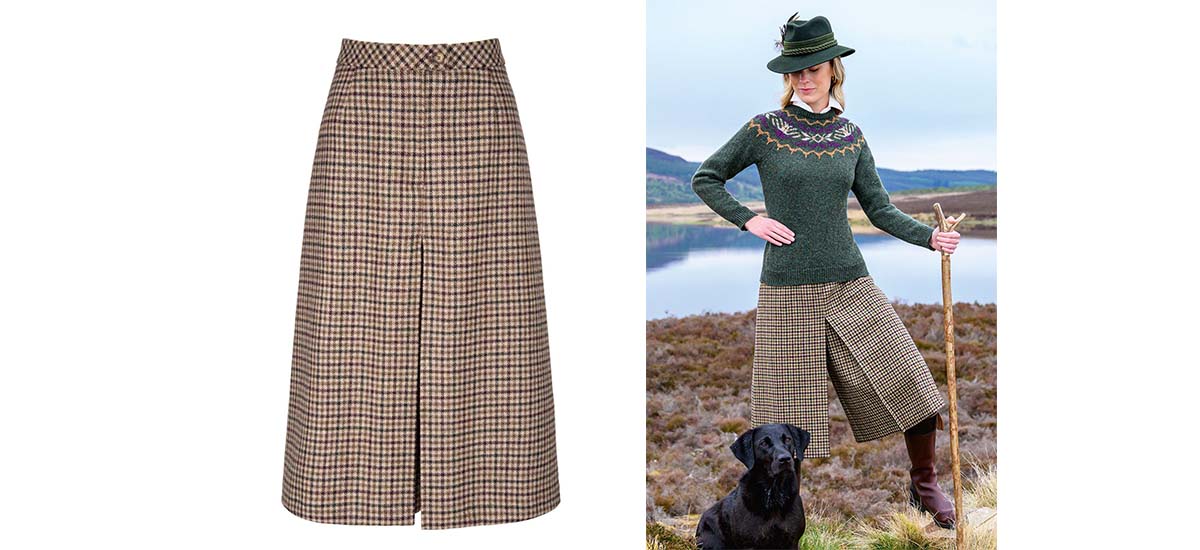 TWEED SPORTING COAT
Made in our much loved pure new wool tweeds including Forest/Wine Gunclub woven by Abraham Moon, it has all the technical aspects you would expect from a traditional shooting coat, including large bellow pockets (which can be held open with a stud tab for easy access), hand-warming pockets, two-way zip and stud placket fastening, storm tab and quilted padded lining for extra warmth. Other colours also available.
Shop Tweed Sporting Coat
TWEED BOW BACK CAP
Made in the UK, this pretty fully-lined pure new wool tweed cap in Forest/Wine Gunclub fabric woven by Abraham Moon features a feminine bow at the back. Other colours also available.
Shop Tweed Bow Back Cap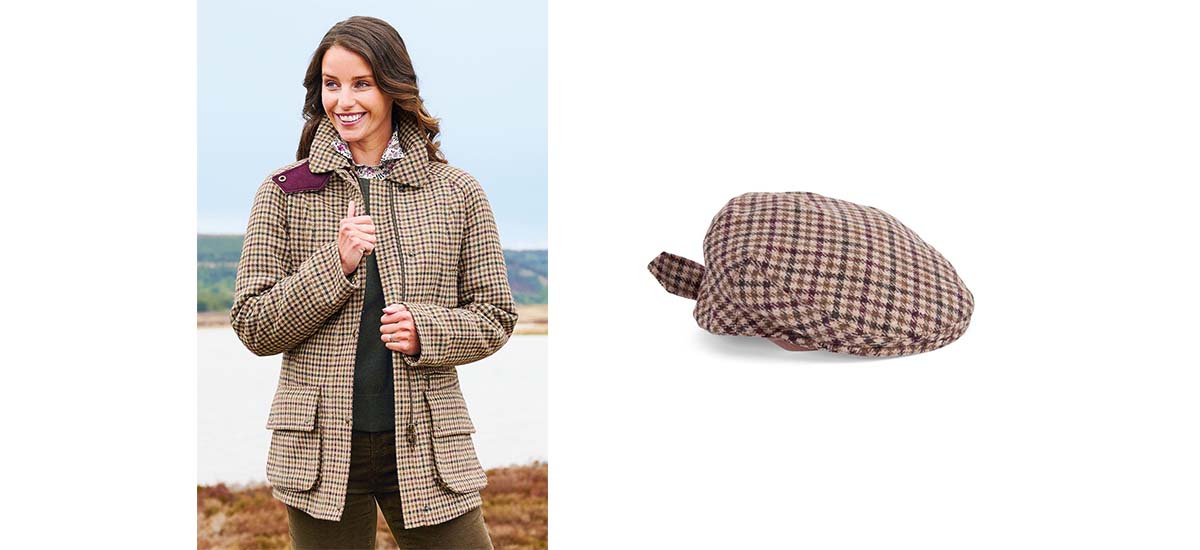 TWEED OVERSHIRT/JACKET
A country essential, this new tweed overshirt jacket in Mulberry Frost Gunclub fabric from Abraham Moon puts a contemporary spin on a country classic. Featuring two flapped chest pockets secured with buttons and rounded front and back hems. Other colours also available.
Shop Men's Tweed Shirt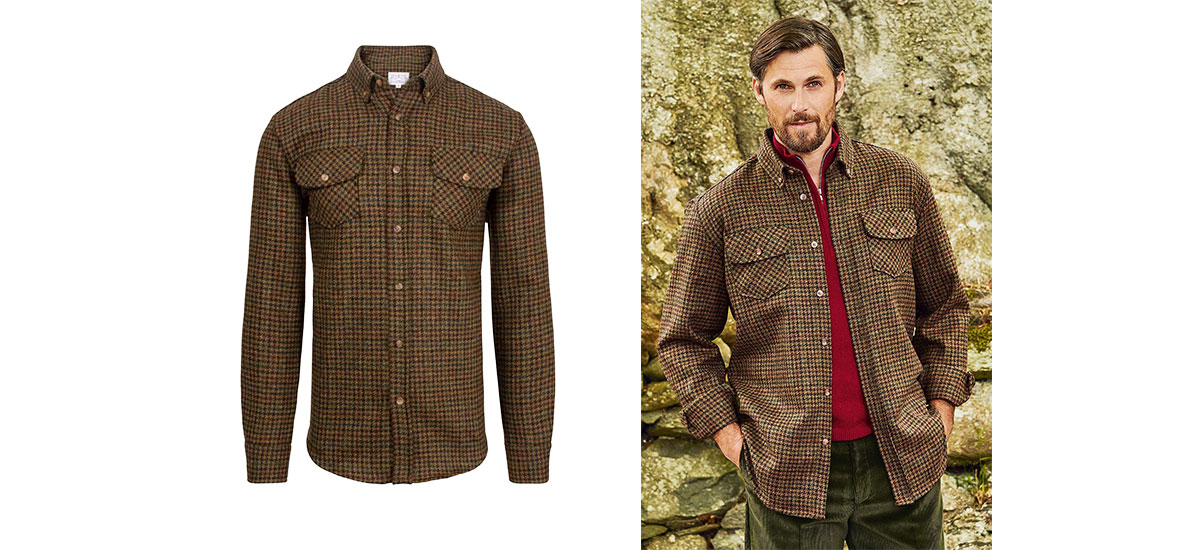 Magee of Ireland
Magee of Ireland has its roots in a small drapers shop established by John Magee in Donegal in 1866. This family business takes the finest yarns – cashmere, lambswool, alpaca, silk and linen and weaves them into fine fabrics for clothing and home furnishings inspired by the colours of the surrounding land and seascapes. Magee is committed to slow fashion producing rich and soft cloths and finished items from renewable and biodegradable natural fibres which will stand the test of time.
NEW RELAXED TWILL FUNNEL COAT
Sweeping lines and an elegant drape characterise this pure new wool twill coat woven by Magee of Ireland, giving it an easy charm that makes it the perfect complement to any number of outfits. With vertical front pockets and buttoned side vents.
Shop Twill Funnel Coat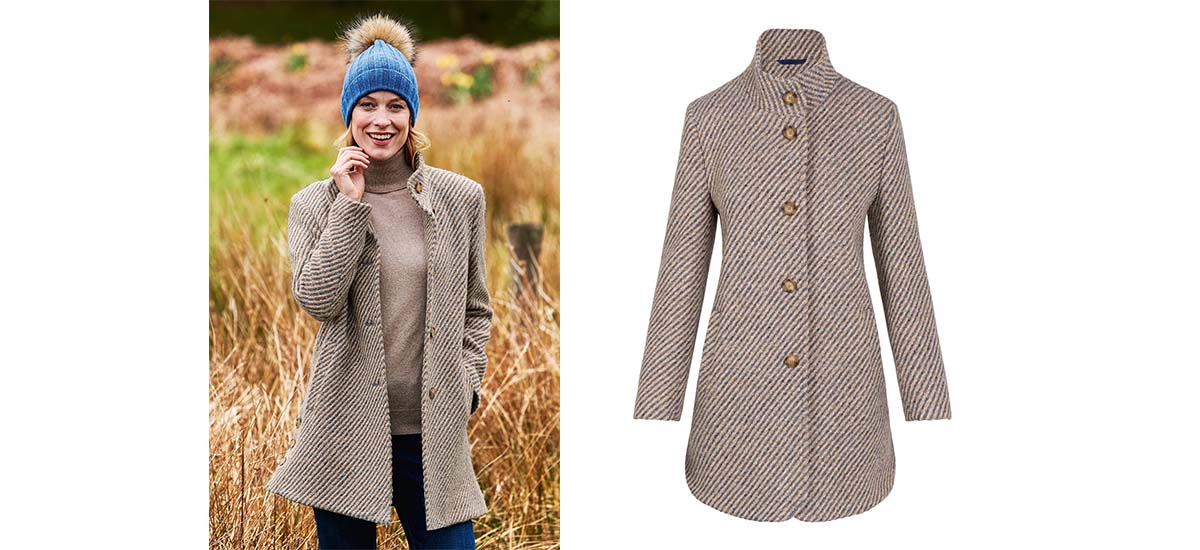 MODERN SHORT SKIRT
A fashionably modern short skirt in a continental style, this attractive new item shows off the intricate textures of our large dogtooth cloth to excellent effect. A smart waistband sits above two in-seam pockets and a concealed rear zip to complete the design. Pure new wool. Fully Lined.
Shop Modern Short Skirt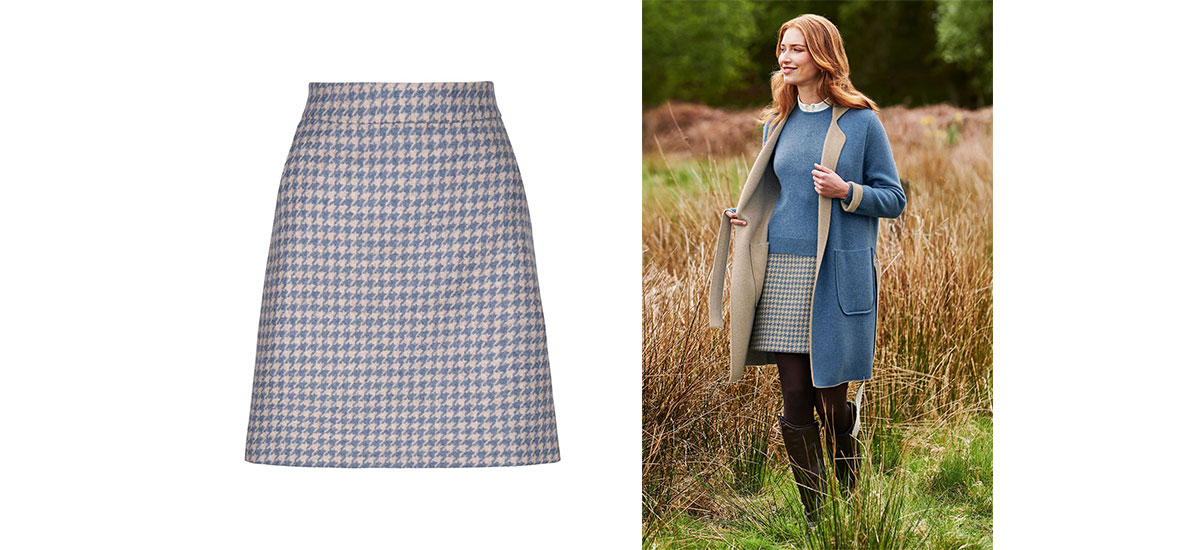 CONTEMPORARY CREW NECK JACKET
With its cool and crisp contemporary cut softened by delicate frilled edges at the neck and down the front, this striking short jacket will bring a modern edge to your new-season wardrobe. Pure new wool.
Shop Contemporary Crew Jacket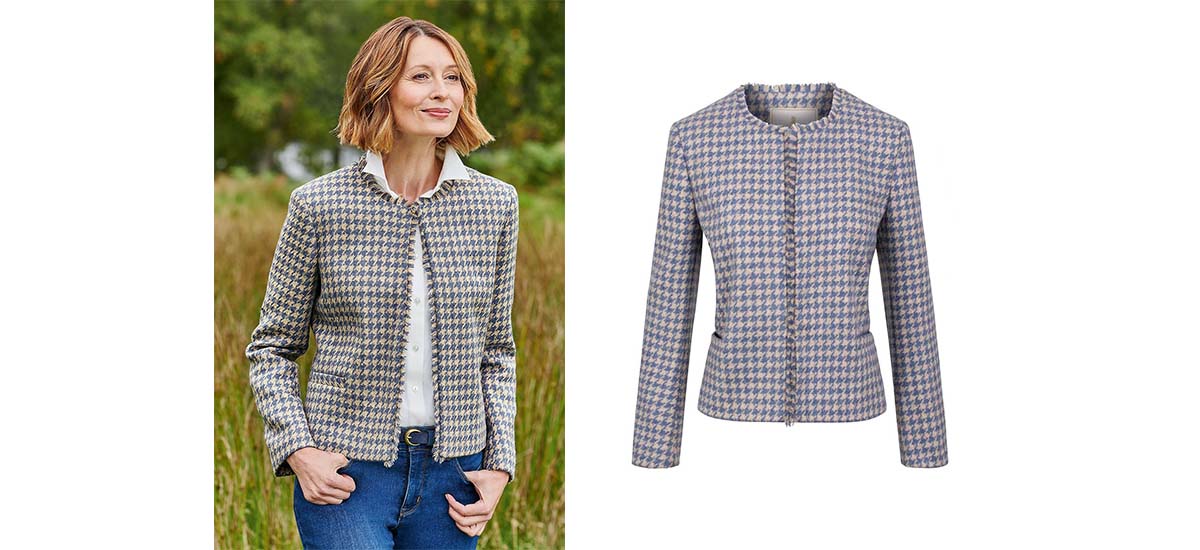 SUPPLIERS
We love finding suppliers who use natural materials and traditional methods, and who are steeped in the environment that surrounds them.
Julie Dillon Knitwear
Based in Dublin, Ireland, Julie Dillon uses 100% Irish wool to handloom her range of brightly coloured children's knitwear. Inspired by her surroundings, sheep play a big role in her cute designs which also feature other animals and motifs.
MERINO SHEEP SWEATER
Hand knitted in supremely soft merino wool, this Merino sheep sweater offers lightweight warmth and comfort for little ones when the temperatures drop. Absolutely adorable, the sweater is adorned with charming sheep motifs and cute contrast trims.
Shop Merino Sheep Sweater

Fair Isle Knitwear
The distinctive patterns that characterise our Fair Isle knitwear range have their roots in centuries of Scottish island history. The Fairislers have been handcrafting knitwear in pure Shetland and Fair Isle wool and passing their signature designs down through generations since the 1600s and before.
LADIES SHETLAND FAIR ISLE CARDIGAN
This delightful and iconic Shetland design is stunning on this fantastically soft cardigan. A timeless addition to your wardrobe this season, it matches beautifully with anything from a casual pair of jeans to an elegantly cut country tweed skirt.
Shop Fairisle Slipover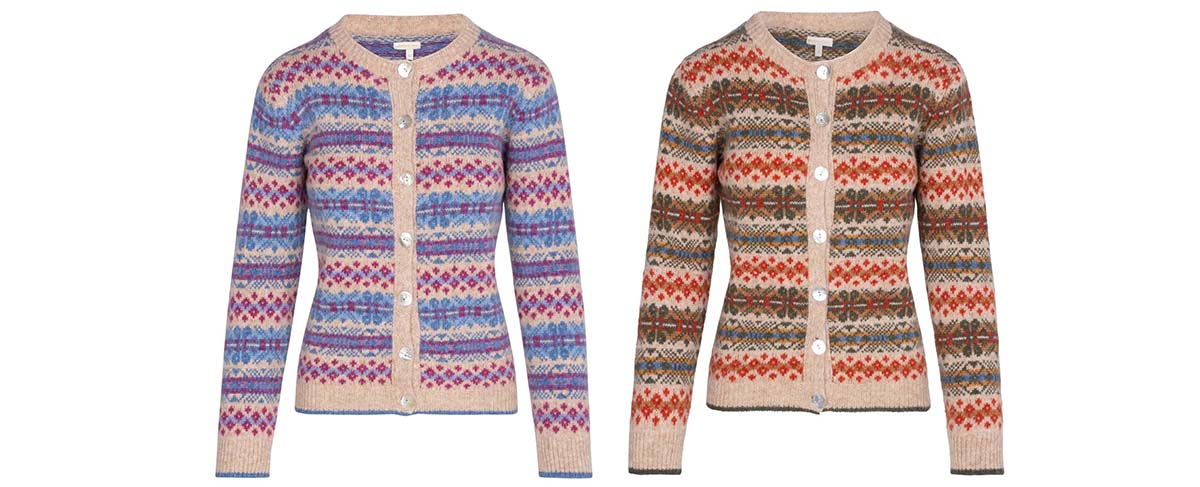 SHETLAND FAIR ISLE SLIPOVER
Block colour edging at the hems with a broad cable knit at both the arms and collar make for a striking visual with this classically designed slipover, featuring a striking example of the iconic Shetland Fairisle design.
Shop Men's Fairisle Slipover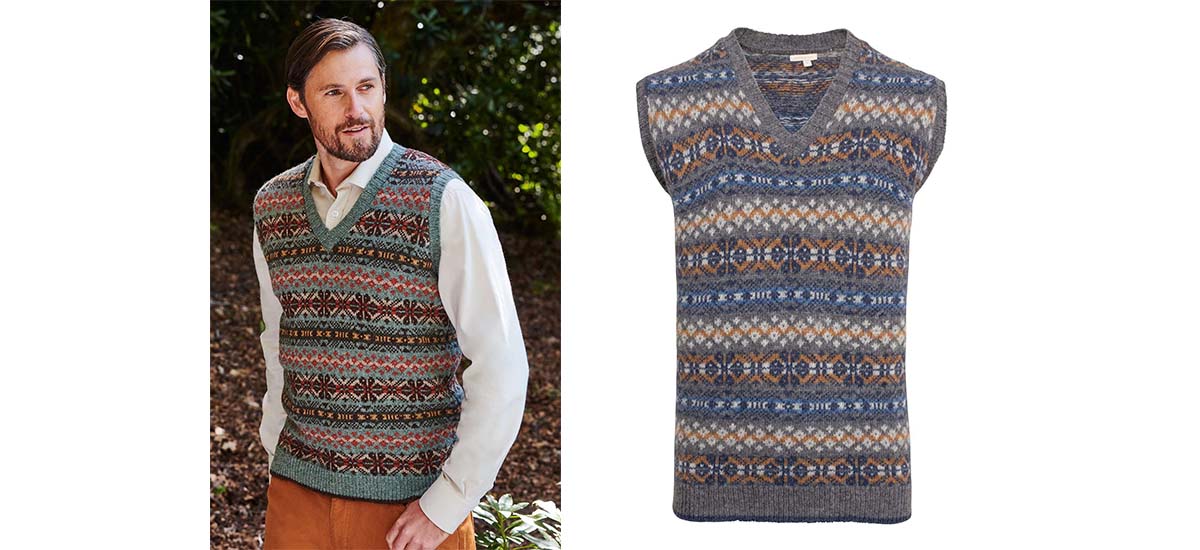 Heathergems
From their base just down the road in Pitlochry, Heathergems have been crafting jewellery from heather collected from the Perthshire hills for over 50 years. Their unique designs are inspired by the colours of the landscapes around them, to own a Heathergems piece is to carry a little bit of Scotland with you wherever you travel.
BRACELET, PENDANT AND RING
Unique pieces created from Perthshire heather, dyed then finished in silver to make the wonderful items of jewellery. Each design brings a little bit of Scotland to every jewellery box.
Shop Heather Gems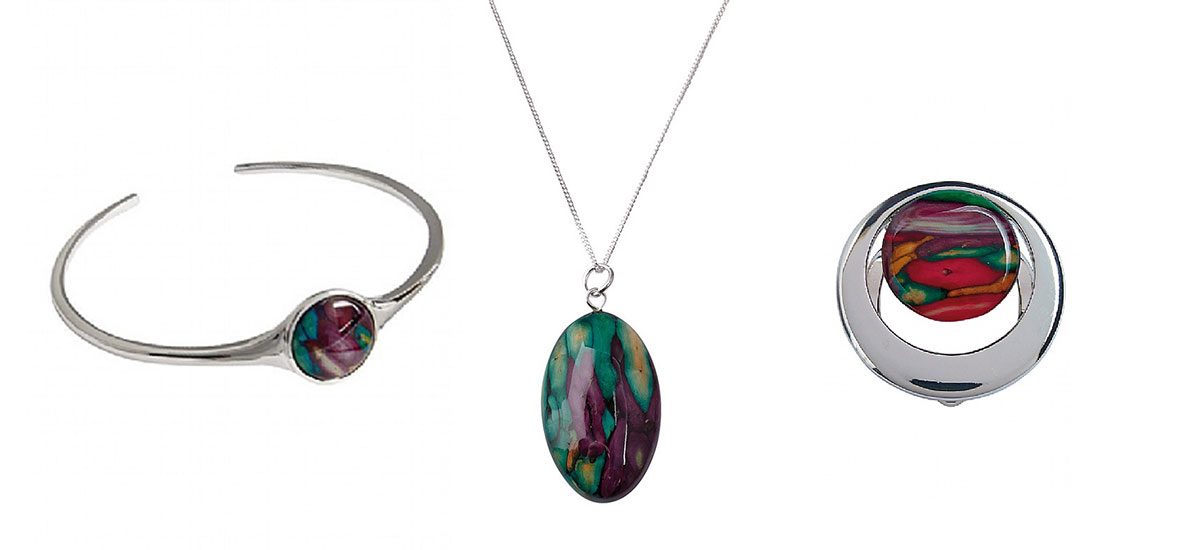 The lockdown effect
And the slow fashion movement is spreading. There's increasing evidence that lockdown has led consumers to reconsider their approach to fashion to embrace a more sustainable process, collect more enduring pieces and curate a more capsule-based wardrobe.
What does this come down to? Perhaps the COVID-19 pandemic has sown a seed of awareness about humankind's impact on the planet and our combined responsibility to rein in over-consumption and reduce global inequalities for the benefit of future generations.
According to a McKinsey survey***, 15% of consumers in the US and Europe expect to buy more ecologically and socially sustainable clothing as a direct result of the over-consumerism and irresponsible practices that have been thrown into light through the Coronavirus crisis.
A post-lockdown report for the Royal Society for the encouragement of Arts, Manufactures and Commerce (RSA) (link) found that 83% of consumers surveyed thought that clothes should be designed to last longer and be repairable. 58% bought fewer clothes during lockdown with 28% reusing and recycling more than normal. Interestingly, the same report found that 27% of Generation Z – the 18-24 year-olds who are generally associated with fast fashion – want to support socially and environmentally responsible brands.
The challenge, when things return to whatever the new normal will be is to maintain the profile of sustainable fashion in the face of what many predict will be a fury of discounting as struggling companies fight for survival. The RSA report found that 40% of consumers are looking forward to buying clothes again post-pandemic. McKinsey & Company predicts, however, that, particularly in the high-end market - "many consumers will be looking for so-called "investment" pieces — minimalist, last-forever items — that feel more responsible given the state of the world."****
Our long-held approach to fashion, and one that we share with our customers, is that it's a marathon not a sprint - with a few stops for coffee and cake along the way of course! But then you knew that all along, right?
*RSA
**https://www.lyst.com/data/2020-conscious-fashion-report/
***McKinsey & Company COVID-19 Apparel & Fashion survey, N=>6000, 27/3-29/3 2020
****McKinsey & Company The State of Fashion 2020 Coronavirus Update