The House of Bruar is proud to be the largest independent stockist of Barbour in the UK and we're passionate about keeping our customers up to date with the latest emerging trends. But we know that with so much choice, it can be overwhelming to find a jacket that best fits your wants and needs.
That's why we've created our expert Barbour jacket buying guide. It'll introduce you to the brand, coach you through how you can find your perfect jacket, and teach you how to take care of it for life.

Who is Barbour?
A brief history of Barbour
Where are Barbour jackets made?
Are Barbour jackets warm?
Are Barbour jackets waterproof and weatherproof?
Finding your Barbour style
How to clean a Barbour jacket
How to re-wax a Barbour jacket
Barbour was founded by John Barbour in 1894 with the aim of bringing durable and dependable, weather-resistant clothing to the fishing community. Today, Barbour's signature and beautifully functional waxed jackets are recognised all over the world and the brand has become a symbol of countryside culture and lifestyle.
Now in the hands of the fifth generation of the Barbour family, the brand has evolved to cover a comprehensive range of everyday clothing for women, men, children, and even dogs. Their pieces bring a contemporary elegance and glamour to its core countrywear roots, making it wearable for all.

Barbour's long and devoted history to quality clothing lies at the heart of everything that they produce. A brief timeline shows how their cultural heritage has shaped them into a brand that's loved and recognised all over the world.
| | |
| --- | --- |
| 1894 | John Barbour moved from the South West of Scotland to South Shields in the hopes of bringing weather-resistant and reliable clothing to those fighting against the harsh elements in the coastal areas of England. He founded Barbour and opened J Barbour & Sons in 5 Market Place, South Shields. |
| 1900 | The brand continued to introduce new designs and styles to its collection and produced its first mail-order catalogue. |
| 1917 | The Barbour catalogue accounted for nearly 75% of the company's business and was supplying to countries as far afield as Chile, South Africa, and Hong Kong. |
| 1936 | Barbour brought out its first range of motorcycling clothing which quickly gained popularity. Barbour's motorcycle suits were worn by nearly every British International team from 1936-1977. |
| 1939 | The company developed the Ursula suit which became the standard issue uniform for members of the Submarine Service. |
| 1957 | They relocated their factory to the Simonside Trading Estate in South Shields and built a manufacturing plant to begin the production of their clothing. |
| 1974 | The brand received its first Royal Warrant, granted by His Royal Highness the Duke of Edinburgh. |
| 1980 | Barbour designed its first lightweight, thornproof, short riding jacked: the Bedale. |
| 1982 | Barbour received its second Royal Warrant from Her Majesty the Queen. |
| 1983 | The Beaufort jacket first appeared in the Barbour catalogue. |
| 1987 | Barbour received its third Royal Warrant from His Royal Highness the Prince of Wales. |
| 1994 | J Barbour & Sons celebrated its centenary. |
| 2008 | Barbour received a special commendation at the Sunday Times Profit Track 100 Awards. |
| 2013 | The brand became the official partner and sponsor for the Newcastle Falcons rugby team. |
| 2015 | Barbour featured in the London Fashion Week Men's for the first time. |
Barbour's famous classic wax jackets are still made in their factory in Simonside on the outskirts of South Shields, with its proud British heritage heralded on every item. In this factory, nearly 200 workers hand-make over 3,000 wax jackets every week.

Each jacket goes through over 36 separate processes and must pass a rigorous quality control system. This is to ensure that they meet the high standards for which the brand is known.

Originally made to help protect against extreme weather in coastal areas, Barbour jackets offer plenty of warmth in windy conditions. Their quilted jackets offer a layer of protection against the elements, and they're often lined or have padding to provide further insulation.

Waxed jackets also retain warmth by repelling moisture, preventing wet fabric from bringing our body temperature down. Selected Barbour jackets are also made with wool, which is known for its natural wicking and warming properties.

Look for jackets with additional features like handwarmer pockets, bellow pockets, wide collars, and inner ribbed sleeves to help keep out the cold.

Barbour jackets were made with dryness and durability in mind, and it's something that rings true to this day. Their outerwear is made for exploring the great outdoors, and giving each garment a piece of protection against the elements will help it to last a lifetime.

Each Barbour style has been designed using different materials to achieve a specific purpose and condition.

Casual Barbour jackets are made for everyday wear, offering moderate weatherproof properties. In particular, the quilted and wool collections are delightfully warm against winter winds.

For shielding from unexpected showers, Barbour's waterproof jackets are designed to be breathable but water-resistant and their wax cotton jackets are finished with a special coating to make them fully waterproof.

Since John Barbour opened his first store in 1894, Barbour has continued to produce exquisite outerwear to help protect against adverse weather conditions. It has carried this core value through generations, adapting only to update its collections to satisfy modern sensibilities. This ensures that their customers can stay warm, dry, and stylish through all seasons.

Before we explore Barbour's most signature silhouettes, here are the common characteristics that you can expect to find of any Barbour outerwear garment:
Long-lasting quality

— Barbour's promise of unyielding quality reflects in their jackets; each one is made with premium materials to help it last a lifetime.

Traditional style

— While Barbour's more recent collections are intended to fit present-day trends, its rich heritage is impossible to miss and inspires each and every garment.

Double-rolled seams

— To ensure that weatherproof becomes a guarantee rather than just a claim, Barbour prides itself on double-rolled seams that are worked into every jacket.

Practicality

— Each Barbour style was thoughtfully engineered for a different occasion, with unique features to make sure that it's always fit for purpose.


Waxed jackets
At the core of the Barbour brand, its cotton waxed jackets are long-living investment pieces that, like fine wines, improve with age. Whether worn for sports, urban adventures, or festival chic, to own a Barbour waxed jacket is to hold a little piece of UK textile history in your hands.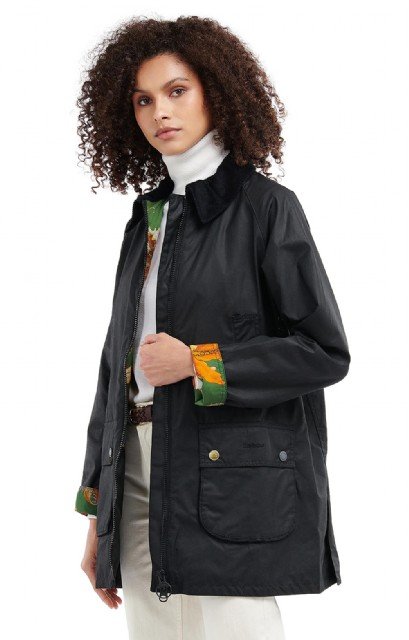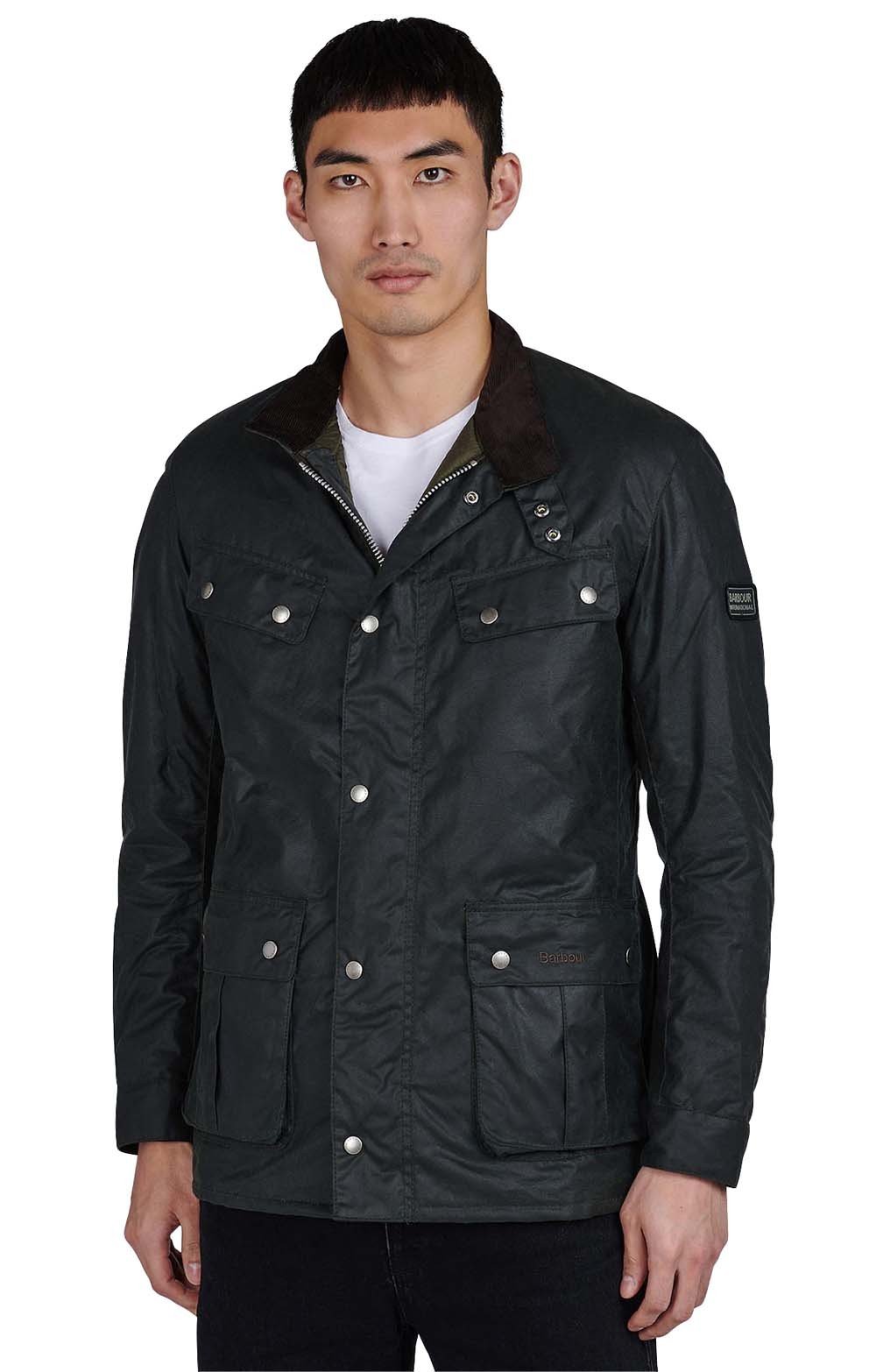 Ladies Barbour Lea Bridge Wax Jacket RPR - £229
Men's Barbour International Duke Wax Jacket RPR - £209
Throughout the years, Barbour has evolved its collection of wax jackets but its most-loved and popular designs have remained.
Here are a few of their most popular wax jacket styles.
Bedale
Perhaps the most ubiquitous silhouette is the Bedale. It was first produced in 1980 and was designed for equestrian wear. The style demonstrates key features like a corduroy collar, two-way zip, handwarmer pockets, elasticated cuffs — and of course, a signature wax cotton coating.
Beaufort
The Beaufort is a wax cotton jacket design that bears resemblance to the iconic Bedale style. However, its differences lie mainly in its original design purpose; the Beaufort's inception was gleaned from classic French shooting jackets and Barbour took the opportunity to create a version that's a cut above the rest. The Beaufort's spacious rear pockets were intended for holding game and are now a useful feature for everyday wear.
Classic vs Regular
Something that you'll come across when exploring the delights of Barbour's wax cotton jackets is the separate classification of 'classic' versus 'original' Bedale and Beaufort jackets. The difference is that classic jackets have a more weathered appearance than the glossiness found on original wax jackets.
Barbour uses the term 'classic' to describe wax jackets finished with a method called sylkoil. The sylkoil process uses an 'unshorn' wax on a garment as soon as it leaves the loom when the weave is still slightly fluffy. The cotton is then waxed and dyed, giving the jacket a more subtle, matte finish.
Standard wax jackets are completed using the 'thornproof' method where the wax is applied differently. The cotton is run through a series of heated rollers to compress the fibres and seal the fabric's weave — a process called calendering. Once it's complete, it gives one side of the fabric a shiny finish that Barbour wax cotton jackets are known for. These thornproof finishes are said to be more durable than the classic variation, but it ultimately depends on the effect that you're looking for.


For dogs
Barbour's decision to expand their coat collection to our beloved four-legged countryside companions has resulted in a range of luxury dog coats and accessories.

Inspired by traditional Barbour jackets, their dog coats channel classic British style, complete with a corduroy collar and unmistakable Barbour logo.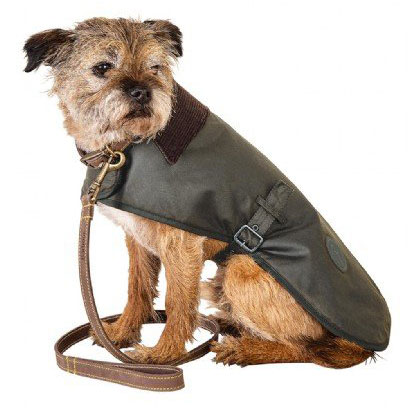 Barbour Wax Dog Coat - RPR £39.95

Quilted jackets
Barbour quilted jackets use premium-quality materials to create beautifully lightweight yet wonderfully warm pieces with enduring appeal. The first quilt, The Countryman, was produced in 1979 and bore a diamond-quilted outer that's become a distinctive characteristic of this style; it defines Barbour as much as their wax cotton designs. This diamond quilting offers insulation but also elevates the jacket from functional into a garment that bears the hallmark of British fashion.
With a range of contemporary styles and colours, faux fur accents, and distinctive Barbour branding, Barbour quilted jackets are as at home in city streets as they are on country walks.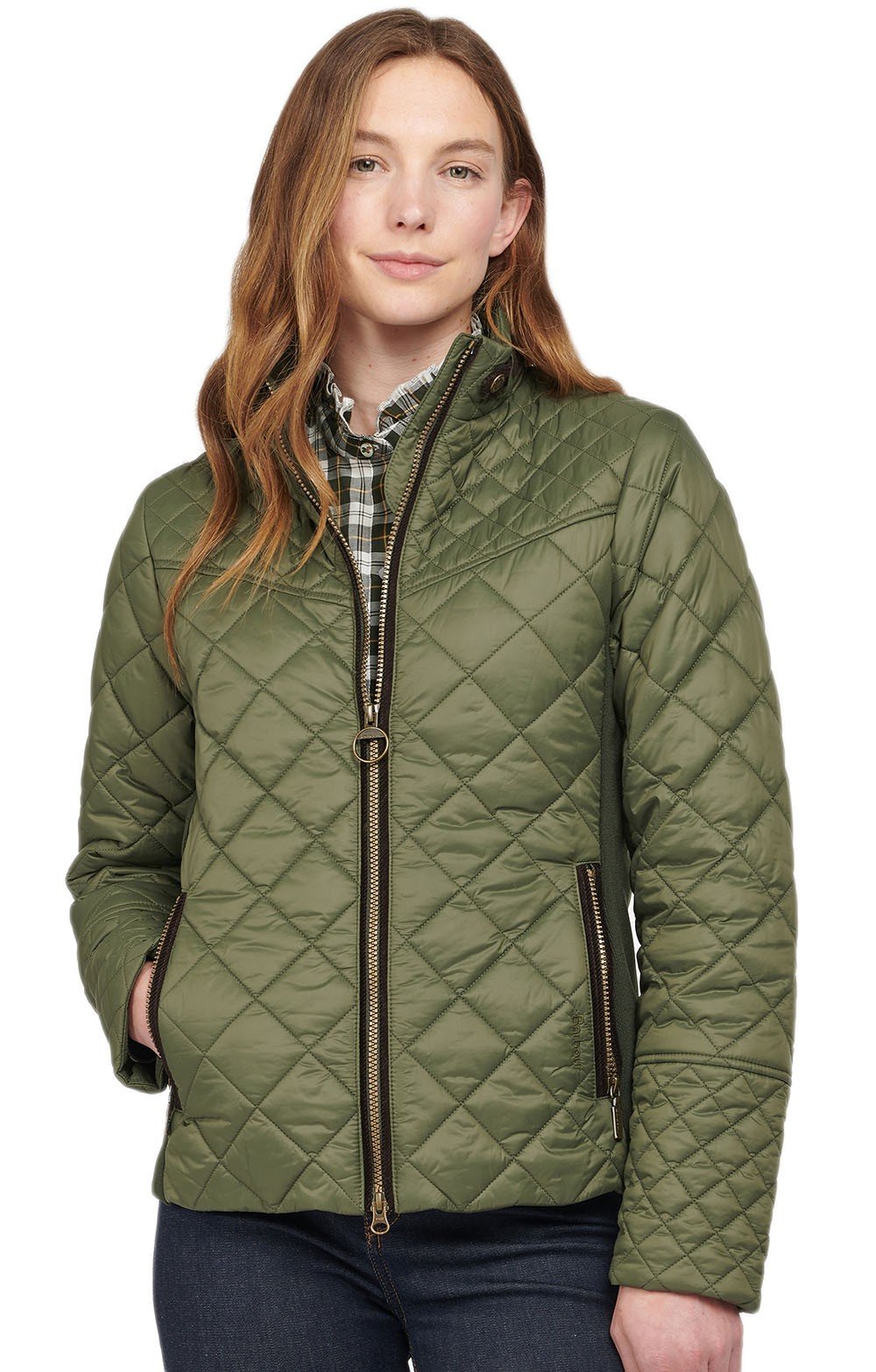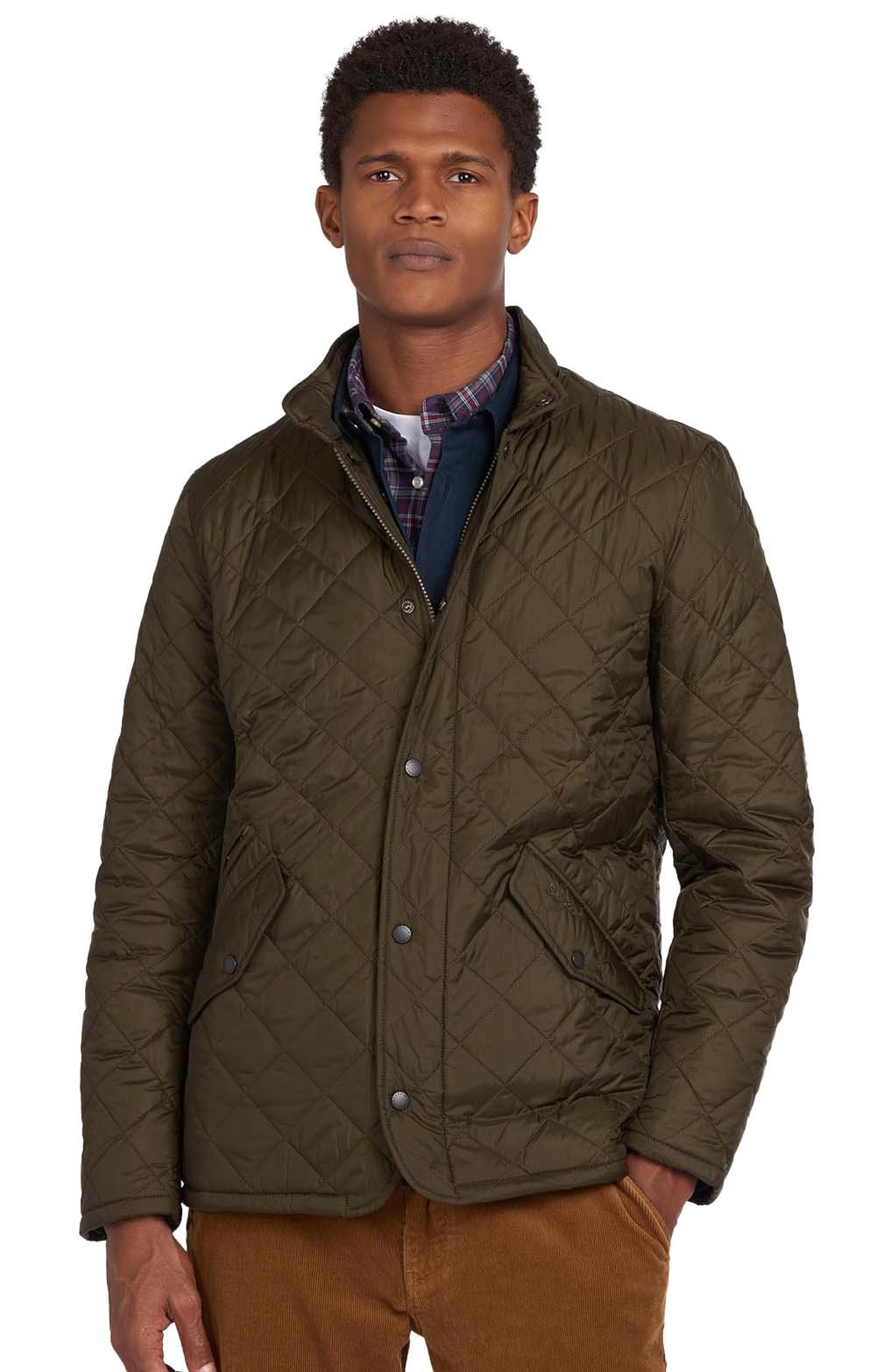 Ladies Barbour Grassmere Quilted Jacket - RPR £169 Men's Barbour Flyweight Chelsea Quilted Jacket - RPR £129

Waterproof
Water-resistant clothing sits at the centre of the Barbour brand, so it's only natural that it put its signature to a range of classically-styled waterproof jackets.
To bring a more wearable nature to the collection, modern cuts are combined with practical features to give traditional wet-weather wear an updated look and feel. Barbour adopted the ultimate in rainy-day attire, the trench coat, and added their mark by giving it a waterproof but breathable design.


International
The Barbour International brand has its roots in the third generation of the family when, in 1936, keen motorcyclist Duncan Barbour introduced a one-piece waxed cotton suit designed for the International Six Day Trials (ISDT). Actor Steve McQueen adopted the suit in 1964, beginning the association that is reflected in today's Steve McQueen collections for Barbour International.

Now an entirely separate brand, Barbour International spans men's and women's collections with a range of biker-inspired clothing in contemporary fabrics as well as the original waxed cotton.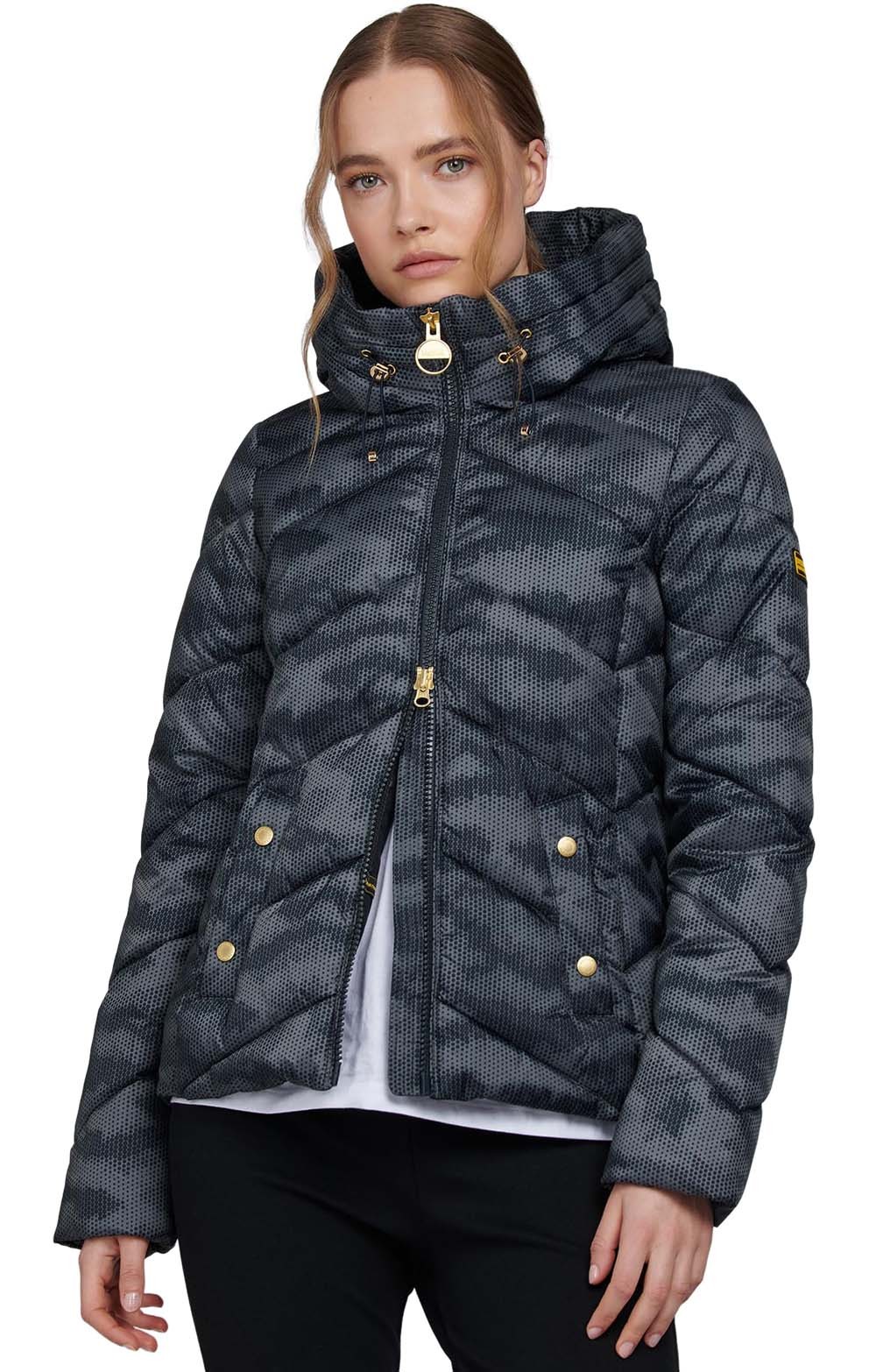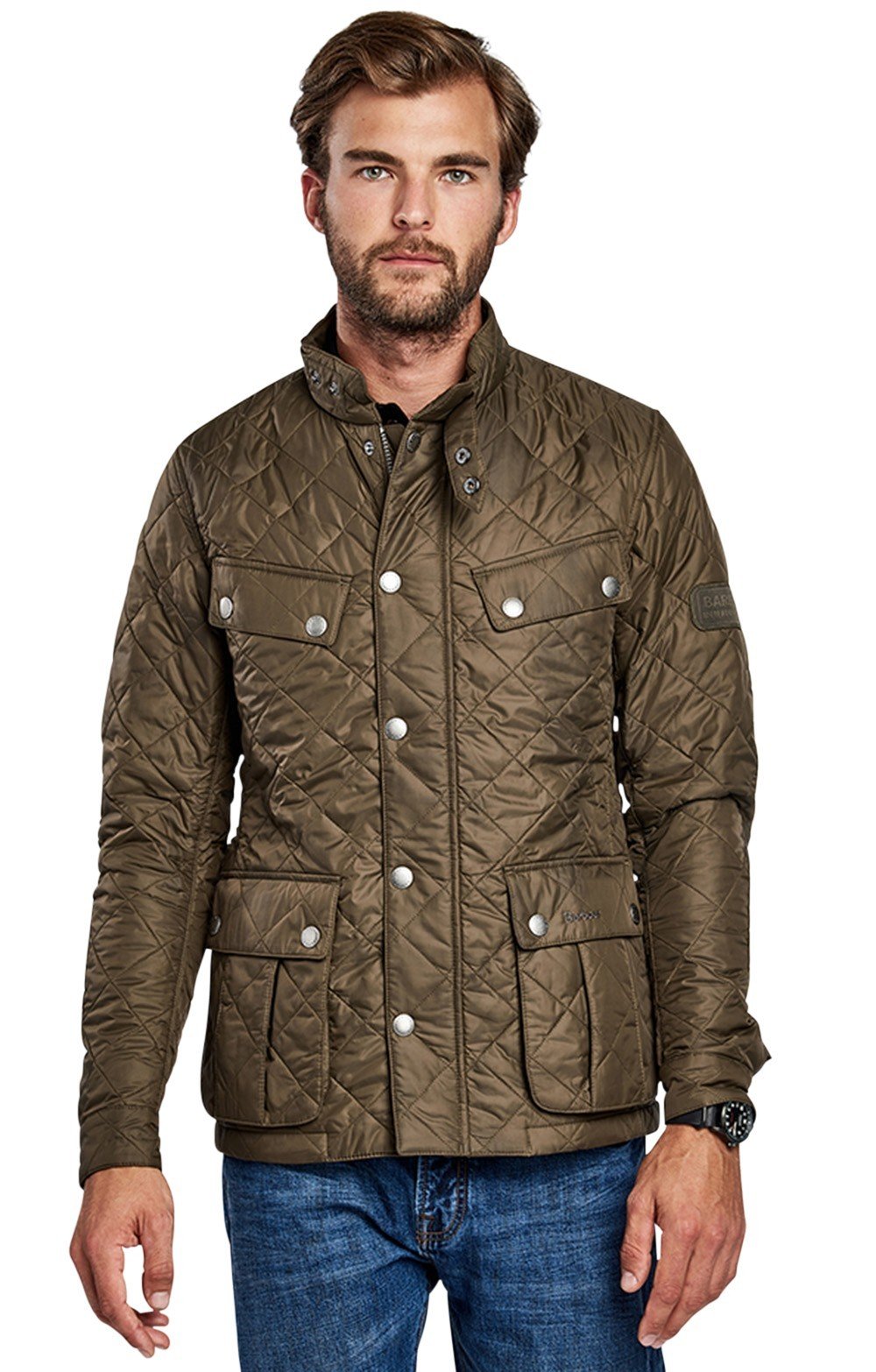 Ladies Barbour International Motegi Jacket - RPR £189
Men's Barbour International Ariel Quilt - RPR £165
Barbour jackets are hand-made with the highest quality materials and with good care, should last you for years to come. To keep it in the best condition so you can enjoy it for longer, regularly cleaning it and following the proper care instructions are crucial.

How to clean wax cotton Barbour jackets
Despite their hardy nature, wax cotton Barbour jackets require some particular care and cleaning instructions to keep them looking their best. They're not machine or dry-clean friendly as the chemicals used in the process may permanently damage or remove the wax proofing. Instead, Barbour recommends sponge cleaning them to remove any dirt.

Here are a few other tips for keeping your jacket in great condition:
Always start by brushing off any loose dirt or debris

Only use cold water to clean your waxed jacket

Use a soft cloth to wipe off any dirt or marks

Let your jacket air dry to preserve its waxed coating

Re-wax your jacket to prolong its life and maintain its waxed coating

Never attempt to make any repairs yourself


How to clean a quilted Barbour jacket
Quilted Barbour jackets and most breathable outerwear can be machine or hand-washed as they're made from materials that can stand machine washing and dry cleaning. The brand recommends that they're washed at 30 degrees with a non-detergent soap, but without fabric softener as these can affect the water-repellent treatment.

All Barbour garments will have a care label sewn into them. It's always advisable to double-check the instructions before cleaning as individual items may have different temperature and care advice.
The forever nature of the Barbour wax jacket – they can be repaired and reconditioned throughout their long lives – is down to their special wax coating. This coating is supremely durable, but as with any garment, wear and tear can cause its condition to deteriorate. That's why it's important to re-wax, or reproof, your Barbour jacket to prolong its waterproof and protective properties, as well as its colour and overall appearance.

Barbour offers a service where customers can return their wax cotton jackets and have a specialist re-wax, clean, repair, or alter them for a fee. This is an excellent option for anyone who wants their product treated by a professional for the best results.

Alternatively, Barbour also sells tins of their special wax for those who want to re-wax their jackets at home.

Here's a step-by-step guide for how to re-wax your Barbour jacket:
1. Clean your jacket
Use cold water and a soft cloth to remove any surface dirt from your jacket.

2. Soften the wax
Open your tin of Barbour wax and place it in a bowl of hot water to soften the wax. Let it sit for around 20 minutes until it's melted enough to achieve a liquid consistency.

3. Waxing your jacket
Dip a clean sponge into the melted wax and work it into the jacket. Try to focus on the seams, creases, and dry patches for an even finish. Keep the tin of wax in the warm water so that it doesn't harden while you work; if it does begin to harden, add more hot water to the bowl. Wipe off any excess wax with a clean cloth. Pay close attention to where you're applying the wax to prevent any from touching the corduroy collar, inside lining, or inside of the pockets.

4. Drying your jacket
For best results and an extra smooth surface on your jacket, run a hairdryer on a gentle heat setting over the wax to even out the wax distribution. Avoid holding the hairdryer too close to the wax as it might melt too much and run. Once finished, hang it up and let it dry overnight in a warm place away from any other clothes.

5. Repeat yearly
Repeat the re-waxing process once a year. Barbour recommends choosing a warm day in summer as then it'll be ready for winter.
Enjoy authentic country-inspired clothing with House of Bruar
To truly understand the steep heritage that lines every Barbour garment, it's essential to experience it for yourself.
Discover the full range of women's and men's Barbour jackets at House of Bruar for quintessential country style.