No longer worn exclusively by Scottish farmers, tweed is a fabric that in recent years has been propelled to the forefront of the fashion industry thanks to its enduring quality and unique patterns.
Invented in the 18th century by farmers on Scotland's remote islands to withstand the harsh weather, tweed has come a long way from its humble beginnings. This woven woollen fabric has in recent years become increasingly fashionable, and is acceptable to wear in almost any situation.
Due to the extensive range of different prints, colour combinations and range of garments made from tweed, it can be easily dressed up or down and looks great when paired with all other natural fabrics
Due to the extensive range of different prints, colour combinations and range of garments made from tweed, it can be easily dressed up or down and looks great when paired with all other natural fabrics. We've chosen five modern looks to help you wear tweed during the day, the night and even out in the field.
Tweed for Town and Country
Look the part in both town and country with a smart casual ensemble centered around a tweed jacket. The tailoring on our Modern Tweed Jacket is both flattering and contemporary with the colours being just bold enough to be eye-catching but not overwhelming. To accentuate the earthy colours in the jacket, we've paired it with a plain cotton blouse and a pair of garnet coloured cords - this tweed jacket also looks great with denim jeans if cords are not your style. Keep the rest of the outfit relatively simple with brown accessories such as our felt hat and suede belt and bring it all together with a pair of leather heeled ankle boots.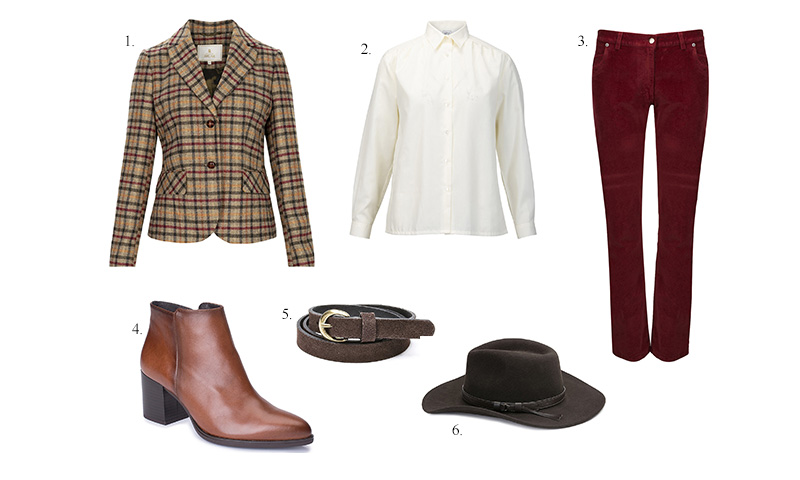 Pictured: 1.House of Bruar Modern Tweed Jacket, 2.The Oxford Shirt Company Classic Cotton Blouse, 3.House of Bruar Cord Jeans, 4.House of Bruar Leather Heeled Boots, 5.Felt Hat, 6.Suede Belt
Tweed for Office Success


Classic and conservative, the pencil skirt is a staple of any office wardrobe. Our Prince of Wales Tweed Skirt is the epitome of sophistication and can easily be worn at work as well as out afterwards for dinner and drinks. Keep it simple by pairing it with a soft knit in a neutral colour like our cashmere roll neck and add another layer of iconic British style with the classic 3/4 length Mac. In winter, wear with a good pair of boots like our High Suede Chelsea Boots and then to finish off the look, add a buckled belt and a practical but also seriously stylish handbag. We love our Olivia Handbag which is made from deerskin.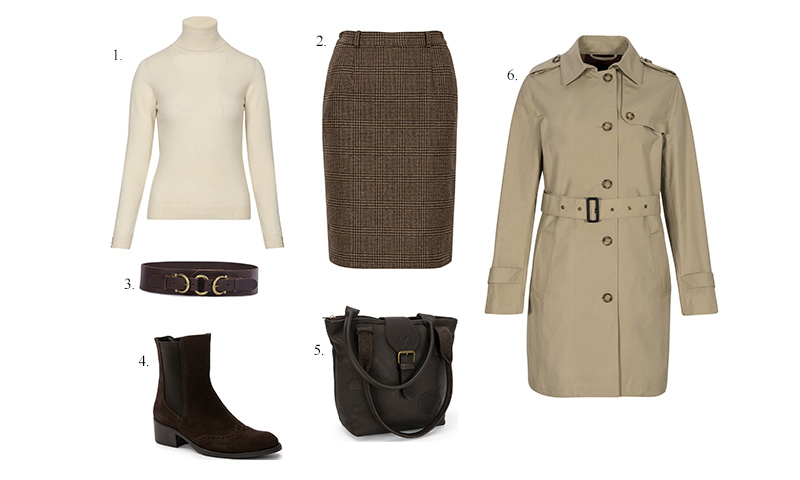 Pictured: 1.House of Bruar Cashmere Roll Neck, 2.House of Bruar Classic Prince of Wales Tweed Skirt, 3.Leather Double Buckle Belt, 4.House of Bruar High Suede Chelsea Boot 5.Oliva Bag,
6.House of Bruar 3/4 Length Mac
Tweed for Everyday Adventures
Many people think that tweed trousers are not as easy to wear as other types of trousers, but with this look we show you how they can be worn just as easily and casually as a pair of jeans. Our Tweed Print Jeans are a great modern alternative to woven woollen tweed trousers as they are made from a cotton blend that is easily washable. Brighten them up with a rustic coloured jumper like our Lambswool Crew Neck Jumper in warm ginger. To keep the look contemporary, we've matched the tweed trousers with a leather Faux Fur Collar Gilet which is as practical as it is stylish and finish the outfit off with a pair of classic Penny Loafers - so comfy you can easily wear them all day - and an eye catching handbag like our Sporran Tassel Bag.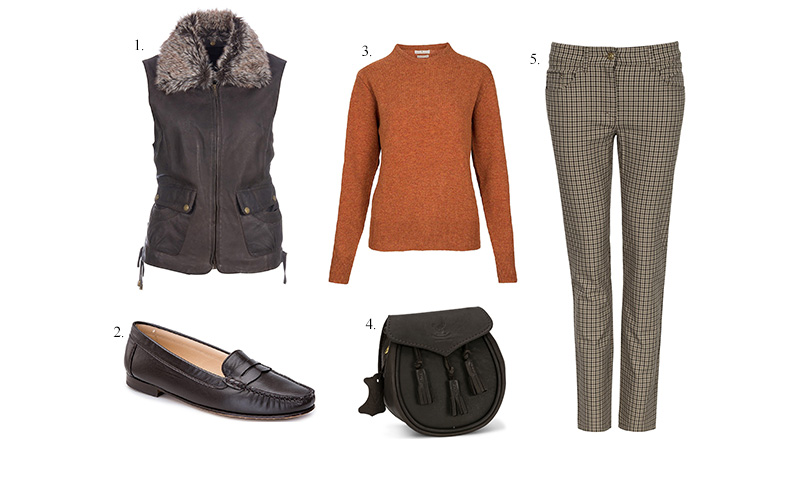 Pictured: 1.Faux Fur Collar Gilet, 2.House of Bruar Penny Loafer, 3.House of Bruar Lambswool Crew Neck, 4.Sporran Tassel Bag, 5.Tweed Patterned Jeans
Tweed for a Day (or an Evening) Out
Tweed comes in many different patterns with Dogtooth (or Houndstooth as it is also called) being one of the most striking. Dogtooth is a pattern that generally looks smart, and wearing a Dogtooth item of clothing is an easy way to make your outfit look effortlessly chic. We love this monochrome look which you can easily wear from day to night. Our Contemporary Dogtooth Crew Neck Jacket with its Chanel-style tailoring will elevate any outfit to the next level and will never go out of style. Wear with black Leather Trousers and black leather Chelsea Boots to keep it understated. A shirt with some detailing, like the Frill Neck Shirt by Eterna is a good choice as it keeps the outfit interesting once the jacket has been removed and keep the accessories simple for maximum impact.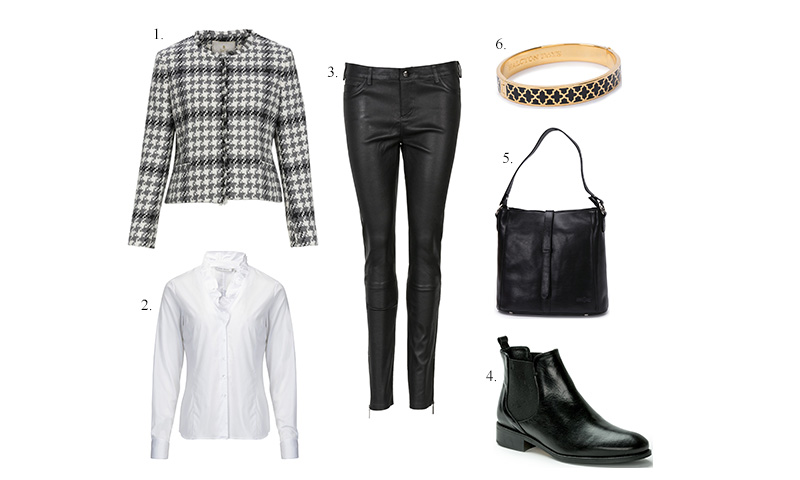 Pictured: 1.House of Bruar Contemporary Dogtooth Jacket, 2.Eterna Frill Neck Shirt, 3.Lamb Nappa Jeans, 4.House of Bruar Chelsea Boot, 5.Gianni Conti Strap Bag,
6.Halcyon Days Agama Bangle
Tweed for shooting
It is traditional when attending a shoot to wear a tweed jacket in a shade of either green or brown. Favoured by the sporting community for hundreds of years, tweed is just as popular today as it was in years gone by. It is hard-wearing and breathable, and in recent years it has seen the incorporation of newer high-performance fabrics which take it to the next level. Our Tweed Shooting Jacket has everything you would expect from a modern shooting jacket including hand-warming pockets and a quilted padded lining for extra warmth. As wearing denim jeans on a shoot is an absolute no-no, a pair of Moleskin Jeans in a shade of rustic green are the perfect alternative. A soft Tattersall Shirt will keep you comfortable and your feet will thank you for wearing a warm pair of Merino Socks. Breathable, waterproof, comfortable and elegant, the Aigle Par Field MTD Boot is an exceptional boot to wear shooting and one we highly recommend. An essential piece of kit is a Cartridge Bag and to complete the look you will need a hat and a scarf .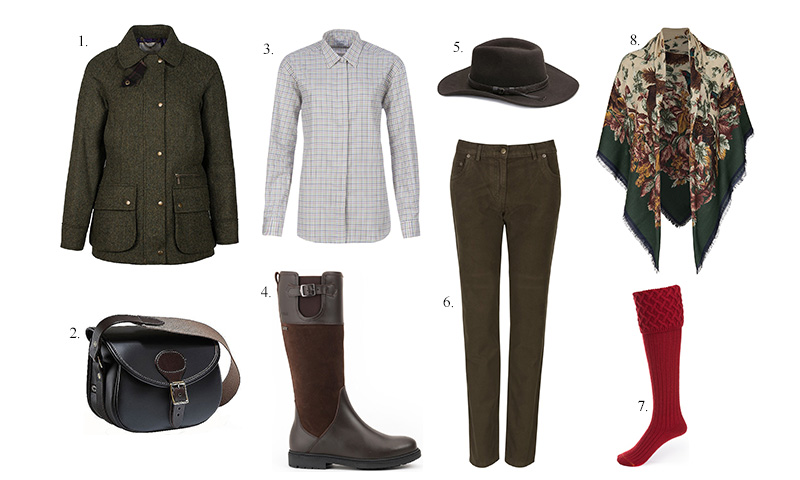 Pictured: 1.House of Bruar Tweed Shooting Jacket, 2.Croots 150 Cartridge Bag, 3.Tattersall Shirt, 4.Aigle Par Field MTD Boot, 5.Felt Hat, 6. Moleskin Jeans, 7.Merino Socks, 8.Wool/Silk Shawl
For more information on tweed see: