Tweed: A Guide to What it is and How to Wear it
Tweed is a much-loved and soulfully Scottish type of cloth that has become popular around the world. Stitched into country jackets, three-piece suits and everything in between, it takes pride of place in wardrobes as a quintessentially British style statement.
We delve into the history of tweed and how it has evolved from a working man's cloth into an indelible fashion staple today. Discover exactly what tweed is, how to care for it, and more.
Tweed is a fabric that's traditionally made from pure new wool and comes in a variety of colours and patterns. It can be woven into different weights and thicknesses; the weather resistance and warmth of heavyweight tweed make it ideal for outerwear, while lighter compositions can be formed into lighter everyday garments.
While there are plenty of iconic weaves of tweed, no two pieces are the same. This means that each piece is unique and adds to the fabric's allure.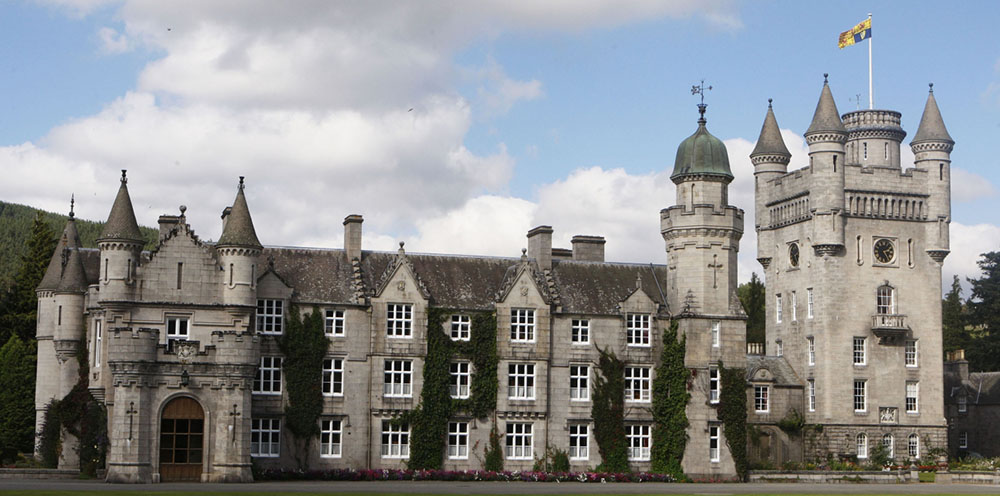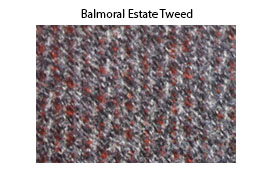 Speciality tweeds were constructed to identify nobility and their workers as belonging to a particular estate. These became known as estate tweeds and were named after the country home where they were worn. Above is a sample of one of the first estate tweeds: the Balmoral estate tweed.
Tweed's humble beginnings reach back to the early 19th century when the fabric was first invented and woven in Scotland. Shepherds and farmers wore tweed on the remote islands of Scotland and the Outer Hebrides, where it was the ideal material to withstand the harsh Highland weather and ever-changing elements.
But what caused the farmer's favourite from the North to become a fashion essential centuries later?
In the first half of the 19th century, many estates in Scotland were taken over by English noblemen looking to increase their life of leisure.
One of those noblemen was Prince Albert, who purchased Balmoral in 1848. Though the foundations of the castle were not laid until the 28th of September 1853, he designed the Balmoral Tweed earlier: blue with white sprinkles and flecks of crimson to resemble from afar the granite mountains of Aberdeenshire around Balmoral. And thus was born one of the first estate tweeds.
Subsequently, it became the fashion among estate owners to commission their own special estate tweeds which would be used to make the staff uniforms for those who worked on their properties. This association caused the fabric to rise in popularity among wealthier members of society, particularly the nobility.
Later in the century, advances in the production of tweed meant that it became more affordable and attainable for those who weren't nobility or farmers. Its durable and water-resistant properties meant that it was used to make hunting and fishing attire, and the natural hues of the fibres were beneficial for providing camouflage in countryside areas.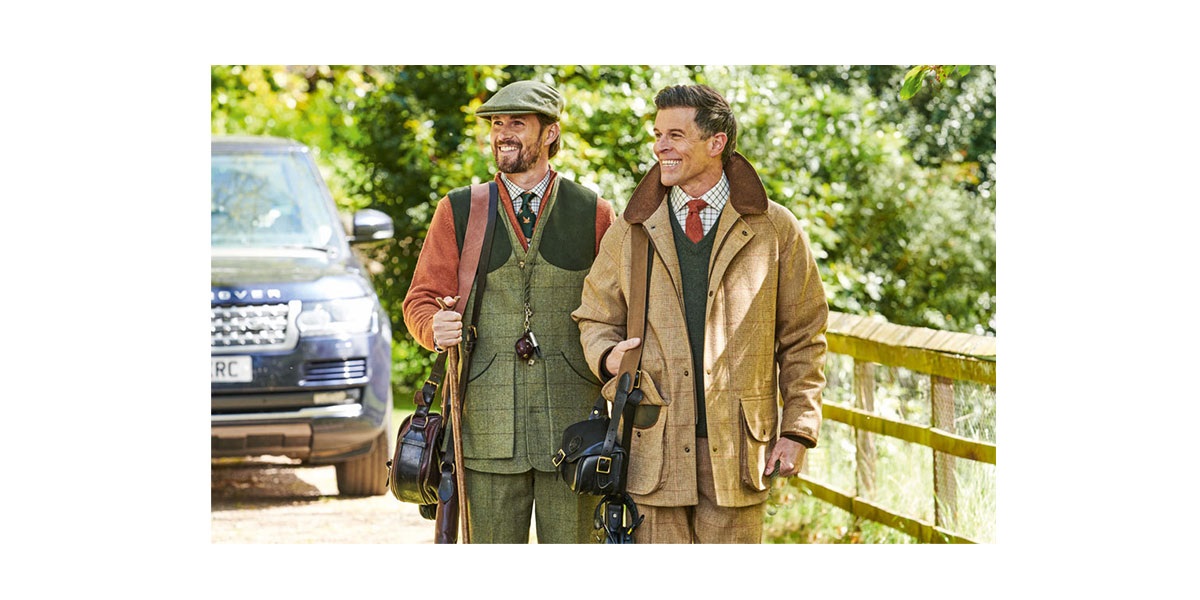 Today, tweed is an iconic British fabric that plays a leading role in the closets of many. It has been propelled to the forefront of the fashion industry thanks to its enduring quality and unique patterns.
Traditional tweed of old was much denser and more rigid than the tweeds of today, leading to the misconception that tweed was only to be worn outdoors. However, though this may be true for the thicker weights of tweed, lighter variations have since been created to allow tweed to rise to any occasion with comfort, style and ease.
The cloth comes in a variety of patterns and weights; these designs range from Herringbone to Barleycorn, and each has a specific intended use. Different types of tweed usually take their name from their place of origin, such as Shetland Tweed and, the most renowned, Harris Tweed. However, the largest variety lies in the patterns created by the weave of the material.
Here we have put together a guide to help explain the variety of weaves this traditional cloth comes in.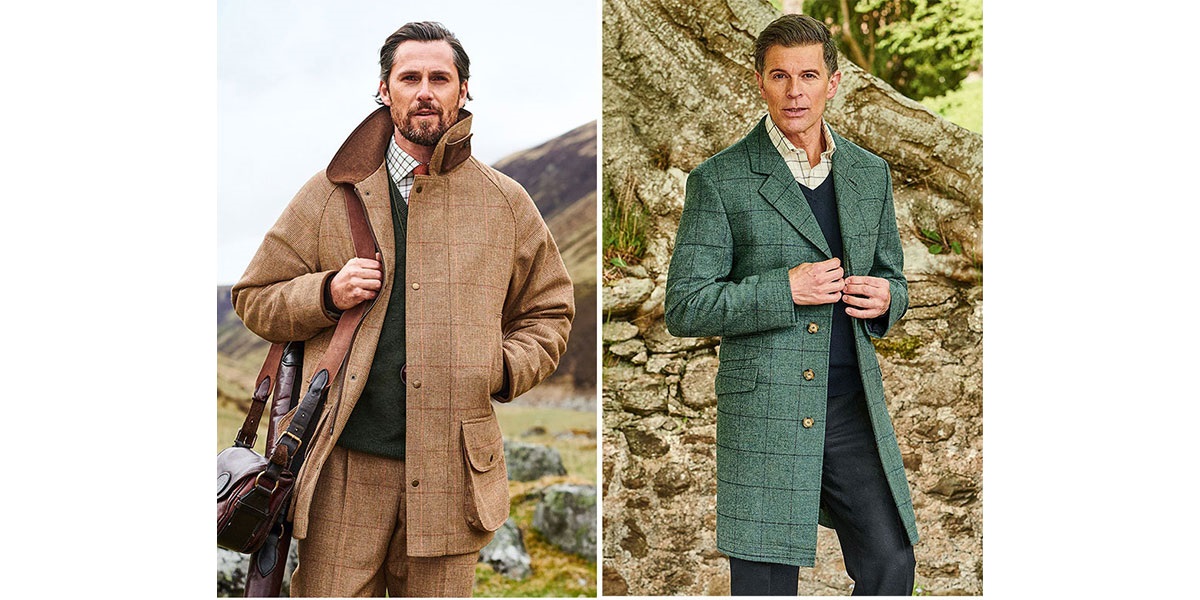 A traditional twill style makes up the base of this tweed. Marled yarns are woven together in a way that creates a chevron-like pattern that makes up the base of the cloth. Though this is not always the case, it is true for a large number of designs.
The windowpane design can change in terms of scale. This difference is created by the number of threads used to make up the overcheck colour. Above, we show a blue classic windowpane style made from two threads, and similarly, a red windowpane made up of three threads. The only difference between these designs is the scale of the pattern.
A traditional twill style that creates a fishbone-like pattern as the fibres are woven together. This popular style has earned its name through the V-shapes that bear a strong resemblance to herring bones.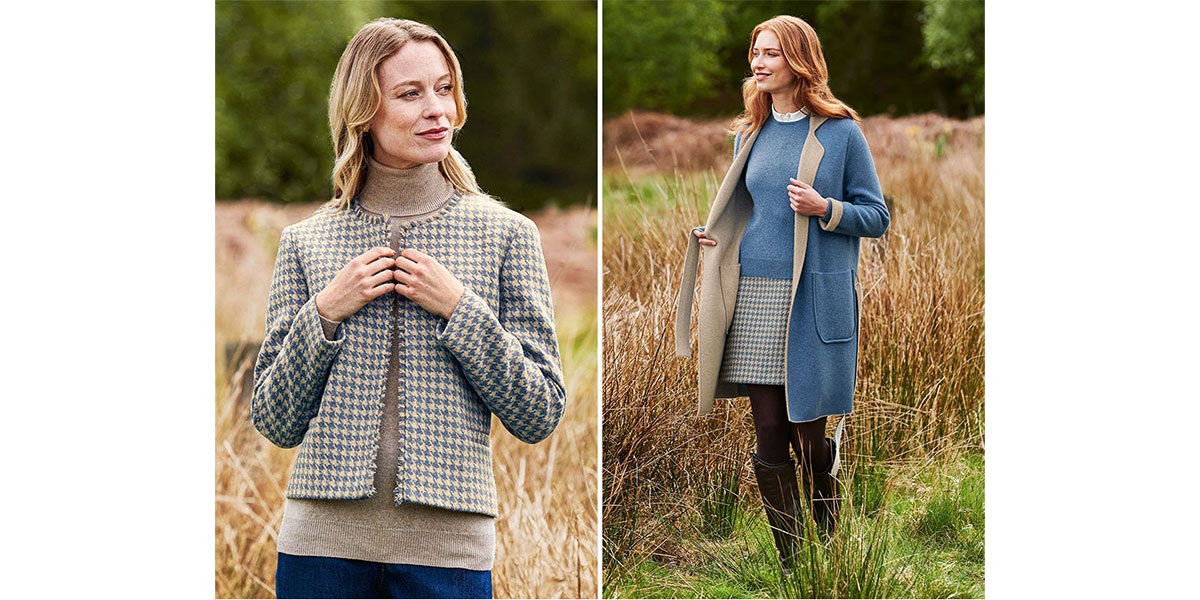 A highly popular version of tweed, this traditional design comes in three sizes distinguishable by their scale.
Puppytooth is the smallest version of the design, which can be used as a base tweed due to its small scale making it appear almost plain on first sight.
Dogtooth is largely used within estate tweeds and is the most traditional form of the design.
Houndstooth is most regularly used in fashionable and everyday garments. Generally, the larger the scale of the design gets, the less the item is used for a traditional purpose.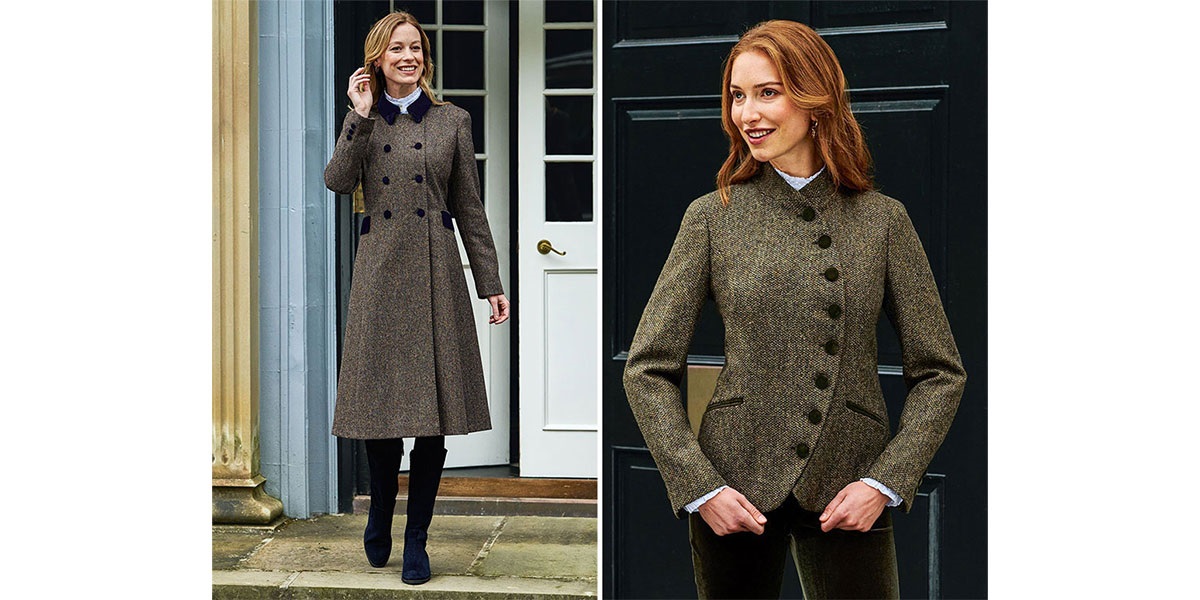 This style of tweed is classically characterised by its textured appearance. It earns its name from its resemblance to barleycorns when they are stored in bulk.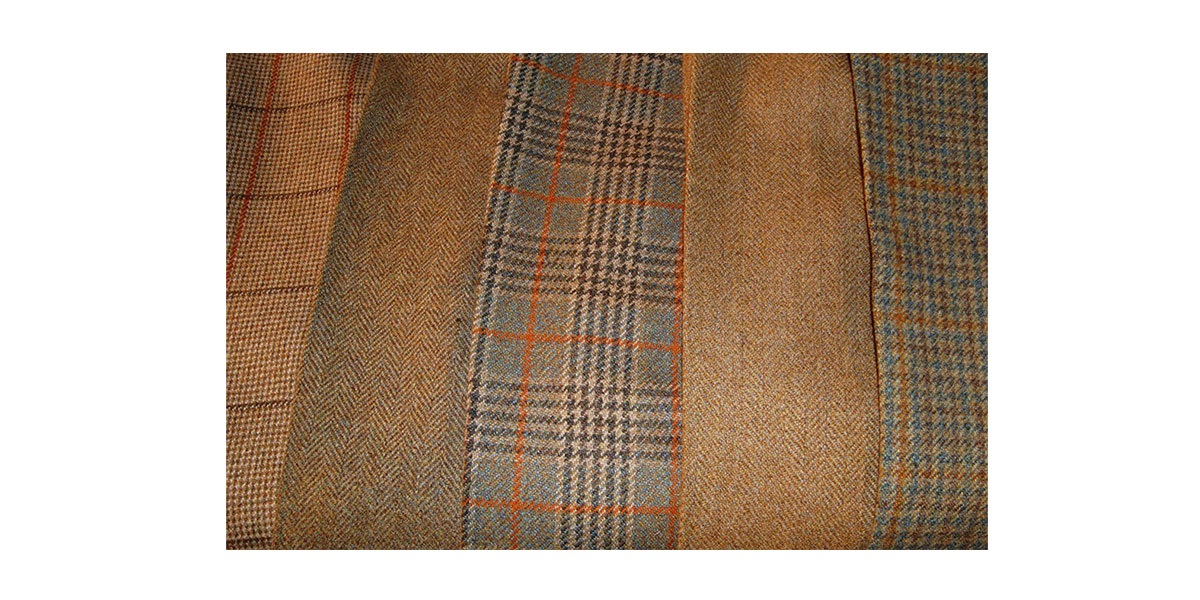 Estate tweeds are defined by their weight. The materials need to be heavyweight and provide protection from the elements. Estate owners will commonly create a design exclusive to them, resulting in many patterns using earthy tones to reflect the natural hues found in the Scottish landscape.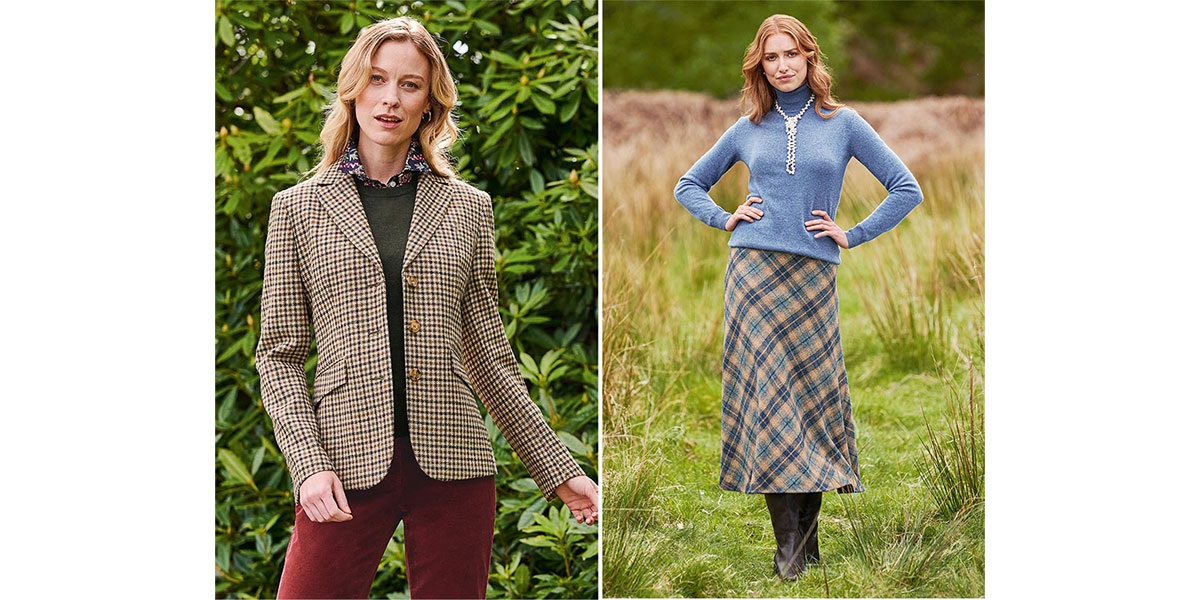 Our check designs combine the look of overcheck and refined dogtooth. Using a small palette of colours, it is woven to create a checkerboard pattern with an alternate colour as a larger pattern.
At The House of Bruar, we use the term Check, though this is not a traditional design of the material.
Light


Weight: 250-320 grams
Ideal for: everyday garments and for field sports during warmer seasons.
Description: generally used in the manufacture of shirts and lightweight trousers or jackets, it is particularly suited to three-piece suits.



Medium


Weight: 300-400 grams
Ideal for: producing trousers, skirts, jackets and lighter weight coats.
Description: the less rigid qualities of the fabric give the material a drape that flatters the body when cut to a pattern. This composition is the most versatile of all the weights.



Heavy


Weight: 500-600 grams
Ideal for: garments worn outdoors.
Description: though the material is predominantly used by estate workers and gamekeepers, it can also be used by sporting enthusiasts who require a thicker material for added protection when walking through heather or stalking on hills.
Tweed comes in a variety of different weights to make it suitable for various articles of clothing. When shopping for a tweed item, it is important to know if the piece will be worn as outerwear, sporting wear or as an everyday item.
We categorise our garments based on the weight of tweed we use for their design as we are conscious that certain weights are not appropriate for specific garments. For example, if you want a skirt to drape gracefully, then a lighter weight of tweed would be required.
Tweed's rich history partly comes from its process of production. Traditionally, tweed fibres were hand-dyed using natural dyes before being hand-woven on a loom. Today, the tweed manufacturing process has been mechanised to speed up production and meet increased demand.
While the speed at which tweed is made has changed, the method itself has largely remained untouched.
1. Harvesting
Tweed garments are usually made up of natural wool fibres from merino sheep. Merino sheep produce a coat of wool once a year which is often harvested by hand. Have a read of our guide to Merino wool to learn more about where it comes from.
2. Cleaning
Once harvested, the wool is cleaned to remove any dirt and debris. It's then passed between a pair of spiked panels, a process known as carding, to brush the wool and align the fibres in the same direction. It results in the fibres being formed into long strings that can be spun to make yarn.
3. Dyeing and drying
Next, the strings are dyed into individual colours to match whichever tweed pattern they'll be made into. The ratio of dye colours is mixed by hand and blended in a mixer to achieve the perfect hue. The strings are then dried in bunches.
4. Mixing
When it's dry, the freshly-coloured yarn is placed into an industrial mixer that forms the right hue that's required for the tweed weave.
5. Teasing and carding
The fibres are carded again to stretch and smooth the wool before it's made into a thread.
6. Weaving
Finally, once the thread has been spun and wound into yarns, it's ready to be woven into tweed.
Most of our tweeds are made from pure new wool. While regular wool can often be recycled into new garments, new wool is a fresh weave that has not been previously used – and which hasn't sustained any wear. It's best to wash tweed made from new wool as little as possible.
Though we do recommend dry cleaning to maintain the shape and look of tweed, please follow the knitwear care instructions below if you prefer to perform home care on your tweed garments.
1. Hand wash in cool, clean water at 30 degrees max. We recommend using liquid soap or a premium 2-in-1 shampoo and conditioner. In particular, we love to use a cashmere shampoo. Never use powder detergent.
2. Gently squeeze the suds through the garment. Be cautious not to wring, rub, or stretch whilst washing.
3. Rinse the garment in clean water.
4. Do not lift the garment up as wet fabric weighs more and will stretch the garment.
5. Gently squeeze excess water out of the material.
6. Lay the garment flat on a towel, reshaping whilst doing so.
7. Leave to dry naturally away from direct heat sources and out of sunlight.
Due to the extensive range of different designs, colour combinations and the sheer range of garments made from tweed, it can be easily dressed up or down and looks great when paired with all other natural fabrics.
We've chosen five modern looks to help you wear tweed during the day, into the night and even out in the field.
Tweed for town and country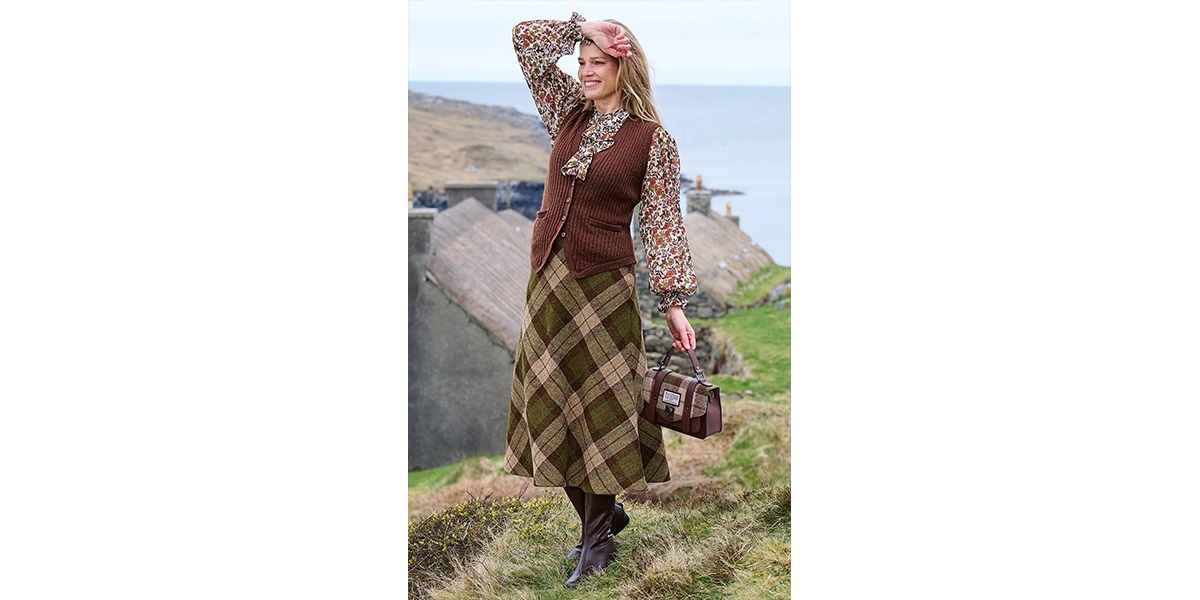 Look the part in both town and country with a luxurious long tweed skirt. An elegant drape and extravagant movement tell the tale of stylish country living. This versatile look seamlessly pairs with any of our blouses, shirts or knitwear, allowing you to dress for any occasion.
Tweed for office success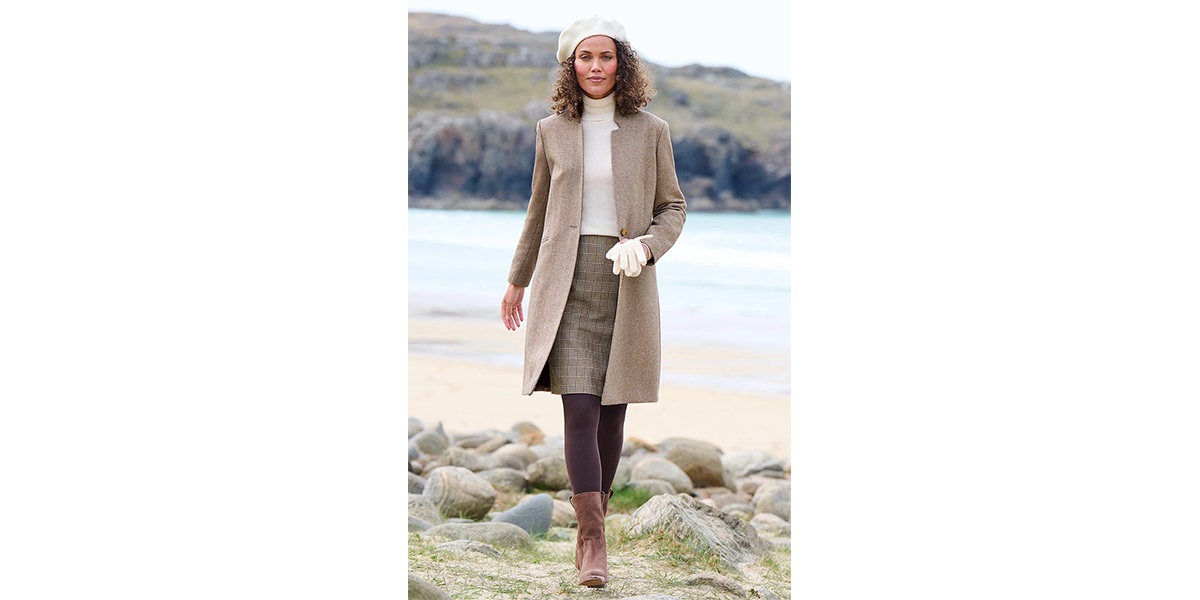 Classic and conservative, the pencil skirt is a staple of any office wardrobe. No other item expresses confidence, elegance and the triumph of contemporary country style quite like a subtly tailored pencil tweed skirt.
A timeless tweed pencil skirt will pair easily with any of our gorgeous tops or blouses. Finish the look with your chosen pair of stockings and any of our suede or leather loafers or heels. You can even choose to add another layer of iconic British style with a mac or raincoat.
Tweed for everyday adventures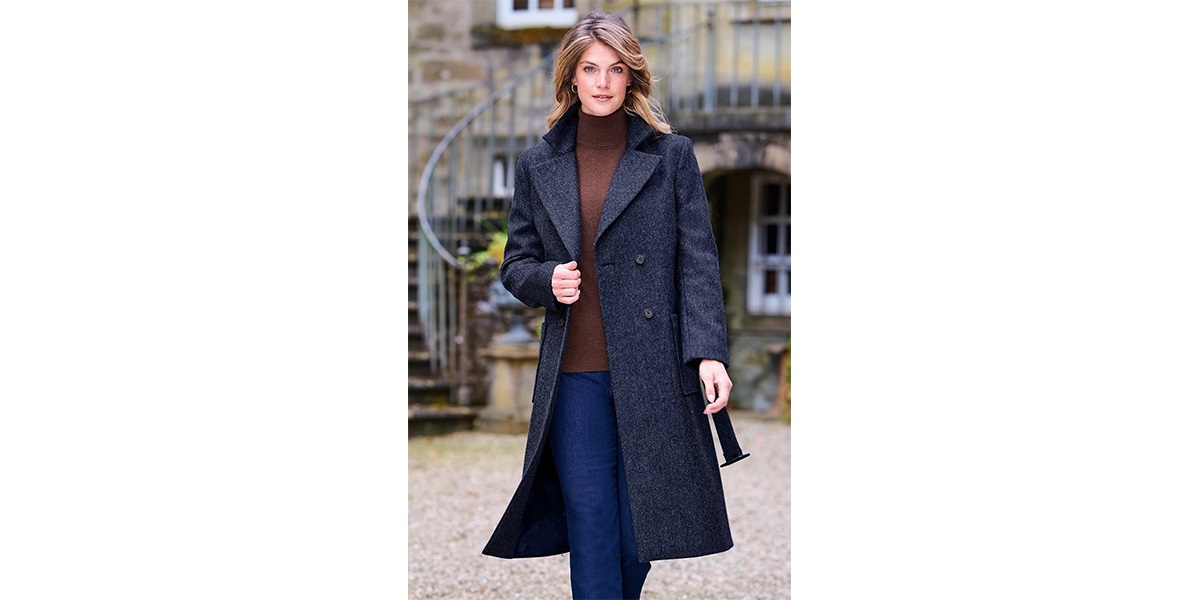 A smart but casual ensemble that's perfect for every day is centred around a tweed coat. Classic tailoring gives a flattering silhouette that's just bold enough to be eye-catching without being overwhelming.
To accentuate the earthy colours of a neutral tweed coat, we'd recommend pairing one with a plain cotton blouse and coloured cord trousers – but it will also look great with denim jeans if cords are not to your taste.
Tweed for a day (or an evening) out
For a night out on the town, a shorter tweed skirt is an excellent choice. Grab your favourite heels, or, for colder nights, some knee-high boots.
Alternatively, try a monochrome look with a dogtooth pattern. A black and white dogtooth tweed looks smart while making your outfit effortlessly chic; swap out a knitted sweater for an elegant blouse to wear from day to night.
Tweed for shooting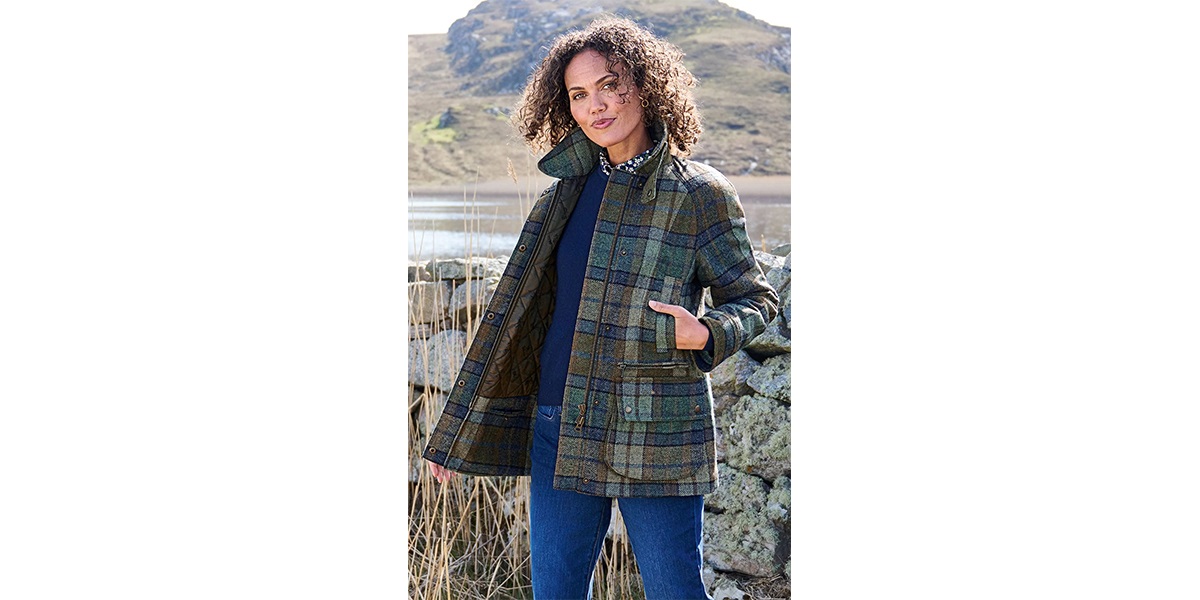 It's tradition when attending a shoot to wear a tweed jacket in a shade of either green or brown. Favoured by the sporting community for hundreds of years, tweed is just as popular today as it was in generations gone by. It's hard-wearing and breathable, and in recent years it has seen the incorporation of newer high-performance fabrics which take it to the next level.
A tweed shooting jacket has everything you would expect from a modern shooting jacket, including hand-warming pockets and a quilted padded lining for extra warmth. Wearing denim jeans on a shoot is unacceptable, so a classic tweed skirt may be your desired choice instead. Style with genuine leather riding boots to not only look but also feel the part too.
At The House of Bruar, we get a number of questions about our tweed fabrics, so we've collected them all together so you can easily find the information that you're looking for.
What makes Scottish/British tweed the best?
Scotland is where tweed began, and, as such, the skills of making a high-quality material have been passed down through generations and perfected for centuries. British tweed embodies all the knowledge of a long line of tweed weavers and this proves its quality has prevailed.
Are certain weights better than others?
The weight of the garment is down to what purpose the piece will serve. For example, the most common shooting weight is a medium 480-550g. When designing our garments, we ensure the weight of the tweed we have chosen is the most appropriate for the garment type. We wouldn't use a heavyweight tweed for a skirt we want to drape.
Is there a particular pattern I should buy?
Choosing a pattern of tweed is down to personal preference. To ensure the longevity of your wear, it is best to pick a weave and design that suits your personal tastes. The only time you would buy a particular pattern of tweed is when purchasing a heavyweight piece to wear on an estate or as a uniform.
Where is The House of Bruar tweed sourced from?
We work with a range of mills to produce our tweed and make an effort to source these, as well as our other natural fibre materials, as locally as possible.
The mills we work closely with include Marton Mills, Abraham Moon, Johnstons of Elgin, Mallalieus of Delph, Robert Noble, McGee of Donegal, Lovat Mills and more. All of these mills do an exceptional job in producing different quantities and designs. We work passionately to ensure the tweeds we select for our catalogue are exclusive to us in full or by the colour available.
Add a piece of quintessential Scottish style to your wardrobe
Whether you're on the hunt for a new look for a ladies brunch, a work outift or a night out, our tweed is the perfect statement to dress up or down. Our selection of tweed designs and weights will effortlessly flatter your figure.
Discover our collection of luxurious Harris Tweed, or shop all ladies and men's tweed coats from House of Bruar.