What is Harris Tweed: A Guide to one of Scotland's Most Prized Cloths
There's something rather special about owning a unique, luxury product, whether it's a
special pair of shoes you save for a memorable occasion or a favourite piece of jewellery with a hidden, sentimental meaning, and for many of us that memorable item will be a garment or accessory made using genuine Harris Tweed.
However, despite being coveted for its exceptionally high quality and unique designs, Harris Tweed is still a mystery to many of us. From where it's from and how it's made to the incredible history behind the growth of the Harris Tweed phenomenon, we're going to take a peek behind the woven twill curtain to give you the answer to every burning question you've ever had about the different types of Harris Tweed and share what makes it such a high quality, expensive product.

If you found your way here to learn more about buying genuine Harris Tweed, or how to clean it and store it too, then we've also got those topics covered. And finally, we'll share some of our favourite Harris Tweed styling techniques to help you find your perfect country clothing style.
A unique twill fabric woven on the remote Outer Hebridean islands of Scotland, Harris Tweed is a material that is as iconic as it is unique, and was once upon a time more important to hardy Scottish crofters than to dedicated fashion followers as it is today. Crafted to allow islanders to cope with the harsh climate found in the desolate North Atlantic, this hand-woven and hardwearing fabric wasn't just used as a barrier against the elements. It was such an impressive product that it was frequently used as a form of currency, often being traded on the mainland for goods or food, and occasionally used to pay rents.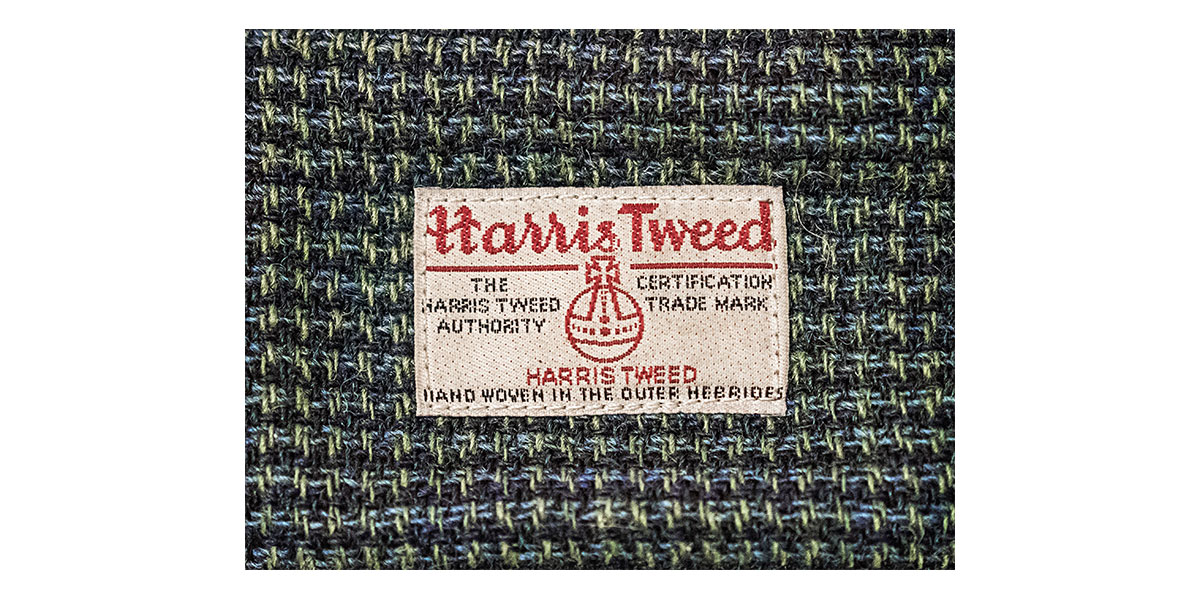 Harris Tweed as a brand didn't come into existence until the arrival of the Industrial Revolution in the early 1800s. Until then, the fabric woven by local craftsmen was inconsistent in quality and depended very much on the natural talent of its makers. It was also made from hand washed wool dyed with natural oils and colours that were foraged on the islands, a practice no longer allowed because many of the native plants are now protected.

When the North Harris Estate on the Isle of Harris passed into the hands of Lady Catherine Herbert in 1843, the sound businesswoman saw an opportunity to pull all aspects of the craft together into a single industry and transform it into a desirable, well-known commodity, thus creating the archetypal Harris Tweed brand that is known and loved globally today.

While some of the production methods may have changed - although every piece of Harris Tweed is still woven painstakingly by hand - the quality and desirability of the finished fabric has not. In fact, it is considered such a specialist product that the process by which it is made and the location in which it must be crafted eventually became protected by law under the Harris Tweed Act 1993, to ensure imitation brands were unable to cash in on its reputation for excellence.

Over the centuries, Harris Tweed has grown in popularity amongst renowned designers of everything from clothing to soft furnishings. Hugo Boss, Paul Smith and Dr Martens are three power-player brands who have used Harris Tweed within their designs, and after the popular five-star Blythswood Square Hotel in Glasgow carried out renovations in 2008 using in excess of 90,000 metres of Harris Tweed, interior designers quickly caught on to its enduring appeal.
Harris Tweed is, and always has been, made from pure wool. Whereas in its early days weavers used fleece shorn from local island sheep, the expansion of the industry meant the tiny islands couldn't keep up with the demand. Today, the majority of the yarn is taken from the virgin coats of Scottish Blackface and Cheviot sheep reared on the Scottish mainland, but some local crofters do still provide a small amount during the summer months to bolster the supply.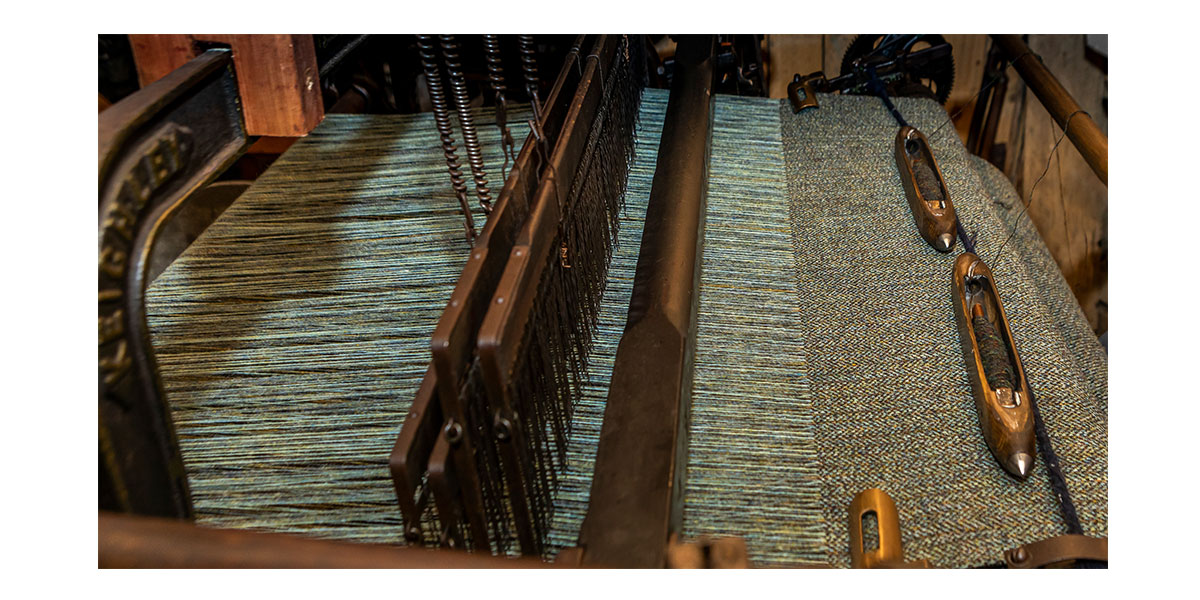 Harris Tweed isn't just a product credited to the Isle of Harris, but rather to the Outer Hebridean islands as a whole, and at one point in its history that was a subject of some controversy. Weavers located on Harris itself felt strongly that only they should be allowed to claim its ownership considering it used their name, but both the Isle of Harris and the Isle of Lewis - which are actually part of a single landmass separated into two by a towering mountain range - applied to trademark the name in the early 1900s.

Given that all Harris Tweed was, and is still, made by hand in the homes of individual weavers across the Hebridean islands, there was general outcry that a trademark could preclude weavers who had been honing their craft for years already. In response, the Board of Trade eventually granted the trademark to all of the Outer Hebrides, including both Harris and Lewis, meaning that any tweed produced to the required standards on any of the islands in the archipelago could use the name Harris Tweed. It was a move which might not have satisfied the people of Harris, but it has allowed the industry to remain profitable over a century later.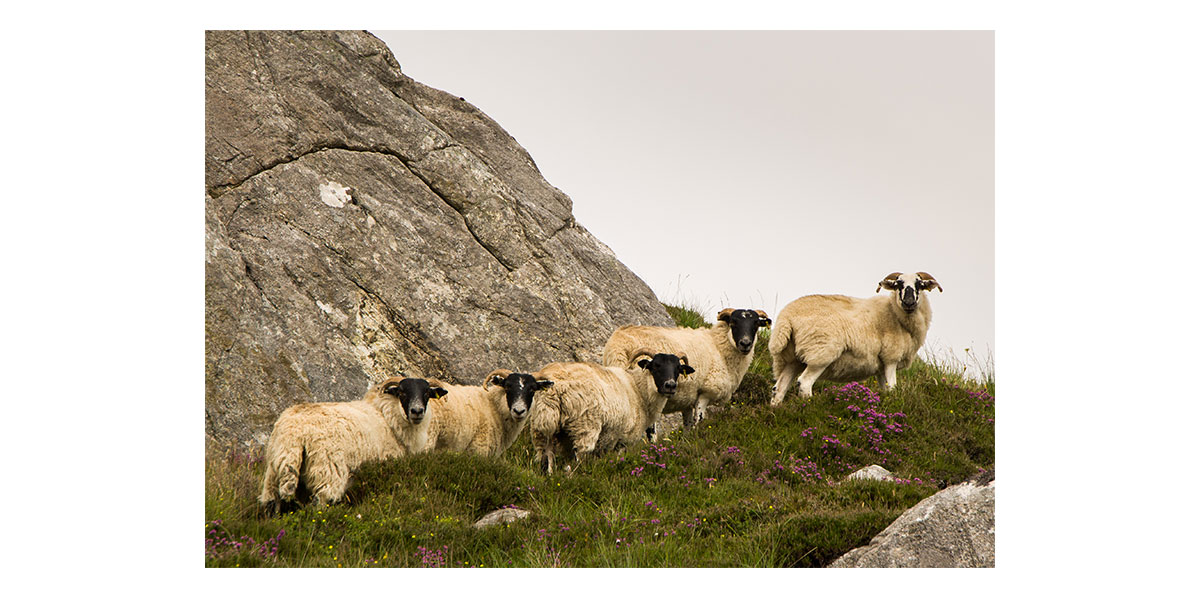 Harris Tweed is still made in the Outer Hebrides, on the islands of Harris, Lewis, Benbecula, Barra, and both North and South Uist, as well as a few smaller islets dotted inbetween. In fact, even if the exact production method for Harris Tweed was used elsewhere, it cannot use the trademarked name unless it was crafted on location.

One of the fundamental aspects that make Harris Tweed so unique is the dedicated production of its spun yarn, and to do this the wool they use is made specifically for their trade in one of three mills which are owned and operated by public companies working closely with the Harris Tweed Authority. These three mills - The Kenneth Mackenzie Ltd Mill, Harris Tweed Hebrides and the Carloway Mill - are all located on the northern island of Lewis, ensuring every aspect of this time-honoured process is located within a few miles of each other.
The delight of Harris Tweed is the creativity and beauty it draws on from the natural world, with colours and textures influenced by the windswept Scottish Highlands and Islands. And with so much raw wilderness as inspiration, it's hardly surprising there are seemingly endless different types and styles of Harris Tweed in existence today.

There are, however, a few popular patterns which regularly feature in Scottish culture and in products worldwide. You might even own some of these already: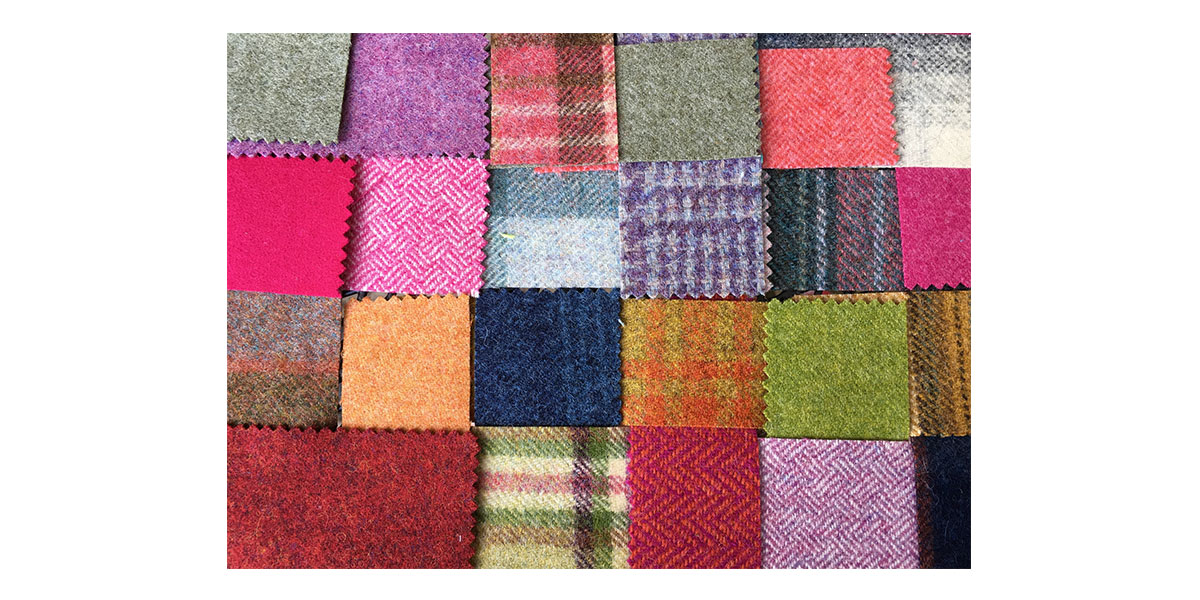 Plain Twill
Despite its name, Plain Twill is far from plain. If you look closely, you'll see the yarn is woven into distinct diagonal lines which give it texture. However, because this cloth is frequently single coloured rather than patterned like some other popular styles, it's considered the 'plainer' choice.
Houndstooth
The origins of this iconic pattern, which stands apart from its peers thanks to its unique monochromatic tessellation, can be traced as far back as early weavers from the 360AD Scottish Lowlands, but it wasn't until the 1930s when Edward VIII adopted it as part of the royal household's uniform that it was embraced as a luxury weave coveted by the rich and famous.
Herringbone
This pretty, repeating pattern features woven columns of alternating diagonal lines said to be inspired by the shape of a herring's skeleton, one of Scotland's most popular and abundant fish in the early ages. A hardwearing, weighty fabric, this is still a leading choice of material for stalking and outdoor wear in Scotland.
Plaid
Commonly mistaken for tartan, although the appearance is extremely similar, plaid weave features a series of crisscrossing lines of colour which, as a whole, don't represent a single clan or family name (if the pattern can be attributed to a particular clan, such as the Campbell or Stewart, then it is called a tartan).
Harris Tweed is a shining example of a true luxury product which attracts a hefty price, but that cost isn't just a reflection of its well-known brand name. In fact, for the most part, the reason Harris Tweed has such an elevated price point is more to do with its unique production techniques and set-up rather than its celebrity status in the world of haberdashery.

Every weaver who contributes to the Harris Tweed industry works as a self-employed artisan, either for one of the three mills or as an independent contractor who very often works from home. They are trained in the time-honoured method of this weaving process using an approved brand of treadle mill, and receive yarn directly from the mills themselves. When the fabric is complete, it is evaluated by the Harris Tweed Authority to confirm it meets the required high standards of the brand, before being granted that all-important Orb Mark trademark which is ironed on the finished product as a proof of authenticity. Included in this lengthy, but very necessary process, are darners who inspect the fabric for flaws which must be fixed, and a specialist cleaning process to remove the build-up of grease and oils created by weaving the wool.

With every one of these expert artisans earning a fair wage for their part in this painstaking process, the price we pay for Harris Tweed is a reflection of the skill, time and hard work of the islands' weaving community.
If you're planning to splurge on a Harris Tweed product either for yourself or as a gift you hope will be treasured forever, you'll want to be certain the product you're buying is genuine, and that may seem like a daunting undertaking. Here are some useful tips to follow if you want to ensure the authenticity of your Harris Tweed:

1. Genuine Harris Tweed products will always contain the Harris Tweed Authority Orb Mark which will usually be a label ironed onto the fabric. In fact, the label is now as iconic as the fabric itself.

2. Choose a reputable shop or retailer to buy from, because they will have purchased their stock from authenticated manufacturers associated with the Harris Tweed brand.

3. Every piece of Harris Tweed fabric will contain a 'maker's mark', which could be something as simple as an embroidered element signifying which of the authorised weavers created that specific material. This has been a requirement of the brand since 2017, and confirmation of genuine marks can be received by contacting the Harris Tweed Authority directly.
Given the skill and expertise that goes into the creation of this exclusive material, it's understandable that you'll want to keep it in tip-top condition. Here's a straightforward step-by-step guide to cleaning Harris Tweed properly:
Dry Cleaning your Harris Tweed
Harris Tweed is made from pure new wool and for best results should be dry cleaned at a professional outlet. Before undergoing cleaning, it is best to first leave your garment to air - very often, minor odours will disappear on their own if they are simply a result of prolonged storage.
Washing your Harris Tweed
Hand washing is an acceptable method of cleaning your Harris Tweed, as long as you do it according to the following instructions -

1. Hand wash only, in clean water no hotter than 30 degrees since high temperatures can begin to weaken the natural fibres.

2. Add a gentle detergent to the water and carefully massage the garment. We recommend using a wool-specific washing detergent like this Grangers Merino Wash which is gentle on natural wool fibres.

3. Do not twist, scrub, wring or otherwise handle the fabric roughly,

4. Repeat the process as necessary.

5. When your garment is clean, rinse thoroughly in clean, cool water using the same method until the water runs clear.

6. To dry, never hang your garment on a line or hanger - the weight of the added water is likely to cause stretching and sagging.

7. Place the garment flat (you can use a towel underneath it to absorb the excess water) and allow it to dry naturally.

8. Do not tumble dry Harris Tweed, or dry over a direct heat source including a radiator.

H3: Handbags, purses and other Harris Tweed products

For non-clothing items, including handbags and purses, you'll want to spot clean rather than wash. Use a damp microfibre cloth with a small amount of gentle detergent, like shower gel or washing up liquid, and carefully dab or wipe the affected area to loosen the dirt. Repeat the process with a clean cloth and then leave the product to dry.
Just as the way you wash or clean your Harris Tweed will help protect your garment for decades to come, so too does the way in which this fabric is stored. We've compiled a few easy-to-follow tips to help you ensure the longevity of your favourite Harris Tweed items:

1. Harris Tweed clothing should be stored in a drawer or on a shelf, rather than hung, to avoid it becoming stretched.

2. When storing in a drawer or on a shelf, take care not to crush it under other items but instead give it plenty of space. This will allow the natural fibres to retain their shape and avoid becoming damaged.

3. If you're planning to store a Harris Tweed item for a long period of time, ensure it is in a sealed box to avoid moths being attracted to the wool. Adding a moth repellent is also recommended.
Harris Tweed is far from the reserve of 18th Century gentry on day-long hunts across untamed Scottish moorland, as it once was. Coveted by international designers for their contemporary brands, this iconic fabric enjoys a place in high street shops as well as stylish boutiques and chic brand stores. And what makes it so popular is its ability to be worn with all manner of casual or smart outfit choices.

Harris Tweed works best when paired with garments and accessories which reflect the natural colours and Highland inspiration found in the tweed material itself. Earthy tones, greens and yellows representative of heather-covered mountains, and deep blues and brownish reds that mimic the landscape are always a winner.

A key style point to note is that it is perfectly possible to 'over-tweed' an outfit. To be most effective, stick to a single Harris Tweed garment and balance it off with other plain-coloured clothing to let the uniquely woven material become the star. Chinos and denims work extremely well with a tweed waistcoat for example, or spice up your work outfit by pairing eye-catching tweed trousers with the rich silk of a same-coloured shirt.

Arguably the most quintessential Harris Tweed garment, however, is a stylish jacket. This classic piece of outerwear adds the perfect finish to every outfit, and is the ideal way to showcase your favourite Harris Tweed weave. At The House of Bruar, we consider ourselves something of an expert when it comes to this paragon of Scottish-inspired country clothing, so allow us to share a few tips for the best way to style a Harris Tweed jacket.
Harris Tweed jackets for women
Riding jackets enjoy a beautifully tailored silhouette which is both flattering and feminine. Style it with a simple turtleneck jumper and same coloured trousers for a convincing country look.
A flared long length jacket doubles as a coat in colder weather and has more room for layering over thicker jumpers on the chilliest winter days. Style it with a collared blouse and wide hemmed trousers for an elegant day-look you can wear at the office with ease.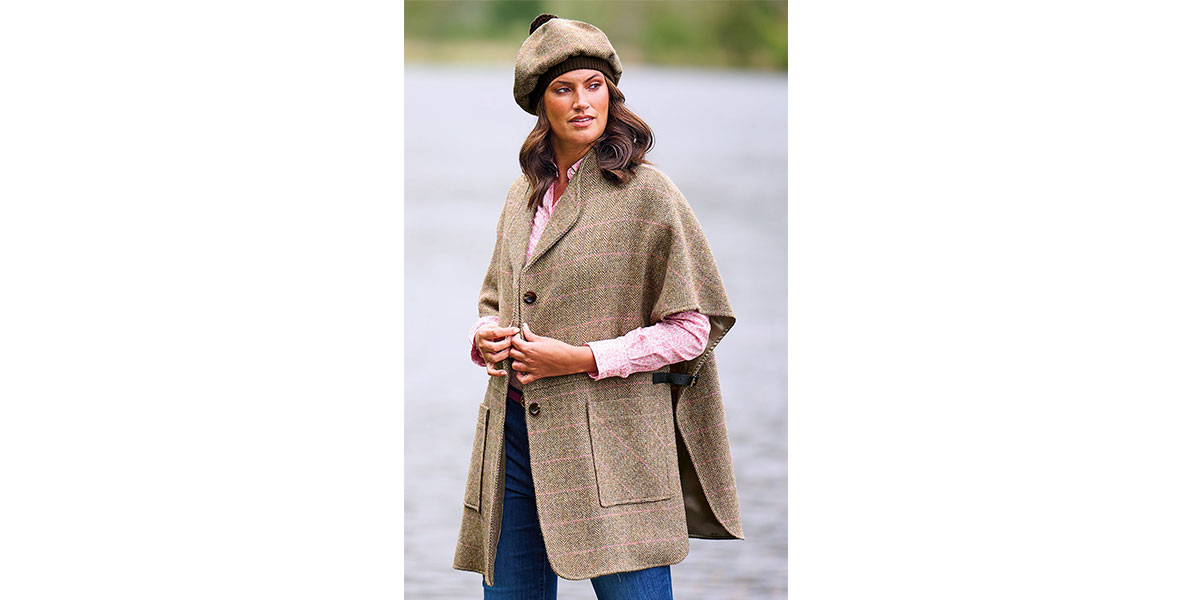 Harness the energy and spirit of hardy Scottish Highlanders with a Harris Tweed short cape, styled with a nod to the swathes of tartan worn as wraps centuries ago. With its fun 'swing' shape and contemporary edge, this is a casual style of jacket you can match with jeans or leggings and long winter boots.
Harris Tweed jackets for men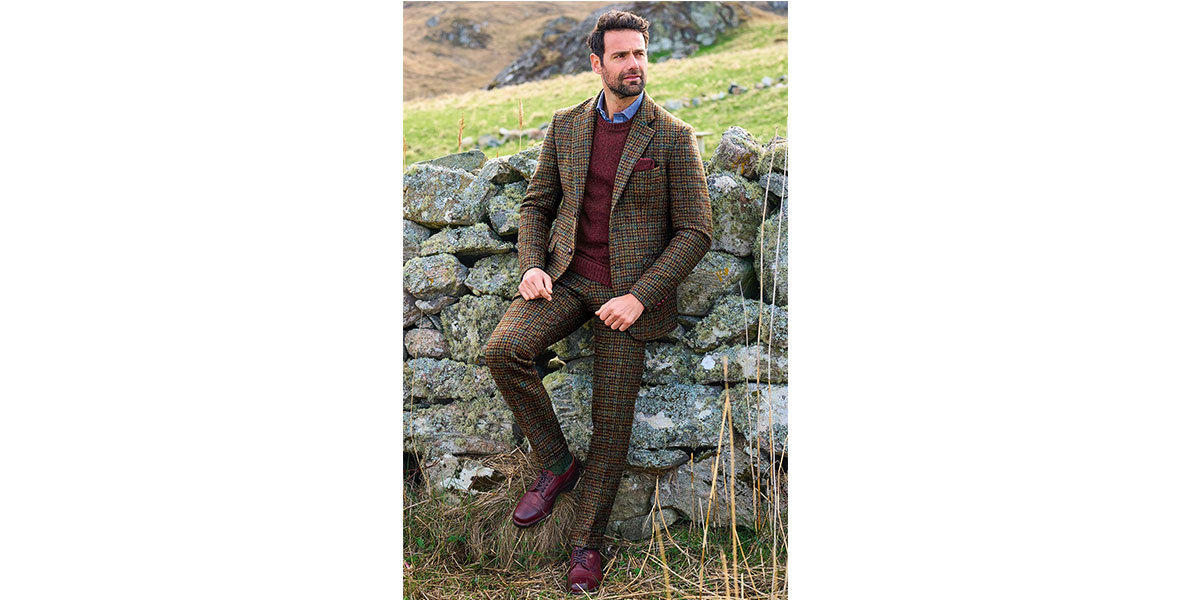 Nothing says tailored style quite like a striking suit jacket, and if you have one crafted from exclusive Harris Tweed, that's even better still. Choose a plain twill weave and style it with plaid trousers, a self-coloured short-sleeved shirt and some loafers, and you'll have the perfect casual dinner attire.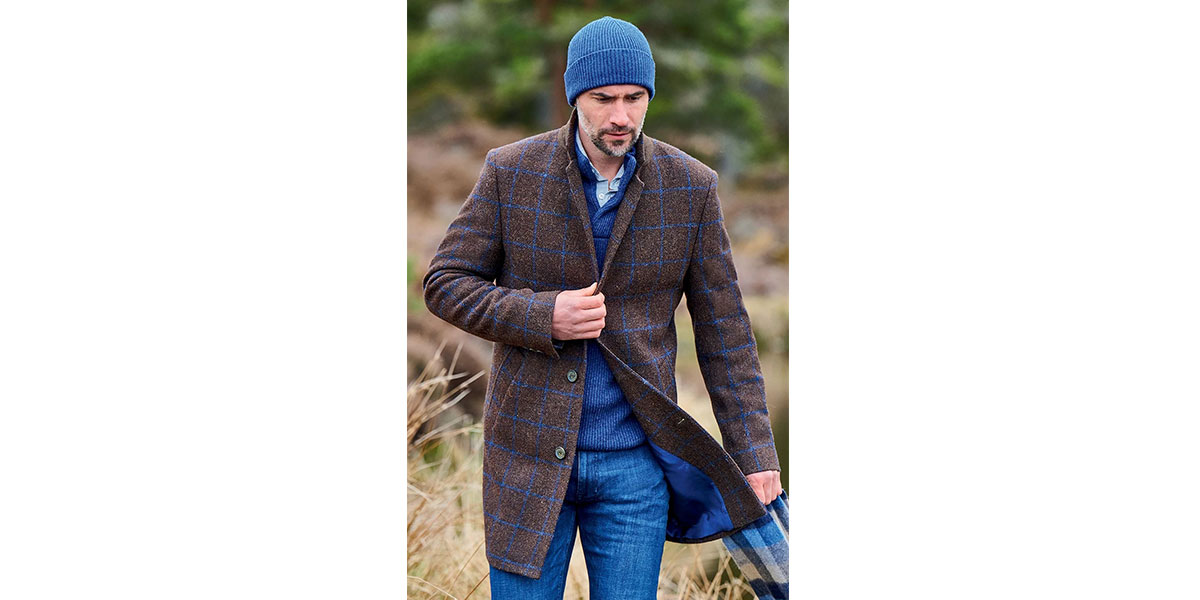 Choosing a short coat in place of a jacket may not seem like a traditional choice for a casual outfit, but we invite you to see things our way. A classic wool coat with a traditional Harris Tweed weave goes wonderfully well with denim trousers, casual ankle boots and a plain sweater.
Have you been inspired to become part of the Harris Tweed revolution? At The House of Bruar we have an impressive range of clothing and accessories that invoke the very essence of Scotland's wild places we know you'll love, including our own range of Harris Tweed jackets designed specifically for us but with you in mind. Come and browse our online store and choose the style that suits you best.