A pair of high quality shoes should last you a long time, though they will also require some care to ensure the leather retains its excellence.
We have put together a list of points that can help you get the most out of your new leather shoes and ensure they look their best for the longest possible time.
1. Protect the shoes before wear
Getting fine leather shoes soaked in the rain will cause damage and change both their appearance and feel. Taking the time to spray the leather with protector before exposing it to the elements should help retain their quality. Though this helps, we also recommend not allowing the leather to be soaked through.
2. Don't rush them to dry
You want to dry out the shoes as soon as possible, but don't be tempted to pop them in front of the fire. Wet shoes will crack when exposed to a high heat - instead, leave them to dry out at their own pace.
3. Break in the sole
A new leather sole can be prone to slipping. We recommend you break in the shoe before wearing for a long period of time, especially on smooth surfaces.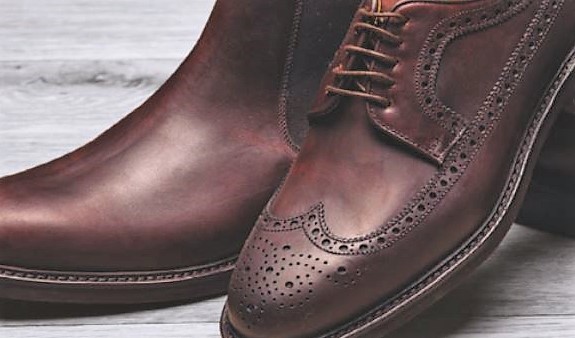 4. Keep them clean
Regularly cleaning and polishing your shoes can maintain the high quality feel of the leather. It will also keep your shoes looking their best.
5. Have more than one pair
Over-wearing your shoes won't let them dry between wears. A good leather shoe needs around 24 hours to dry out internally, which should help the leather last longer.
6. Repair when necessary
You'll know your shoes need a new sole as they will be soft to the touch at the ball of the foot. A good cobbler can fix most damaged shoes, but they cannot work magic, so we recommend you check the soles of your shoes regularly.
Suede is a delicate fabric and should be treated as such.
7. Give suede extra care
Suede is a delicate fabric and should be treated as such. Using a suede protection spray before wearing the shoes outside can help retain the material's appearance, whilst brushing the suede when dry to remove any dirt can maintain the look of the material.
8. Buy the correct colour of shoe polish
If in doubt we advise getting a clear one. Using a darker polish than the original colour will stain the leather. Getting it wrong might ruin a good shoe.
9. Get your wear out of them
If you follow proper upkeep and care, you can greatly extend the lifespan of a pair of high quality leather shoes, and ensure that they keep looking their best each and every time you put them on.
If you enjoyed this post, please pass the knowledge on by sharing using the share icons at the side of this page