Liberty London: A guide to their beloved prints and fabrics
Liberty prints have a distinct appearance that's instantly recognisable to their fans. Their eye-catching designs are what have earned them stature in the fabric design industry, but there's more to these designs than meets the eye.
Created by luxury retailer Liberty London, Liberty prints are an extension of the brand's unwavering commitment to delivering premium-quality products inspired by art from countries all around the world.
We delve into the history behind the brand and explore how Liberty London became a cultural centre for inspiring design. We'll also uncover our best-loved Liberty London prints at House of Bruar and how we use these designs to craft classic country clothing.
What is Liberty London?
Liberty London is a British retailer famous for its rich selection of high-end men's, women's, and children's clothing. It also stocks a range of luxury accessories, beauty, furniture, and homewares. It sits on Regent Street in Carnaby, London, with its main entrance on Great Marlborough Street.
The long-standing brand was first established in 1875 by Arthur Liberty, the son of a draper, who opened the Liberty department store with dreams of creating an emporium filled with luxurious ornaments, fabrics, and objets d'art from far-reaching corners of the world.
Since then, the shop has been transformed into a remarkable work of architecture; it features three atriums each designed to channel the comforts of home, complete with fireplaces, furnishings, and intricately carved panels and pillars. The result is a world-famous building that's known for its design and cultural curation.
What is Liberty London famous for?
While Liberty stocks a range of luxury brands, it is perhaps best-known for its fabric line and textile offering.
When the store first opened, it sold printed fabrics imported from Asia and the Middle East. These materials were unlike anything spun in the UK at the time, with incredible colouration and technical construction. Arthur Liberty eventually started to dye and print his own textiles in the UK, purchasing a textile factory where the start of Liberty's famous print history began.
During the boom of the 1920s, the company became well-known for its highly detailed, eclectic prints which soon became commonly regarded as a 'Liberty Print' fabric. These designs featured miniature floral, paisley, and abstract characteristics and quickly received cultural, widespread acclaim. Liberty Fabrics was a separate brand founded exclusively to make its prints and designs available to the public to purchase.
Today, this world-renowned collection of over 50,000 designs features quintessentially British prints on its own line of premium-quality materials. These are sold at its iconic listed London store and online, where they're fashioned into garments and interior items all over the world.
A brief history of Liberty London
1875
Arthur Liberty founded the company in 1875 and had originally named the business East India House. It was Liberty's goal to change how homeware and fashion looked during a time when the country was gripped by the style and allure of Japan and the East. The first Liberty store was opened on Regent Street in London with just three members of staff.
1884
As demand for the high-quality printed fabric grew, Liberty decided to import the fabrics to Britain where it was hand-painted in a heavily Oriental-influenced style. This led to Liberty hand printing their own designs with blocks, gradually pulling away from the Oriental influence. Liberty's designs echoed the art of the time and eventually began to influence and contribute to various movements occurring in society. Borrowing techniques from the best, they also began to create new types of fabric to display their prints. The Liberty silk suit was a popular choice and played a large role in the evolving Aesthetic Movement.
1920s
Liberty was a favourite of playwright and author Oscar Wilde, who brought a wardrobe full of Liberty-print clothing with him on a trip to America. This exposure for the brand created a sharp rise in demand for Liberty fabrics across the ocean.
Work began on another building on Great Marlborough Street where builders began to construct the magnificent department store that we know today. It was designed in a Tudor style with its beans crafted from recycled Navy vessels. The brand moved from its original Regent Street premises and, in time, the store was renamed after founder Arthur Liberty.
It took seven years to complete the structure and was finally finished in 1924, seven years after Arthur Liberty had died.
1952
A design studio was purchased as an in-house workshop for the Liberty Fabrics brand to develop and expand its collection of esteemed prints. It is connected to the main department store by a wooden bridge.
How old is Liberty London?
Founded in 1875, Liberty London is now over 140 years old. The brand is still a highly regarded producer of printed fabrics and its iconic prints are as easily distinguishable as they ever were.
Where are Liberty London prints made?
Today, Liberty Fabrics' in-house designers hand-draw new prints in the studio connected to the Liberty department store. These are then printed at Liberty's Italian mill just a stone's throw away from Lake Como.
What printing techniques do Liberty Fabrics use?
Throughout its history, Liberty Fabrics has used a range of dying techniques to achieve its signature colourful motifs:
1. Screen printing – This is a traditional printing technique that follows a relatively simple process: colour is printed onto a screen, with further colours layered over the top to form the finished print.
2. Digital printing – Technology is used to create exceptionally vivid colours that are securely adhered to the fabric. Fabric is fed into a textile printer where many miniature nozzles print onto the surface of the material.
3. Flatbed printing – Flatbed printing uses a special printer to achieve extremely precise designs on a wide selection of materials. It uses ink made of acrylic monomers. When the ink is exposed to a UV-light source, the ink cures and binds the acrylic monomers together.
Liberty prints at House of Bruar
Here at House of Bruar, we're proud to offer a selection of exclusive garments crafted in stunning Liberty prints.
Small Florals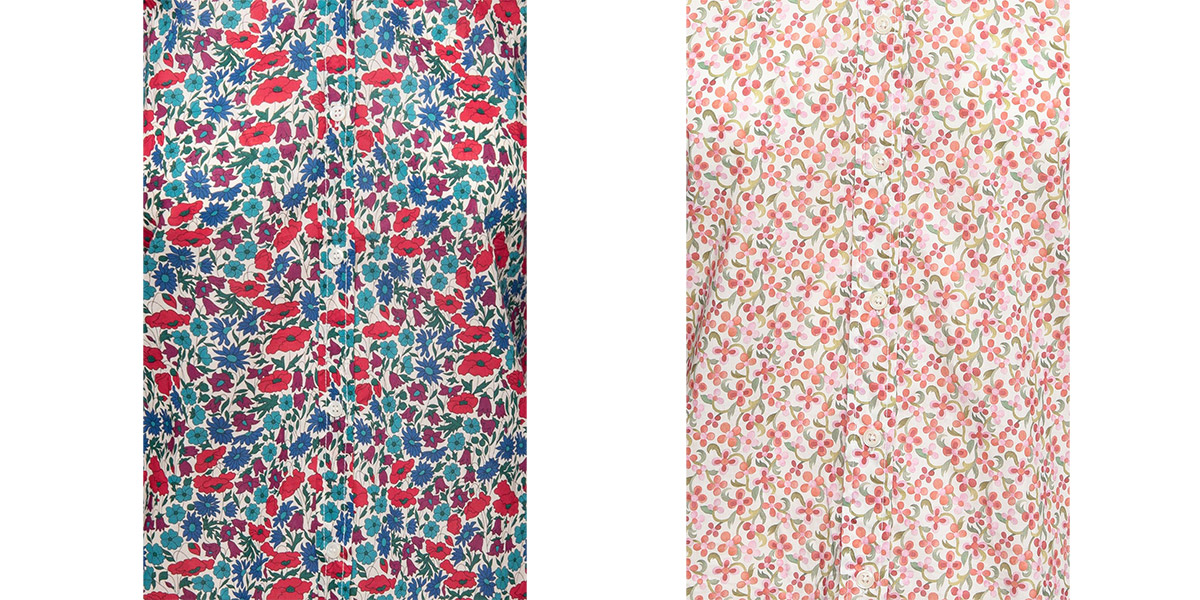 Liberty Print Cotton Lawn Blouse in Flower Meadow
Ladies Liberty Print Oversized Shirt in Rosie Blush
Liberty's small floral prints add a dash of verve and élan to an outfit. Delicate flowery shapes are crafted in complementary and contrasting colours to create a stylish statement.
Select Liberty prints are reworked and recoloured interpretations of the brand's heritage designs, giving them an updated feel that fits into any modern woman's wardrobe. Choose from pretty blouses and smart shirts to channel quintessential country style.
Large Florals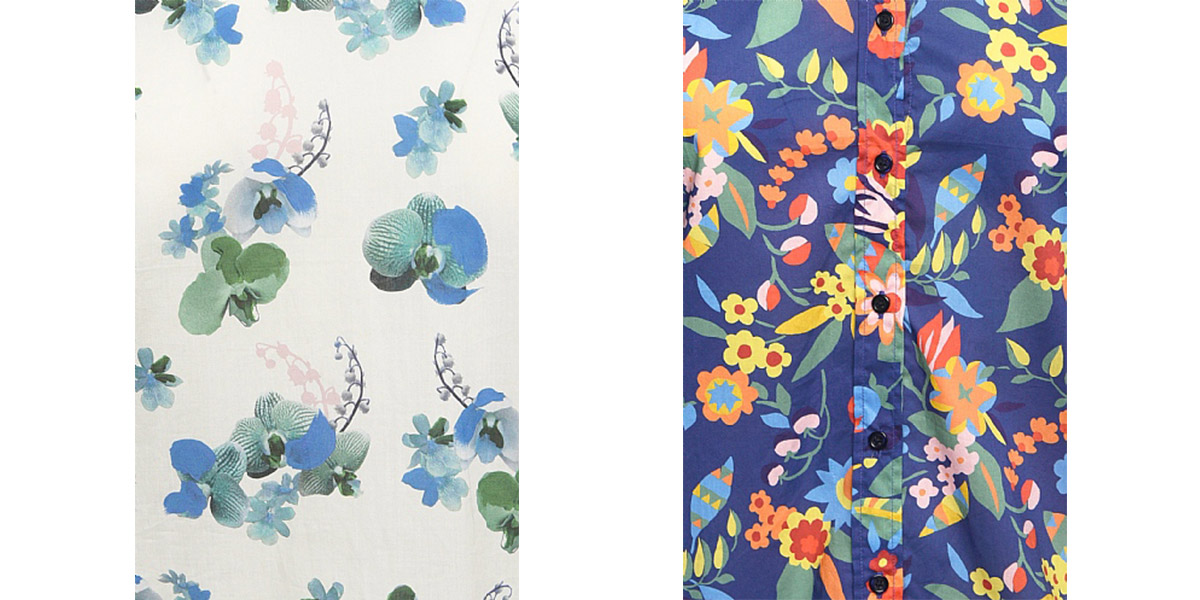 Ladies Liberty Print Ruffle T Shirt in Sea Orchid Ladies
Liberty Print Oversized Shirt in Lemon Squash
Liberty's large floral prints are reminiscent of romantic bouquets, artfully displayed on fabric canvases in pastel and vivid jewel tones. Symphonies of dancing buds are reflective of the seasonal flowers in bloom, while hand-painted flowery trails and leaves are rescaled and layered to create an abstract, contemporary take on a timeless pattern.
The majority of our pieces are made using Liberty's Tana Lawn™ cotton.
What is Liberty's Tana Lawn™ cotton?
Liberty creates hundreds of new prints each year to celebrate the seasons, each of which are catalogued and makes up their archive of over 50,000 prints. These designs are printed onto fabric, and Tana Lawn™ cotton is Liberty's most beloved and best-selling textile base.
Liberty's Tana Lawn™ was established in the 1930s and named after Lake Tana in Ethiopia where the material's long-staple cotton fibres originated from. Tana Lawn™ has silk-like threads which are woven from 70 and 100-ply yarns. It has a thread count of 240 and when spun into cloth, it has a lustrous finish and is durable enough to support traditional screen and cutting-edge digital printing.
Here at House of Bruar, we love Tana Lawn™ for its use of masterful fabric production. It offers an intense depth of colour, making it the perfect canvas for proudly displaying Liberty's illustrious prints. Tana Lawn™ behaves like silk with a fluid feel, giving it cool, comfortable, and durable properties that are essential for everyday wear.
Celebrating Liberty London: one of Britain's most iconic luxury retailers
Refresh your wardrobe with enlivening prints from Liberty London. Discover our full range of country clothing designed using Liberty prints here.