Grey Partridges by Rodger McPhail
With the wildfowling season coming up on September 1st, we are paying homage to the one modest game bird that often goes unnoticed in the shadow of its peers.
Within a traditional country home, images influenced by field sports are a frequent occurrence. Displays and designs of the majestic stag, world famous red grouse, and the classic in-flight pheasant are naturally prevalent within a country home. However, as we approach September 1st, which for many marks the start of the wildfowling season, we wanted to bring attention to a game bird which shares the season but is commonly forgotten about.
The partridge is a bird that provides great sport, delicious meat, and, contrary to popular belief, they don't reside in pear trees. The red-legged partridge was introduced to the UK from France in the 1700s to help supplement the declining grey partridge population, and this led to them being the main quarry species seen in the shooting field today. Although not the fastest flyers, the partridge can be unpredictable, and on a well-managed shoot, they make for challenging sport.
We are paying homage to the one modest game bird that often goes unnoticed in the shadow of its peers.
We thought it was about time that the humble bird got the recognition that it deserves, so we put together some pieces that can be brought into any home as a change to the usual parade of popular game animals and give the partridge its spotlight.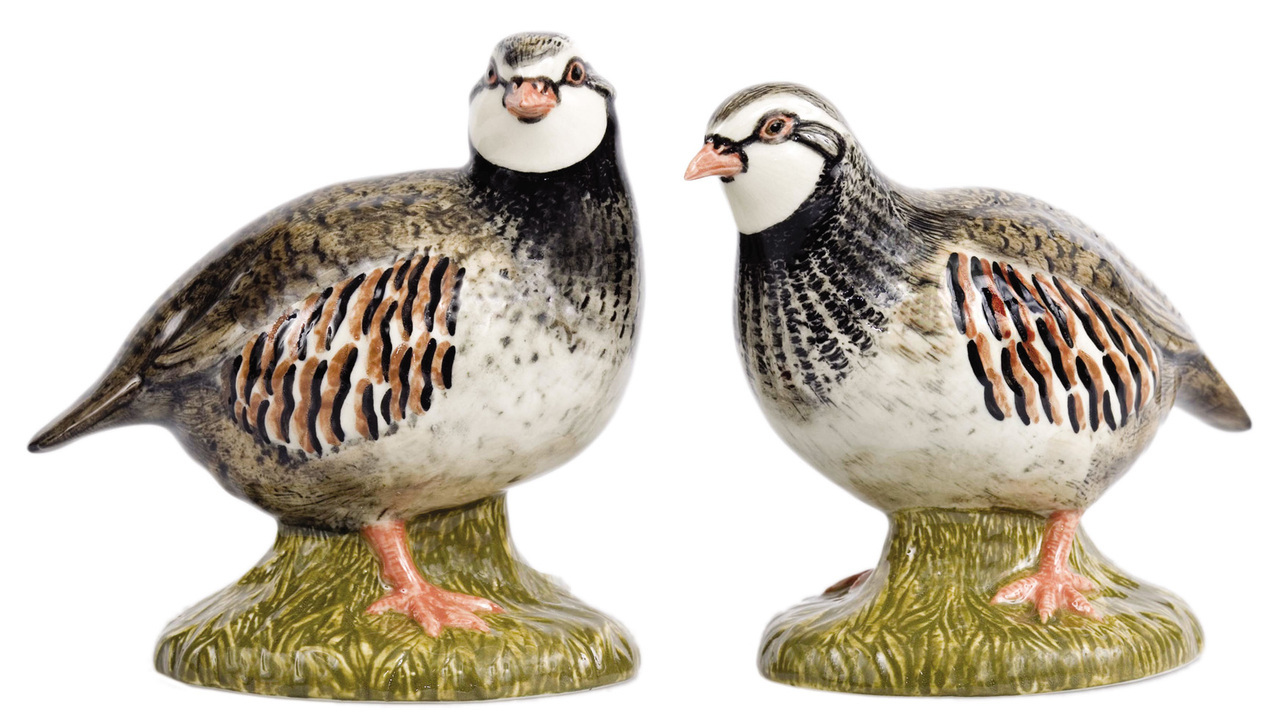 Bring some life to the dining table with this stunning
salt and pepper set from Quail Ceramics.
Designed in the UK and individually hand-painted down to every last gorgeous detail, these are available in pheasant and grouse designs too, but in celebration of the coming season, this pair is the perfect addition to any table.

Every country sports enthusiast owns a traditional bird-printed tie – but do you have partridges in your collection yet?
Featuring red-legged and grey partridges, these ties
are 100% silk and are the perfect unique gift for a fellow shooting friend. They are also available with matching cufflinks, so why not pair up and complete the look for this coming season?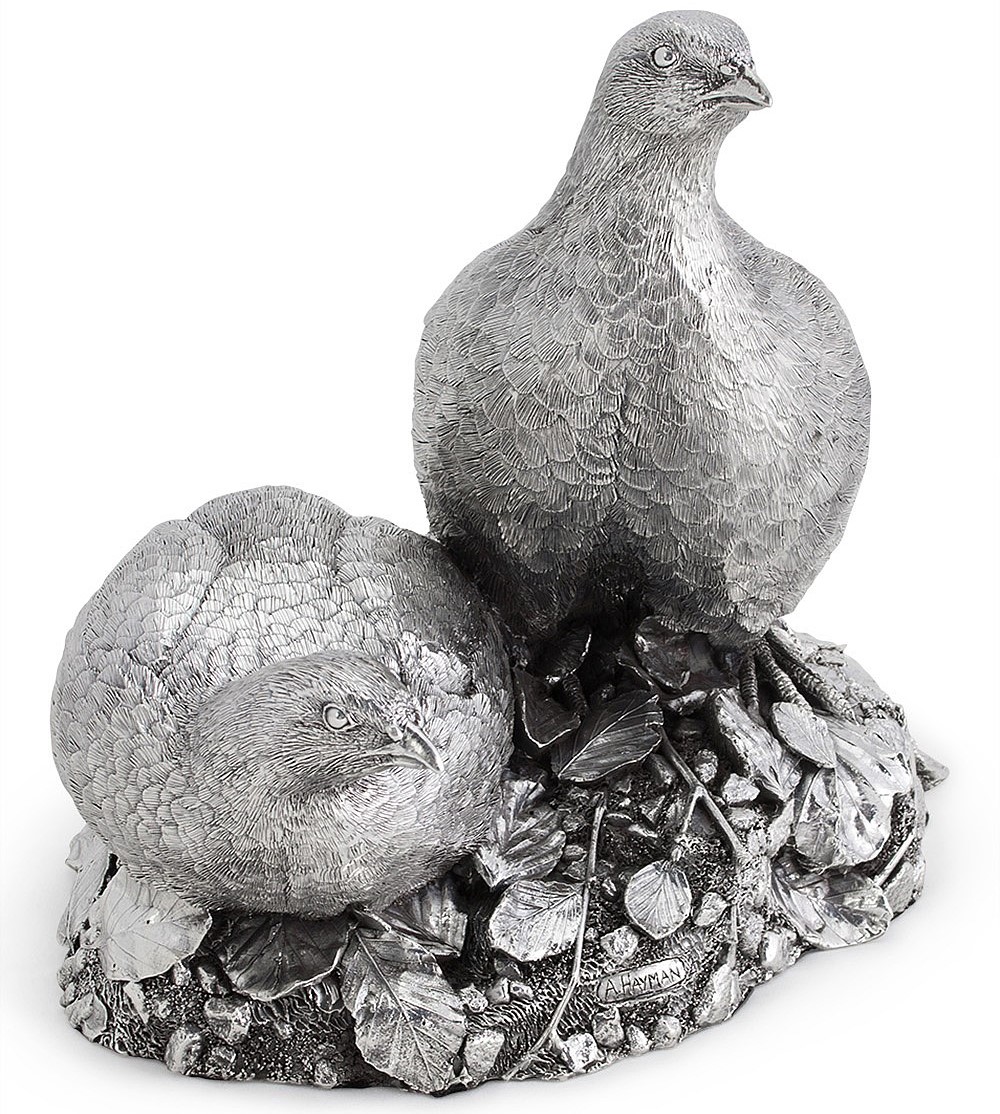 These two beautiful birds make a stunning duo
. Made from the highest quality 100% fine silver, they are a true work of art. Destined to make a strikingly beautiful centrepiece in the elegant country home, they make an ideal gift for anyone – even if sport isn't really their thing.
Partridge Recipe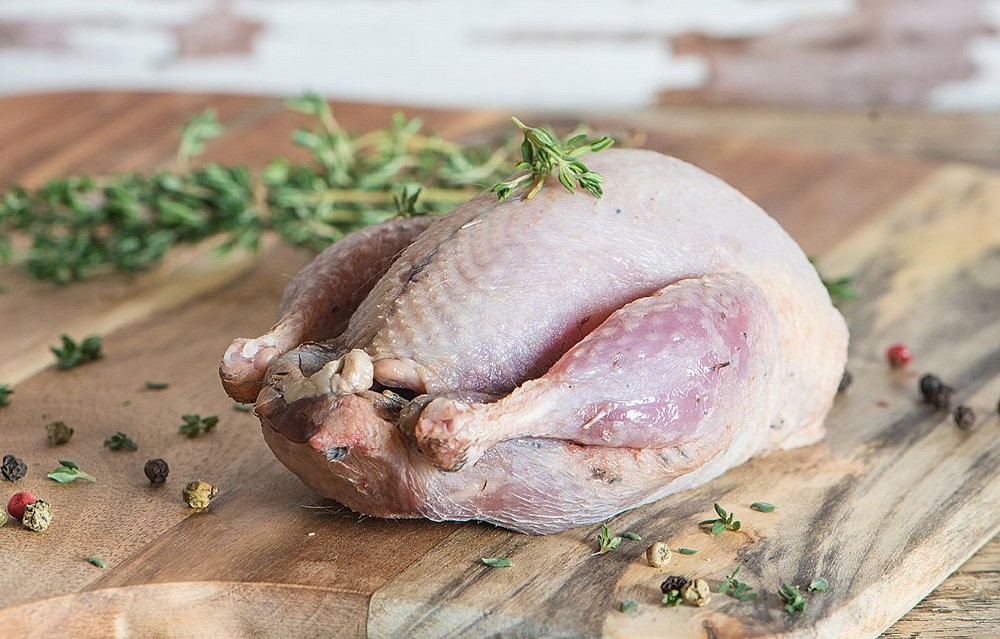 If you are less into silver and more into serving, the partridge is also a flavourful meat to grace your table this season. We asked our resident partridge lover, who is as keen a cook as she is a shot, to prepare the perfect summer recipe to add to your repertoire.
Spatchcock Grilled Partridge and Late Summer Salad
Removing the backbone of the partridge, known as 'to spatchcock' or 'butterfly', allows the delicious game meat to be cooked more quickly and evenly at high temperatures – meaning you can cook it on the grill or the barbeque to give that smoky, charred flavour to the meat.
4 oven ready partridges
1 tbsp olive oil
Juice of one lemon
1 ½ tsp paprika
1 minced garlic clove
Salt & black pepper
Summer Salad
4 large very ripe tomatoes
Bunch of fresh basil, torn
1 medium red onion, thinly sliced
Extra virgin olive oil, for drizzling
Salt & black pepper
Other greens and salad vegetables to your taste!
To spatchcock the game bird, lay the bird breast side down and locate the backbone. Run your knife down one side of the spine, making a large incision to expose the bone. Turn the bird around and repeat on the opposite side, remove the bone and discard. Once the bone is removed, the meat will lay flat and will cook faster, allowing the skin to crisp up at high temperatures on the grill or BBQ.
Mix together the olive oil, lemon juice, paprika and garlic. Apply this all over the meat, sprinkle with salt and pepper and allow to marinate for around an hour before cooking – do not chill, as the birds will cook more evenly from room temperature.
Make sure your grill or barbeque is very hot and lay the partridges breast side up on the grate - cooking the meat mostly from this side keeps it extra moist. If using a barbeque, consider laying a weight on top of the birds to keep them fully flattened so they cook more evenly. Turn the bird over and cook for 5 minutes on the opposite side, then check if they are cooked through, and, if not, turn back over to the original side for another few minutes. Ensure meat is cooked thoroughly before serving.
Meanwhile, bring together your salad. We suggest that a tomato, red onion and basil-based salad will complement the taste well.
There's no reason not to enjoy this little gem of a game bird this Autumn - we certainly won't hear any excuses!