Crafted to the highest standard in only 160 small dairies, and a select few made by hand, Le Gruyere produce the finest of cheeses.
Le Gruyere cheese boasts a unique taste and a truly exceptional quality. The artisan craft has been passed down from generations for over 900 years. Naturally lactose and gluten free, the cheese offers variety for any intolerance sufferers without having to compromise on taste.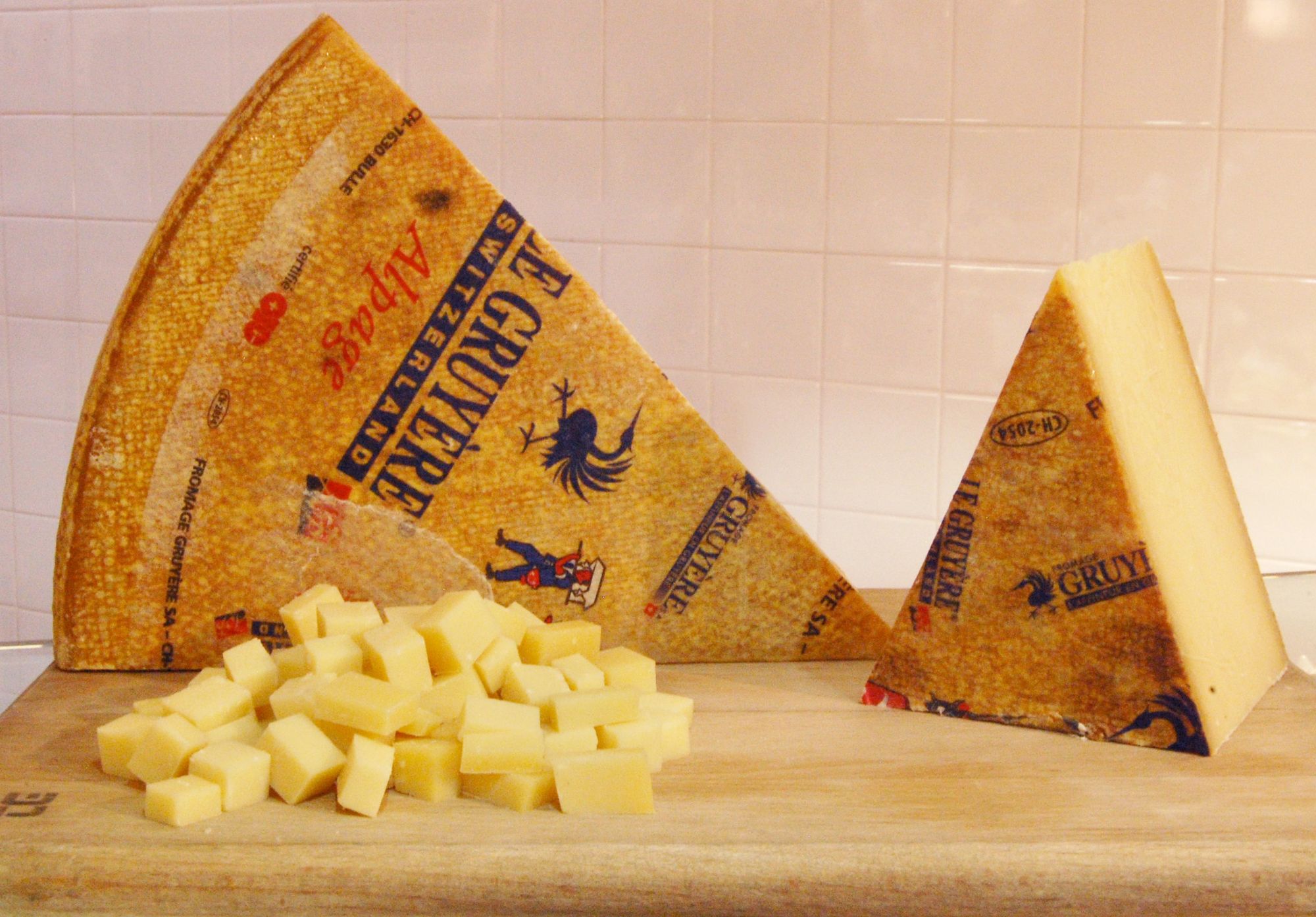 The Gruyere D'alpage has a distinctive
depth of flavours from sweet caramel to a strong nuttiness. This is enhanced by its smooth texture making it the perfect cheese boards piece. C
heese needn't always be confined to the board and platter variety- though some we suggest are too luxurious to simply not be fully appreciated. We've put together a few recipes straight from the source, of different ways to incorporate a bit of luxury to an everyday meal.
Chalet Style Macaroni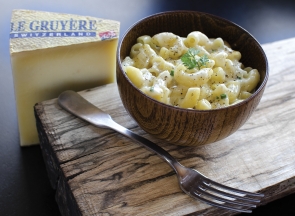 A classic comfort food with a luxurious twist, opt for lighter creams if you wish but never skimp on the Gruyere.

Ingredients
300g macaroni
2 onions
400ml whipping cream
200ml milk
200g Gruyère AOP, grated
Salt and pepper to taste
Preparation
Bring water to boil and cook macaroni shells for 10 minutes, until soft.
Whilst macaroni is cooking dice onion and fry in, oil or butter, in a separate pan.
Warm whipping cream, milk and Gruyere AOP in a pot until combined
Mix all together in single pot
Season with salt and pepper to serve.
Cheese needn't always be confined to the board and platter variety, some...are too luxurious to simply not be fully appreciated

Stuffed Tomato's With Couscous And Gruyere AOP
This recipe lists minced meat as an ingredient, though if you were wanting a vegetarian alternative this could easily be substituted out. A healthier main course option all round, but without losing any of the delectable cheese for taste.
Ingredients
120g Gruyère AOP, grated
125g couscous
125 ml stock
8 large tomatoes
Tabasco
1 onion
200g minced meat
1 bunch parsley
2 tablespoons sultanas
approx. 500 ml bouillon
Salt and pepper
Preparation
Put couscous in bowl and pour in 125ml boiling stock. Cover and allow to soak for 10-15 minutes. Fluff up with fork after cooking.
Remove a "lid"from the tomatoes and scoop out some of the flesh and set aside shell.
Chop onion, and fry in pot. Add minced meat to onions and cook.
Finely chop parsley, combine with meat and add in sultanas, Gruyère AOP and couscous. Stir well and add salt and pepper to taste.
Stuff set aside tomato shells with filling and put 'lid' back on.
Put tomatoes in an ovenproof dish, add in 2cm of stock to dish.
Bake in oven at 200°C for about 25 minutes.
Chicken Breast And Gruyère AOP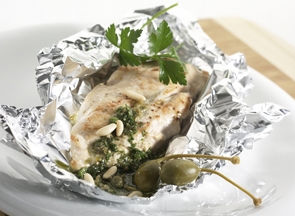 Easier than it looks and tastier than you can imagine. Serve with salad or potatoes, ideal when you want the impact without all that effort.

Ingredients
100g Gruyère AOP 6 months
4 chicken breasts
2 dessert spoons pesto
4 Sun dried tomatos
Salt and Pepper to taste
Sauce:
1 bunch parsley
3 tablespoons capers
3 tablespoons pesto
2 tablespoons pine nuts
3 tablespoons rapeseed oil
3 tablespoons stock
Salt and Pepper to taste
Preparation
Cut open chicken breast so it is not fully cut in half. Spread inside breast with pesto. Cut Gruyère AOP into thin slices and lay on top of pesto. Close Chicken breast, place one sun dried tomato upon closed breast and wrap all 4 individually in foil.
Place in the oven at 180°C and cook for 20-25 minutes until tender.
For Sauce, chop parsley and capers, mix with pesto, pine nuts, stock and oil until combined. Season with salt an pepper to taste.
Remove chicken from foil and serve with sauce
You can find Le Gruyere AOP Cheese in our in store Deli, if you are unable to make it into store please contact us directly on 01796 484946 if you wish to place an order for this or any other products from our Food Hall.
Sources:
Gruyere AOP Cheese