Crockett & Jones' long and distinguished history has seen it supply shoes to pioneering explorers, keep the British army on its feet, achieve royal approval, win export awards and gain movie star status.
The footprint of family values, attention to detail and proud British heritage runs throughout the brand and we're proud and honoured to work with such a respected and established company.
Read on to get the measure of Crockett & Jones - the business, the brand, the beautiful shoes - and why they are the perfect fit for customers of The House of Bruar.
Who Are Crockett & Jones?
In 1879, Northamptonshire brothers-in-law James Crockett and Charles Jones pooled their own shoemaking knowledge plus the princely sum of £100 each to found Crockett & Jones in the heart of England's shoemaking capital.
Family values were at the soul of the business from the outset, with two of Charles's brothers, his sister and his wife among the 20 workers in their first factory. Future generations have followed in their footsteps and the company remains in family hands to this day.
Each pair of Crockett & Jones shoes is meticulously crafted from the highest quality European leather. Using techniques evolved through its long history, the highly skilled team builds every shoe on an individual last to ensure the most accurate fit possible. With over 200 processes behind the manufacture of every single item, it can take up to eight weeks to produce just one pair of shoes.
Using the Goodyear Welted construction process to create footwear of exceptional appearance and endurance, the Crockett & Jones range offers classical and contemporary styles that will take you from the boardroom to the beach in luxury and comfort. Expertly handcrafted from the finest leather and suede, the collection ranges from formal Oxfords and smart-casual Derbys to boots, loafers, moccasins and more.
A History of Crockett & Jones

To own a pair of Crockett & Jones shoes is to have a piece of world-leading British shoemaking history at your feet. Years of attention to detail and respect for tradition have led to this family company becoming the loved and lauded luxury brand they are now. Follow the steps of their story here:
1879

Brothers-in-law James Crockett and Charles Jones open their first workshop in Essex Road, Northampton.
1890

The company moves to Magee Street, from where it still operates.
1891

Sons of the founders Harry and Fred Crockett and Frank Jones join the company, starting a keep-it-in-the-family approach that continues to this day.
1900

By 1900 the company was exporting worldwide from Canada and the USA to Australia and New Zealand.
1914

Crockett & Jones footwear was used for Ernest Shackleton's Endurance expedition and for British Army boots throughout World War I.
1924

The Duke of York – the future King George VI - honours the company with royal patronage.
1990

Crockett & Jones receives The Queen's Award for Export Achievement.
1997

The first of Crockett & Jones' London retail outlets opens in Jermyn Street, followed over the next 13 years by shops in Paris, Birmingham, Brussels and New York.
2012

Crockett & Jones footwear plays a starring part in James Bond movie Skyfall – a role that will be reprised a few years later in Spectre and No Time To Die and inspire their James collection.
2015

The ladies collection is launched.
2017

The Prince of Wales awards Crockett & Jones a Royal Warrant.
What is Goodyear-welted footwear?

Invented by American Charles Goodyear Jr. in the late nineteenth century, the Goodyear-welting construction process is still recognised as one of the finest methods of shoe production.
The technique involves the use of a specially prepared piece of leather called a welt which is stitched to the bonded insole ribbing of a shoe along with the upper and lining leathers. A final stitch then attaches the welt to the sole. This last stitch allows the sole to be completely removed without damaging the upper.
Immensely labour - and time-intensive and requiring a huge amount of skill, Goodyear-welting gives superior strength, comfort and durability and – importantly – it increases the ability of every shoe to be effectively repaired.
Crockett & Jones footwear has been made using the Goodyear-welting process for over 100 years, making them masters in the technique.
How much are Crockett & Jones shoes?
Ranging in price on The House of Bruar website from £385 for a Chiltern suede boot to £510 for the Islay leather Derby boot, Crockett & Jones shoes don't come cheap.
Nevertheless, if you've already read this far, you will understand why.
You don't need to be as expert in maths as the Crockett & Jones team are in shoemaking to appreciate that to get such an exquisitely and meticulously crafted shoe, you have to pay for it.
You're not just paying for the end product: beautifully presented in a smart branded package, you're paying for the top quality raw materials scrupulously sourced from leading European tanneries, you're paying for the hours of painstaking work that go into the construction of every shoe, you're paying for a truly iconic product with recognisable quality, you're paying for a forever shoe that will stay relevant and repairable, you're paying for 140 years of British shoemaking heritage. When you add it up, it's actually pretty priceless...
What is the Crockett & Jones repair service?
Crockett & Jones shoes are built to last, yet, like any premium product designed for many years of use, they will sometimes need a little TLC. Their Goodyear-welted construction makes them extremely repairable and the company offers a dedicated repair service for their loyal customers.
Repairs can be booked through a Crockett & Jones retail outlet, at a stockist or through the Crockett & Jones website.
Your shoe will be returned to the very last on which it was created in order to undergo its repair.
Your Crockett & Jones shoe can be fully refurbished up to four times during its lifetime. This involves the stripping down of the shoe to replace the welt, sole and heel while retaining the upper and insole. Your shoes will be returned to you in factory condition having been thoroughly cleaned and polished, for new-shoe excitement with the feel of a familiar favourite!
Find your Crockett & Jones style
The House of Bruar stocks a wide range of Crockett & Jones shoes and boots. See below for some shining examples from our online selection or put your best foot forward and step into our sparkling Highland store to browse our full collection.
Crockett & Jones Chelsea Boots
A pull-on boot with elastic side panels and handy heel tab, Crockett & Jones Chelsea boots come in a variety of styles, shades and surface textures, stepping seamlessly from city smart to country casual.
Crockett & Jones Leather Chelsea Boot
Crafted from the finest quality waxed leather with Dainite rubber soles, the Crockett & Jones leather Chelsea boot is a sleek, water resistant boot that raise the bar on your work-to-weekend style. Handmade in the UK using the Goodyear-welting method to form an enduring and comfortable shoe that's built to last.

Shop Crockett & Jones Leather Chelsea Boot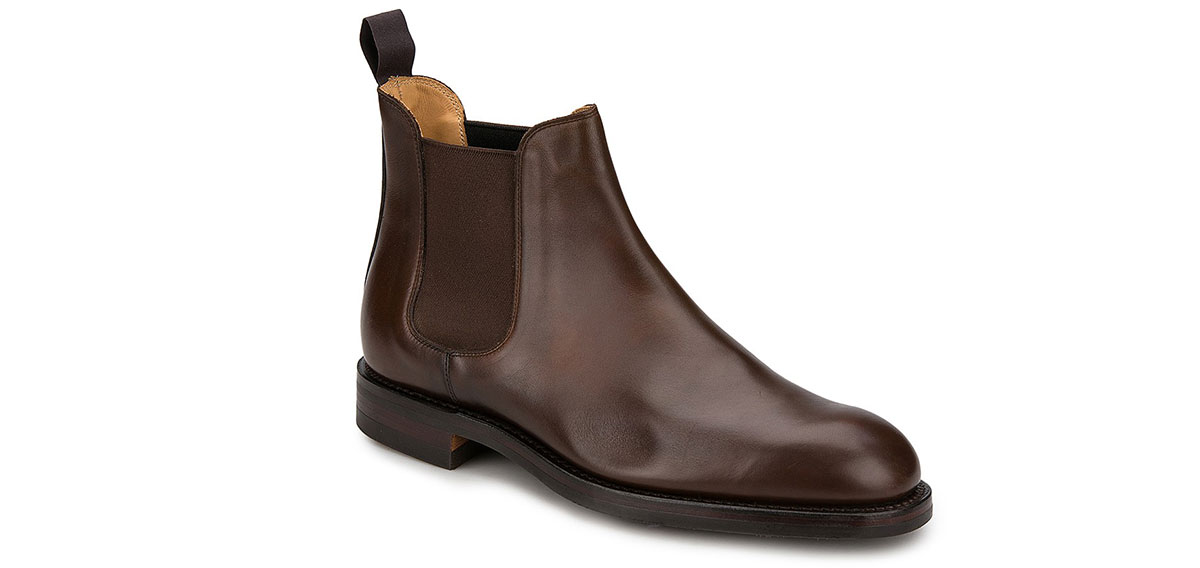 Crockett & Jones Suede Chelsea Boot
A Chelsea boot with 'V' shaped side elastics made from suede with single Dainite rubber soles, the Crockett & Jones suede Chelsea boot can be as formal or as informal as you like. Handmade in the UK using Goodyear-welting construction for a mark of incomparable quality and durability, this good-looking boot has all the credentials to earn a space in your forever collection
.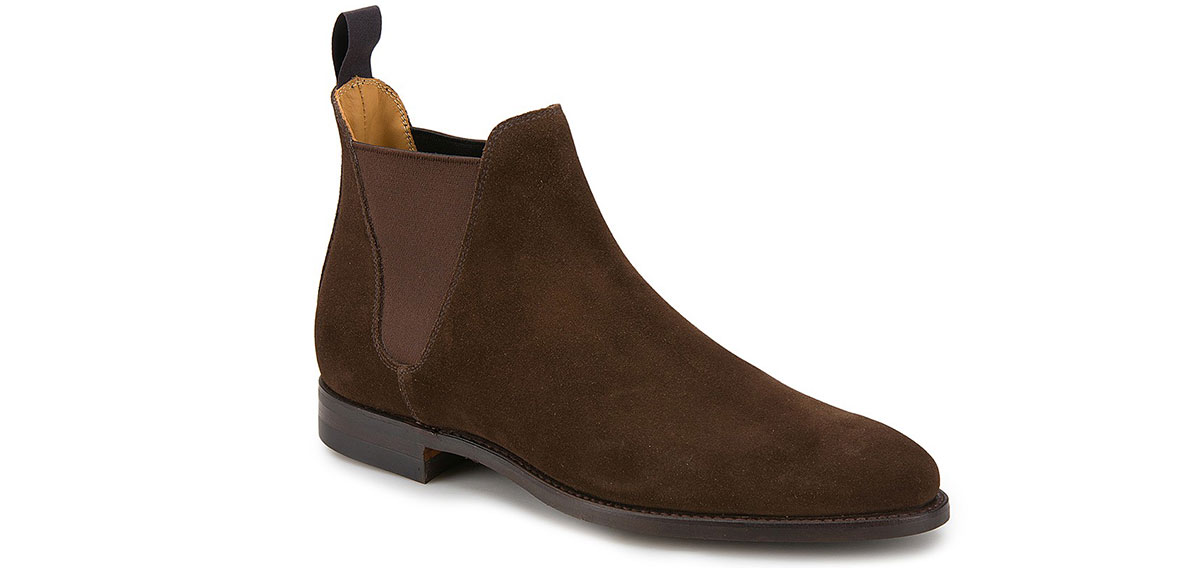 Crockett & Jones Loafers
A slip-on classic that switches easily between city slick and weekend casual, Crockett & Jones loafers are their most laid back Goodyear-welted shoes.
Crockett & Jones Boston Leather Loafer
Crafted in a classic penny loafer style in the finest country grain leather with a single Dainite rubber sole, the Crockett & Jones Boston leather loafer gleams with understated elegance and office to off-duty style. Their Goodyear-welted construction contributes to their enduring comfort and lasting wear.

Crockett & Jones Shoes
There's a Crockett & Jones shoe to fit every occasion. From smooth and smart leather lace-ups to soft suede loafers and rustic country brogues, you'll find the perfect pair in our online and in-store selections.
Crockett & Jones Connaught Leather Shoe
Available in polished calf's leather or soft and supple suede with single leather soles, the Connaught leather shoe is a classically styled straight cap Oxford shoe. Named after the University where the style is thought to originate, this is a sleek slimline shoe that steps up to every formal occasion. Handmade in the UK using traditional Goodyear-welting techniques for a mark of inimitable quality.

Crockett & Jones Pembroke Shoe
Whether you're weekending in the country or striding out through the city, this brogue-style Derby will guarantee you step out in comfort and style. Beautifully finished in rich grain leather with the characteristic punched-out patterns, this all-season shoe is finished with a Dainite rubber sole and a storm welt for increased waterproofing. The Goodyear-welted construction is a mark of unmistakable quality.

Crockett & Jones Boots
From no-nonsense Derbies to soft suede Desert boots and city smart Chelseas, there's something in the Crockett & Jones boot collection to meet all your formal and informal footwear needs.
Crocket & Jones Islay Leather Boot
Cut from the finest calf grain leather, the Crockett & Jones Islay Leather boot is a slick brogue-style Derby with Dainite rubber soles and a storm welt for improved wet-weather performance. The eyelet and hook laces fit closely around the ankle for optimum fit and feel. Handmade in the UK.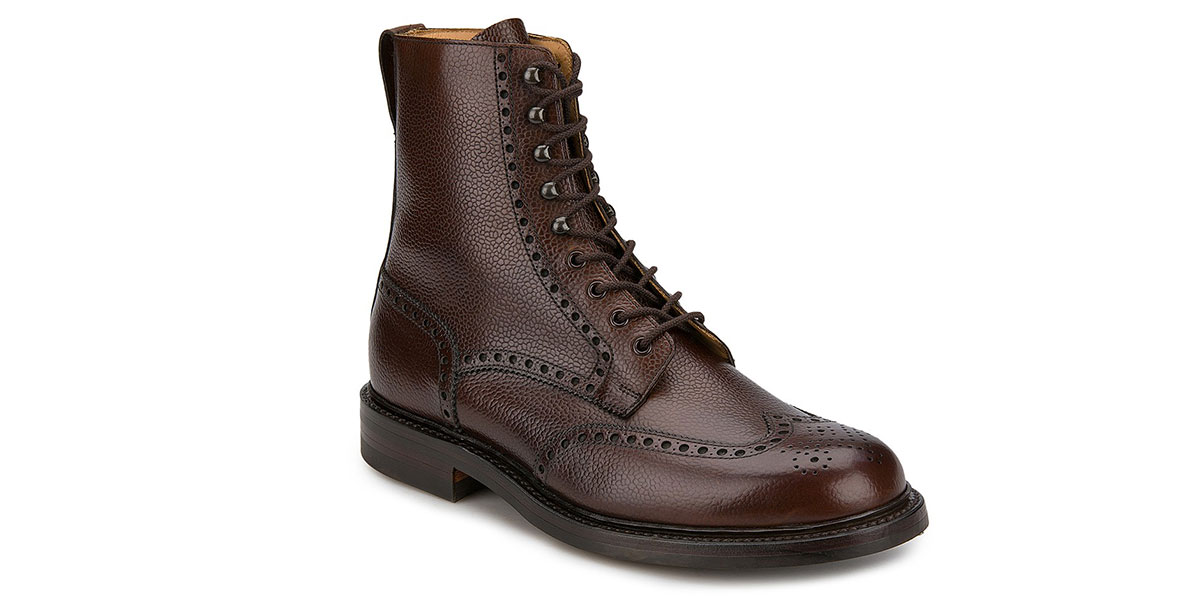 Crockett & Jones Brecon Leather Boot
Keep it sleek and simple in this straightforward leather Derby with three eyelet lacing and a foot-flattering tapered line. Crafted from top quality country grain leather with Dainite rubber soles and a protective storm welt, this perfectly formed boot will walk its way into your forever collection.