The Best Holdalls and Overnight Bags for a Weekend Away
Whether you're visiting picturesque villages or travelling afar to discover breathtaking country landscapes, a holdall is a fundamental piece of luggage for practical and stylish travel.
Agile and easy to carry, overnight bags can take you further than even the most streamlined suitcases. To help you find a holdall to suit your style and itinerary, we've summed up our favourite features and materials and have curated a lineup of the best weekend bags for your next adventure.
What is a holdall bag?
A holdall is a type of luggage used for carrying clothing or sports equipment when travelling for short amounts of time. They tend to have a simple design with one large compartment to hold all your essential items and a pair of top handles for carrying in your hand.
Also known as overnight, weekend, or duffel bags, these pieces of storage are often preferred over a traditional suitcase for their portability. While the wheels on a suitcase can limit the type of terrain you traverse, holdalls are durable and easy to transport. Their collapsable nature also makes them convenient to store between trips.
This shape and style of luggage is originally thought to have started out with the duffel bag. The material used to create them was believed to have been first woven in the town of Duffel in Flanders, Belgium in the 17th century.
The thick, coarse, woollen duffel cloth was distributed throughout Europe and was used to make military blankets and soldiers' kit rolls. It was also crafted into overcoats for military forces and cylinder-shaped bags secured with drawstrings to store paramedic and military supplies. Its loose structure made it ideal for holding all manner of items and folding away when not in use.
Today, the popular city-break and idea of 'weekend-away' trips have led to duffel bags being a common luggage choice for travellers. Holdalls are now fashioned from newer, more travel-resilient materials and have seen contemporary upgrades like rigid bases, internal compartments, and zippers.
What are holdalls used for?
Thanks to their compact size, holdalls are ideal for short breaks rather than extended holidays. You'll often find them used for:
Weekend trips
Business trips
Gym bags
Sports kit bags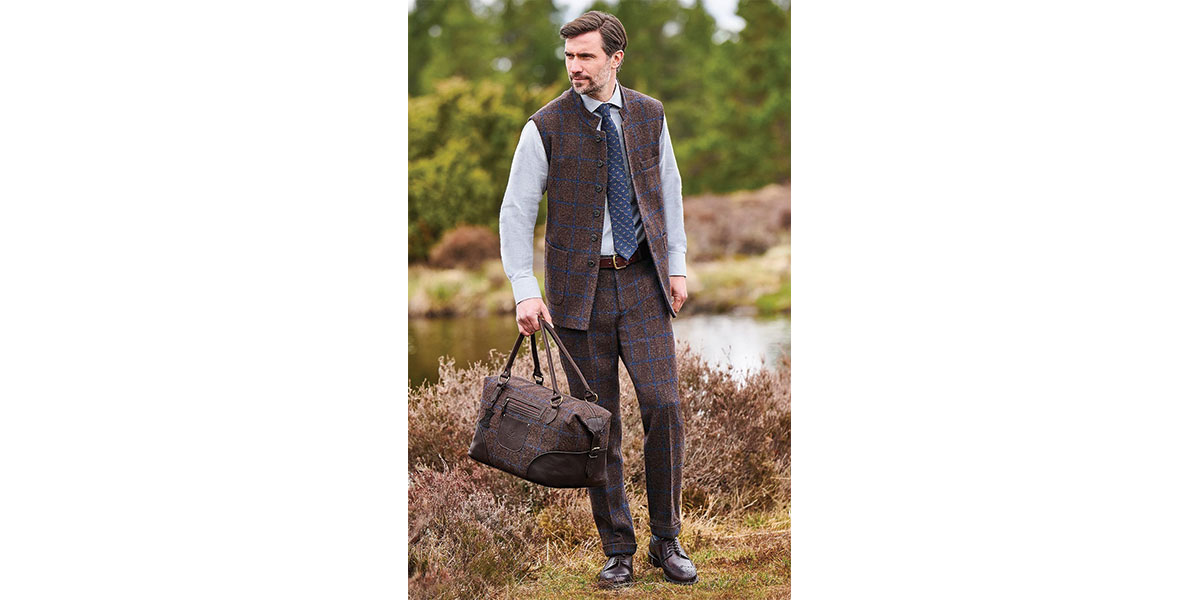 What size bag do I need for a weekend trip?
The capacity of a holdall is usually measured in litres, from smaller 6-litre overnight bags to generously sized 60-litre holdalls. Choosing the right size for you depends on what you pack, how much you anticipate you'll need, and how long you will be travelling for.
If you're unsure about how to find the best size to suit you, take a look at our guide below:
Usually, anything below 10 litres might not be sufficient for an overnight getaway, unless you err on the side of caution when packing. For travel, 30-50 litres will generally be more than enough space to hold all your clothes and essentials.
As weekend bags often only have carry handles or a shoulder strap, it's important to consider the weight of your bag when you're moving between destinations.
While a larger holdall may seem beneficial for storing all your belongings, it could become uncomfortable to carry for extended periods of time. Unlike a backpack, the weight isn't distributed evenly across your shoulders, so selecting a holdall in a lightweight material and in a smaller size may be better for ease of transportation.
What size holdall can I take on a plane?
You will also need to think about airline restrictions if you plan to take your holdall with you into the cabin on an aeroplane. Guidelines vary across different airlines, so it's always best to check with who you'll be flying with to make sure the sizing rules are accurate.
Generally speaking, carry-on allowances state that cabin bags can be up to 55x40x25cm in dimensions. Most overnight bags up to 40 litres will be acceptable to take on as cabin baggage.
Materials for weekend bags
Nylon is a synthetic fabric commonly used for a number of luggage and garment types. This is thanks to it being soft and lightweight, yet extremely tough. Nylon can be woven into a large range of weaves and thicknesses to suit various applications, but its strength, weight, and weather resistance remain true.
Its softness means that nylon holdalls can be compressed and folded up, while its lightweight nature allows it to be easily carried.
Polyester is another popular synthetic fabric that's very similar to nylon. The material itself may not be as durable or lightweight as nylon, however, it's often more affordable and still retains an excellent strength-to-weight ratio.
Weekend bags crafted from polyester may be coated in a waterproof finish to enhance their strength and give them weatherproof properties. This stops any rainwater from soaking through to the contents of your luggage.
Canvas was historically woven from natural fibres like cotton, hemp, or linen. Today, manufacturers have blended these fibres with synthetic materials to boost its resilience, creating nylon and polyester canvas hybrids. Canvas will also tend to be waxed to make it more hardwearing and water-resistant.
Pure canvas holdalls have a historical and rustic aesthetic and may be preferred for a classic country style.
Much like canvas, leather holdall bags evoke a sense of sophistication and history. Leather was a popular material of choice throughout the 20th century and it remains a luxurious option today. While leather requires more maintenance than some other materials, no other fabric can replicate the beautiful heritage look of a leather overnight bag.
If you want to enjoy the sumptuous feel of this material, you can also find leather accents and detailing across a range of weekend bags. Leather zipper pulls, straps, logo and luggage tags, and external trims are combined with other fabrics to add a refined design element to a holdall.
Extra features
Holdalls have come a long way from single compartments and drawstring closures since their inception. Here are some extra features that you may benefit from:
Zips — The main compartment of an overnight bag is usually accessible by a central zip, giving easy access to the contents inside. Zips with a smooth release and sturdy zip tag are ideal for comfort and durability.
Internal organisers — The spacious compartment of a holdall can sometimes feel bottomless, especially on larger models with bigger capacities. To help keep your belongings in order, some bags will have internal compartments to separate your items. Often, there will be a small inner compartment for storing your valuables.
Laptop compartment — Holdalls for business trips aren't uncommon, and many now have a dedicated laptop compartment or sleeve for keeping electronic devices secure. They will often be padded for maximum protection and some might also have a clasp to keep your devices from moving around.
Wheels — Think of weekend bags with wheels as a suitcase-holdall hybrid; these pieces of luggage are extremely convenient if you struggle to carry the weight of a holdall, as you can set them down and roll them when you need to. The structure of a holdall with wheels can be more forgiving than a rigid suitcase and they will also have handles for manoeuvring over uneven terrain.
Shoulder strap — Holdall bags will have a pair of top handles to carry as you would a briefcase, but most will also have a crossbody or shoulder strap. This gives you another option for transporting your bag; it can be more comfortable to carry the weight on your shoulder and it also means you can use your hands for other things.
The best holdalls and weekend bags
This medium-sized holdall is crafted from sturdy, hard-wearing leather and finished with gold-toned hardware for a sleek and sophisticated finish. The double-zip opening means you can secure your luggage with a padlock for maximum peace of mind. Inside you'll find a zipped pocket and inner compartments for organisation, complete with a soulfully Scottish tartan check lining to carry a piece of home with you wherever you go.
Enjoy elegant Italian design with this Brics holdall in stylish micro-suede with smooth, leather detailing. Inside, this weekend bag features a spacious main compartment with a zippered pocket and slots for your essentials like your phone and keys.
Whether you're visiting the drizzling Glens in the Highlands or somewhere further afield, this Large Canvas Holdall can help protect your belongings from changeable weather. The heavyweight waxed-canvas exterior is waterproof and durable, perfect for keeping your things dry while you're on the move.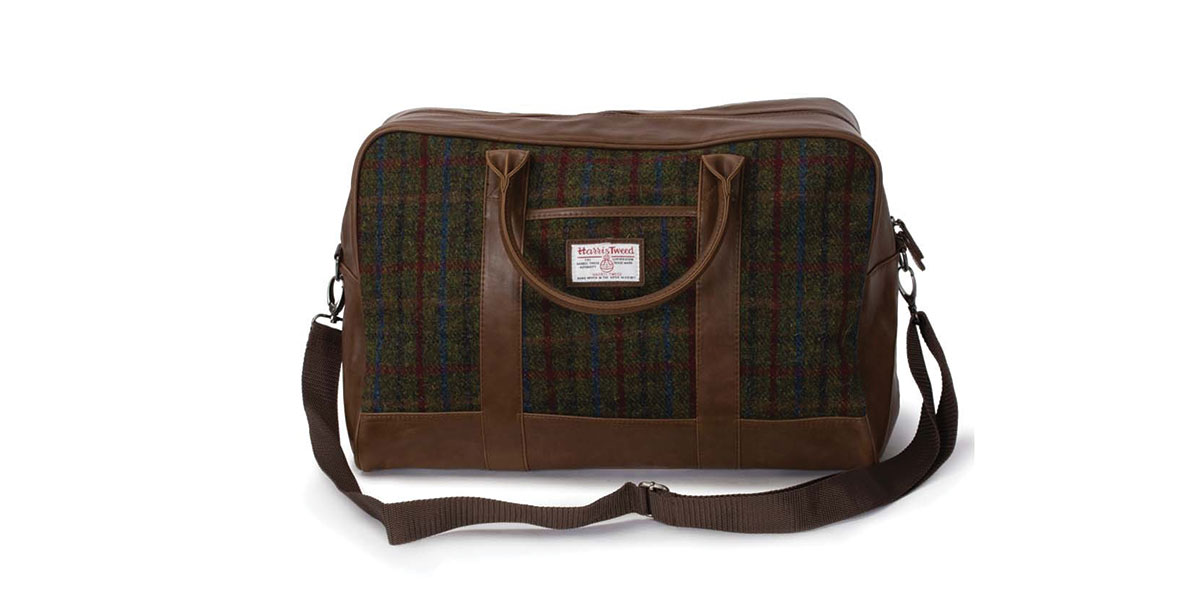 For luxurious luggage that looks as good as it is practical, this Harris Tweed Travel Holdall is a must-have. The hard-wearing tweed means that it can withstand any knocks from travelling, all while offering a refined feel to your look. This holdall comes with a detachable, adjustable shoulder strap and internal and external pockets.
This holdall with wheels and an adjustable trolley handle makes manoeuvring easy. It's crafted from suede-effect fabric that's durable and maintains a long-lasting finish, with genuine leather finishing touches for an elevated feel.
This doctor-style holdall is the ideal travel companion for taking on your next flight. Its compact size means that it falls within most airline cabin baggage regulations, but don't be deceived – the inner compartment can hold more than you think. A detachable shoulder strap makes it easy to carry and this weekend bag can be easily attached to the handle of a trolley suitcase.
This medium weekend bag is simple, stylish, and incredibly efficient, ideal for taking on your next overnight trip. It has a large capacity with a zippered pocket on the outside and also comes with a companion zippered pouch so you can coordinate your baggage. And when it's not in use, this folds down to a compact size for easily storing away.
If you're packing for your next work trip, this weekend bag has an impressive 20-litre capacity and everything you need to stay organised. A trolley strap, zipped compartments, and hook for your keys, are sure to come in handy, and the internal compartments are made for securely holding electronics and paperwork.
The best holdalls and overnight bags
Functional and fashionable, holdalls are an excellent choice for carrying your essentials. Whether you're heading for the hills or for a weekend city break, find luxury accessories to suit you at House of Bruar.
Shop men's and ladies' bags today.