A Guide to Traditional Aran Knitwear: What it Is and How to Care for it
Arguably one of Ireland's most famous exports, Aran knitwear is an instantly recognisable style of jumpers that has been successfully produced for decades. A specialist product crafted by knowledgeable artisans whose skills have been honed over generations, its long and storied history has helped cement its place in the halls of fashion fame. In this guide to traditional Aran knitwear, we take a look behind the scenes of this iconic industry and discover what makes its woollens so special.
What is Aran knitwear
Instantly recognisable, Aran knitwear is formed from a unique style of stitchwork that's found in no other woollen products. Traditionally crafted from an off-white wool - namely untreated fibres that retain their natural properties - this striking characteristic was initially created in sweaters only, although modern Aran knitwear products now include everything from gloves and scarves to beanies and bags.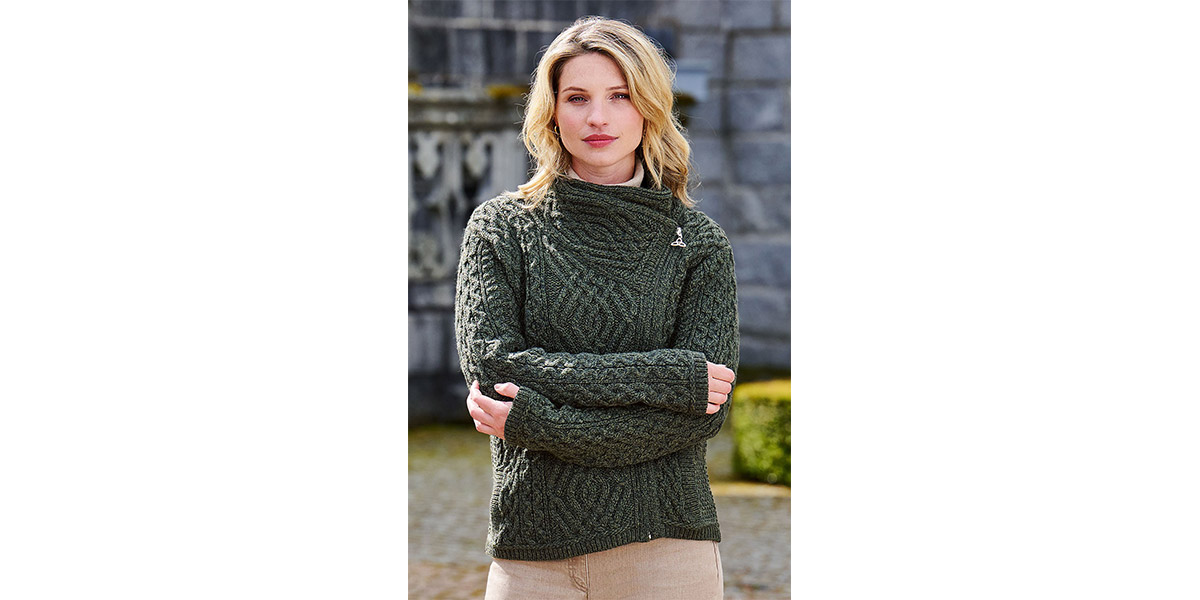 Where are Aran sweaters from?
Off the western coast of Ireland, three small landmasses that make up the Aran Islands stand proud at the entrance to Galway Bay, defying the wind, rain and surging swell of the North Atlantic Ocean. It is on these craggy enclaves that Aran sweaters came into existence. Known colloquially as 'Fishermen's Jumpers', they were originally knitted from locally sourced wool as a way to give protection to the island's inhabitants when nothing else would do, and the style very quickly became desirable around the globe.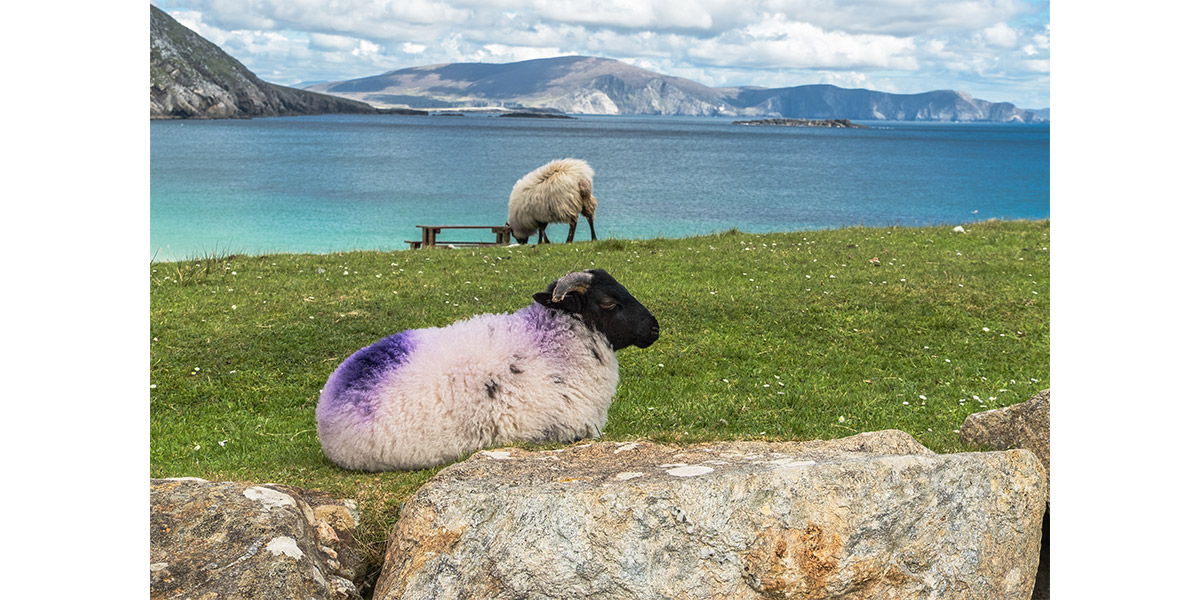 How to wash Aran wool
Washing Aran wool isn't as straightforward as popping your sweater into a washing machine, because over-washing could result in damage to the natural wool and oils. Instead, if you can, airing your jumper between uses is recommended. However, when the time does come to give it a wash, here's how to wash Aran wool safely:
1. Begin by soaking your jumper in cold water for roughly fifteen minutes, with a small dose of specialty detergent that's designed for wool to help loosen any dirt or soaked-in stains. A product like this Granger's Merino Wash is perfect, as is any other specialty wool detergent.
2. Massage the garment gently to create suds and allow the dirt to shift.
3. Do not rub, squeeze or twist the fabric hard to avoid damaging the fibres.
4. Rinse through in fresh water using the same technique.
5. Drain the water and press the sweater to push out as much excess water as possible. To dry it off more, place it onto a large towel and roll it up, letting it sit for a few minutes.
6. Finally, shape the jumper while it's still wet and leave it lying flat to dry.
How to care for Aran wool clothing
We know you'll want to keep your Aran wool clothing looking as good as possible for as long as possible. Here at the House of Bruar, our decades of experience in curating quality knitwear mean that we have plenty of tips for caring for speciality fabrics. Here's our best advice for how to make your Aran wool clothing last longer:
Aran wool clothing stores best when folded into a drawer or onto a shelf. Hanging these garments, which may weigh more than standard wool products, could cause them to stretch over time.
Storing your winter woollies away over summer by packing them into boxes or bags with other garments may cause the fibres to compress and weaken. If possible, store each garment in a box of its own to allow the fibres to relax without getting crushed.
Never store or leave your Aran knitwear to dry in direct sunlight or on top of radiators to avoid the harsh heat or UV rays breaking down the yarn.
If storing for a longer period of time, add some lavender or a purpose-bought moth deterrent to the box for extra peace of mind.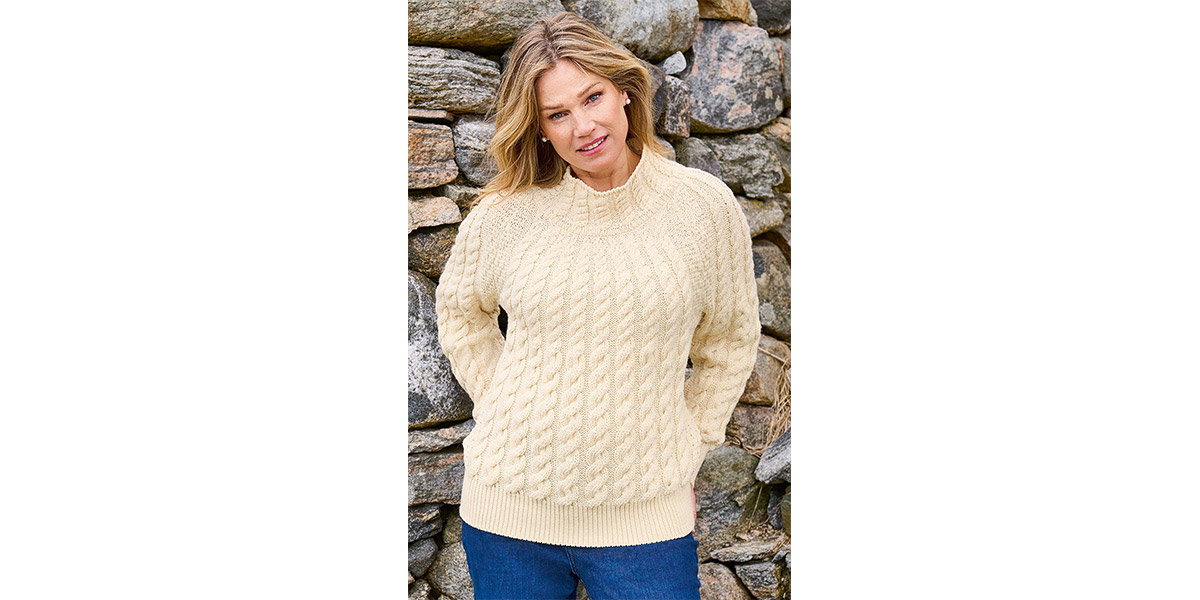 Who are Aran Woollen Mills?
Inspired by the windswept and rugged landscape of Ireland's western coastline, family-owned Aran Woollen Mills has been championing the tradition of classic Irish knitwear for generations. With their roots firmly planted in this time-honoured craft, they have been pouring their expertise and passion into every 100% wool garment that has passed through their workshop since 1965, whilst simultaneously improving the techniques to produce contemporary styles that stand the test of time.
At The House of Bruar we are delighted to work with Aran Woollen Mills to bring you a formidable range of natural fibre knitted garments we know you will love. Our knitwear collection not only pays homage to the humble hardworking fishermen and farmers of Ireland's stoic past, but also reflects the high quality of this authentic style by introducing bold new designs and a broad colour palette.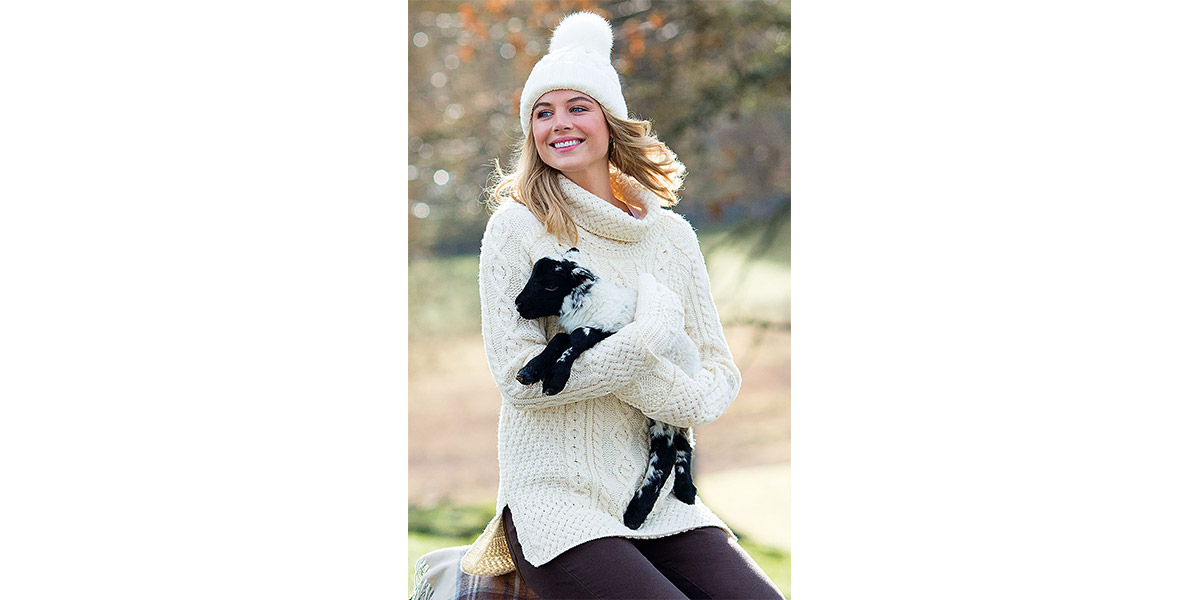 Aran stitch types
Known as a nation of great storytellers, it's no surprise that the Irish can spin a good yarn (pun absolutely intended!), and that's why the secret to these sublime Aran knitted garments can literally be found in every stitch. When Irish womenfolk knitted tough, weatherproof jumpers to keep their husbands warm and dry at sea, they incorporated unique stitches that symbolised local folklore and beliefs in the hope they would bring their fishermen luck and good fortune. These embellishments are what give Aran knitwear the iconic look we all love so much, and here are some of the most popular stitches still found in Irish knitting today: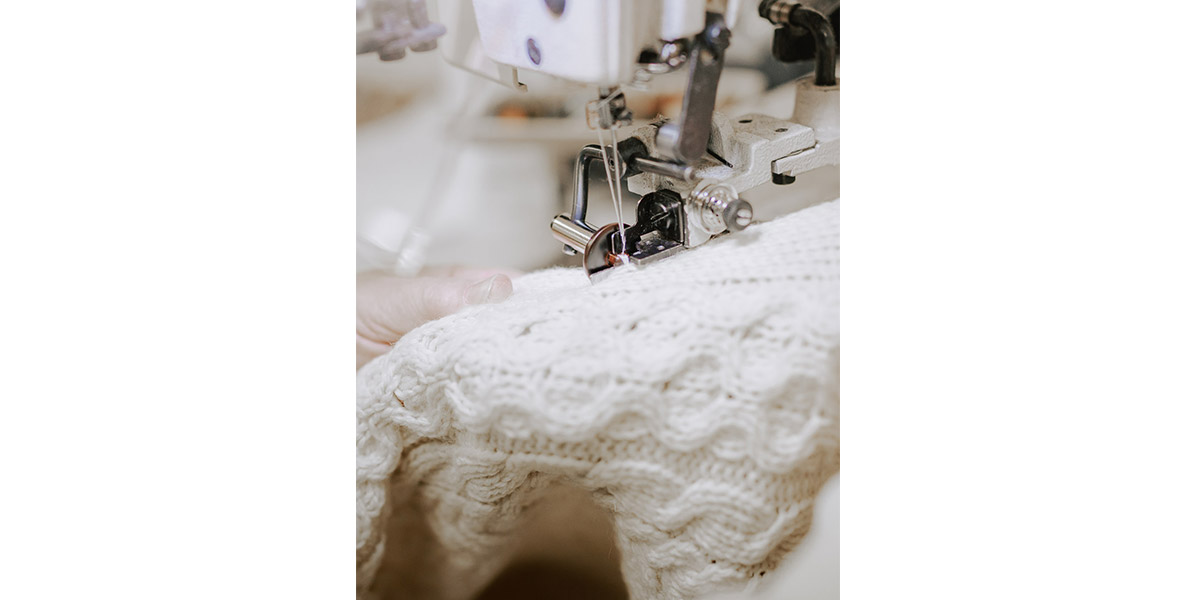 Basket Stitch
One of the simplest designs, the basket stitch is often used to represent a fisherman's basket and is thought to encourage a good catch and an abundance of food. This stitch is often used together with the cable stitch to create a beautiful overall pattern.
Cable Stitch
The cable stitch is arguably the most recognisable of the Irish knitting patterns and is said to represent the twisted coils of rope used on traditional fishing skiffs and ships. This ornate stitch was used to represent a successful and safe day spent fishing at sea, calling on ancient beliefs and folklore to ensure their menfolk made it home.
Diamond Stitch
The pretty pattern of the diamond stitch is a reflection of the dexterous nature of traditional craftsmen and women. The centre of each diamond is woven in such a way as to represent the fisherman's net, and the belief was that wearing that might promote wealth and success with every catch.
Hugs & Kisses Stitch
Styled to represent the warm welcome a fisherman would return home to, the pretty Hugs & Kisses stitch was also used as a memento or reminder for each fisherman of the loved ones waiting for them on shore.
Honeycomb Stitch
The honeycomb stitch draws on the essence of the hardworking honeybee as a reminder to the men who toiled the land that honest work would be rewarded with great spoils, and was thought to be given by wives to their husbands as a token of appreciation for the hard work they undertook providing for their families.
Trellis Stitch
Inspired by the fields and farmlands of the wild Aran Islands, the trellis stitch is thought to reflect the image of the hand-built stone walls enclosing each field, as a mark of safety and protection to those working them.
Double Zig Zag
Believed to have two meanings, the double zig zag stitch is a reflection of the winding cliff paths that wend their way across the islands. However, it was also used to denote the joining together of paths by marriage, with the suggestion that once connected a husband and wife would make their way through life together.
Aran knitwear embodies tradition, skilled craftsmanship and a respect for nature that is truly inspiring. We invite you to become part of this rich history and join the Irish knitted journey with us. Take your first step by browsing the impressive collection of ladies and men's Aran knitwear at The House of Bruar.
You can shop our range of Aran knitwear online here.