Of the many things Scotland is famous for, our wild venison meat
is arguably one of the most popular. What was once a staple meal for tough Scotsmen living off the land has become a prized delicacy that graces the menus of Michelin-starred restaurants around the world instead of your dinner table at home. Why? The likely answer is that cooking venison has become something of a mystery to the average home cook.
Here at The House of Bruar, we pride ourselves on selling the highest quality venison in Scotland, so we would like to help make this delicious meat more of an adventure and less of a scary undertaking for novice venison chefs everywhere.
The best place to start is buying venison: knowing which cuts work for each style of cooking is the first step on your path to becoming a venison connoisseur. Below is a handy guide to the most popular cuts of venison and their recommended cooking style, and we've included one of our favourite recipes for your to try at home.
Venison Steak
Venison steaks are easily the most accessible cut of venison available in supermarkets. Steaks are cut from different parts of the deer, and at The House of Bruar we prefer steaks cut from the haunch. Not only is this cut much more tender, but the taste is far superior too. The best way to cook this cut of venison is by seasoning it with salt and pepper, pan-searing it and serving it with a sauce made from your favourite berries. The sweetness of the fruit complements the gaminess of the meat wonderfully.
Pan-Seared Venison Steaks with Wild Berry Jus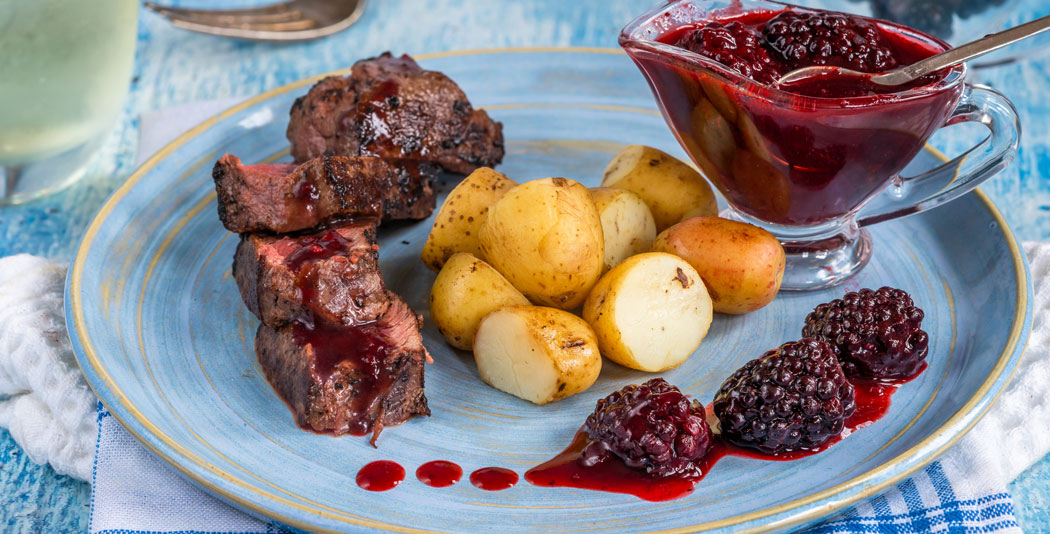 This is one of our favourite recipes for using venison steaks. If you try it at home, don't forget to share your pictures with us, using #houseofbruarvenisonsteaks. We can't wait to see your creations!
Balsamic vinegar (1 tbsp)
Redcurrant jelly (2 tbsp)
90g wild berries (or store-bought alternative)
Heat a little oil and butter together in a frying pan until it begins to sizzle.
Season the venison steaks on both sides
Pan-sear the steaks for 3-4 minutes on each side (depending on the thickness of the steaks) for a rare/medium rare cook
Lift out the meat and set it on a plate to rest
Add the garlic and fry for a minute
Deglaze the pan with the balsamic vinegar
Pour in the stock and stir, scraping up any remaining bits of venison
Add the redcurrant jelly and stir well
Cook on a high heat for 2-3 minutes
Lower the heat and add the fruit, cooking until they become soft.
Slice the venison steaks and plate up, spooning the jus over the top
Serve with creamy mashed potatoes or celeriac mash
Other Cuts of Venison
Venison Haunch
Venison haunch is the cut to choose for an upgrade to the traditional family roast. This cut comes from the top of the hind leg, where the meat is rich and open-grained. Roast your venison haunch in a metal roasting tin to get a good sear and serve with gravy made from the remaining juices and added beef stock. You can even pour in a little of your favourite red wine to enhance the whole dish.
Venison Medallions
Venison medallions are taken from the backstrap of the deer, one of the most tender parts and also the most flavourful. This cut of meat needs very little work, and doing too much can overpower the flavour of the meat. We like to sear our medallions on each side for just a minute or two and serve with garlic potatoes and caramelised baby carrots.
Venison Mince
Venison is lower in fat than most meats, so choosing venison mince over beef makes your favourite dishes a healthier option. You can swap it into any mince recipe, from bolognaise to a hearty shepherd's pie. For something a little different, shape it into venison meatballs and serve it with a creamy stroganoff sauce and pappardelle pasta.
Diced Venison
Diced venison is normally taken from the shoulder of the deer, where the meat is generally a little tougher. It's a great meat for long, slow cooks, either in the oven or a slow cooker, when it transforms into a succulent, soft meat that's rich with flavour. You can use this method to cook stews with your favourite vegetables, or a lightly spiced curry to serve with rice.

Click to shop diced venison